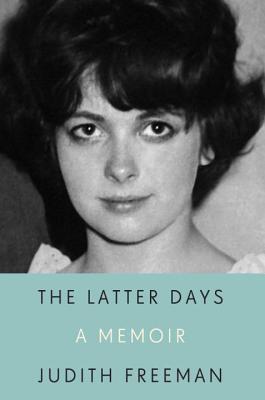 The Latter Days (Hardcover)
A Memoir
Pantheon, 9780307908612, 336pp.
Publication Date: June 7, 2016
* Individual store prices may vary.
Description
An arresting, lyrical memoir about the path the author took—sometimes unwittingly—out of her Mormon upbringing and through a thicket of profound difficulties to become a writer.
 
At twenty-two, Judith Freeman was working in the Mormon church–owned department store in the Utah town where she'd grown up. In the process of divorcing the man she had married at seventeen, she was living in her parents' house with her four-year-old son, who had already endured two heart surgeries. She had abandoned Mormonism, the faith into which she had been born, and she was having an affair with her son's surgeon, a married man with three children of his own. It was at this fraught moment that she decided to become a writer. In this moving memoir, Freeman explores the circumstances and choices that informed her course, and those that allowed her to find a way forward. Writing with remarkable candor and insight, she gives us an illuminating, singular portrait of resilience and forgiveness, of memory and hindsight, and of the ways in which we come to identify our truest selves.


(With black-and-white photographs throughout.)
About the Author
JUDITH FREEMAN is the author of four novels—Red Water, The Chinchilla Farm, Set for Life, and A Desert of Pure Feeling—and of Family Attractions, a collection of stories, and The Long Embrace, a biography of Raymond Chandler. She lives in California and Idaho.
Praise For The Latter Days: A Memoir…
"The Latter Days is clean, strong and deep, a raging river of a story that its author carried until she couldn't hold it back. It is an arrow straight from Mormon country, from the Mountain West and from the heart." —San Francisco Chronicle

"Evocative….The Latter Days candidly dramatizes Freeman's struggle to imagine other possibilities for herself beyond the ones Mormonism dictated to her." —Maureen Corrigan, NPR.org, "Best Books of 2016"

"The Latter Days, written with thoughtful, hard-won honesty, is the record of a girl growing up in a closed society rigidly governed by a male religious hierarchy – a profoundly undemocratic system that claims to embody American values. Painfully but with no rancour, Judith Freeman makes vivid the security of belonging and the rewards of obedience, the costs of security and obedience, the rewards and costs of seeking freedom.  A brave and valuable book." —Ursula K. Le Guin, author of The Left Hand of Darkness

"This moving book came at me like a secret lost letter from a friend, offering—in Judith Freeman's trademark frank and pellucid prose—a rich and revealing personal history in the world she knows as well as anyone: Utah, in this case the patriarchal cloister of Utah in the 50's and 60's. Her story is one of family succor and sorrow; and the flickering origins of shame. This is an affecting and tender memoir as Ms. Freeman displays the dark wonder of the forces that shape our life choices." —Ron Carlson, author of Return to Oakpine

"The Latter Days arrived at four P.M. and I read until midnight, unable to leave this memoir. Judith Freeman's book is elegant and precise, as is always true of her prose. In this memoir of her childhood and coming of age in a landscape of rigid belief and constraint, the undertone of wonder and the heartbreaking moments of trust that faltered, as it had to, Freeman sends rays of light straight into the reader's heart." —Susan Straight, author of Between Heaven and Here
 
"I'm trying to put my finger on why the story of a young girl's coming of age in a Mormon household in Utah during the Fifties and Sixties—a girl who just happens to have become one of our most prominent writers—has so captivated me. Even more than the story itself, fascinating on its own merits, it was the elegant style of its storytelling, the cool, unexpectedly sophisticated tone. Unlike many a memoir of growing up in a constricting, sometimes dangerous environment, Freeman lets the evidence stand for itself. There's no hyperventilating— did you see how bad this was? Do you see how nuts this is? Can you believe? Can you imagine?.... I was impressed by her even-handedness in her memoir. We're given a picture of a time and a place, and of life within an all-encompassing faith—in its positive aspects as well as its strangeness….A compelling story, compulsively readable, and its authorial voice—calm, keen-eyed, gracious but only to a point—still rings inside me. An unusually elegant memoir of a young girl's unique coming of age." —Janet Fitch, Goodreads

"I don't know that there has been a more effective mapping of the subterranean emotional landscapes of day-to-day American religious life than The Latter Days….[Freeman's] searching frankness allows [her] both to talk honestly about choices [she's] made that others might judge, but it also entitles [her] to find beneath the surface piety of the Mormons around [her] during [her] childhood an astounding range of human motivation. This strikes me as enormously important given how Mormons have been caricatured—I think of the Book of Mormon musical, for example—as being extraordinarily flat….So often, especially when it comes to the lives of Mormon women, I feel that there is no one but us to witness ourselves—and no one to hear us. [Freeman] hear us." —Joanna Brooks, Religion Dispatches, interview

"Tender…With photographs jogging her memories, Freeman immerses us in the rhythms of Mormon family life….It flows slowly, a gentle stream of recollections…coalescing into eloquence." —Chicago Tribune

"Judith Freeman takes readers on an insightful and frank journey that explores her upbringing and her relationships. The Latter Days is what every memoir should be: honest to its core and so well crafted that the reader can't put it down." —Writer's Bone

"Poignant….Freeman writes with the clear voice of a person who's (mostly) shed the trappings of the past." —Publishers Weekly

"A novelist's account of her early life growing up Mormon in Utah and the family memories she kept hidden from herself....highly readable….A poignant, searching memoir of self discovery." —Kirkus Reviews

"There's a uniquely contemplative quality to Judith Freeman's The Latter Days, which chronicles a life in a 1950s/1960s Utah Mormon family that is both typical and fascinatingly specific….The Latter Days is more than just a chronicle of growing up Mormon. It is instead a chronicle of growing away from being Mormon, requiring an understanding of how all-encompassing an identity that was before she began to drift away from belief in that faith, both as a rebellious teen and through the crises in her marriage. As such, there's a mournful quality to the writing, even as Freeman works through the various separations in her life—from the church, from Utah and eventually from her husband—toward understanding the forces that shaped her." —Salt Lake City Weekly

"The book's detailed exploration of Utah Mormon culture might attract national readers, but just as intriguing is how Freeman's story functions as a cultural memoir of a young woman coming of age in the 1950s….As a narrator, Freeman's voice is direct and distanced, recounting the encompassing collective of her family and LDS neighbors, while examining the repressed sexuality of a patriarchal culture. She describes her younger self as a wild girl in love with horses, who is surprised by an early encounter with the significance of making art." —The Salt Lake Tribune

"Searing….there is always great pleasure for the reader in Freeman's exacting, sensory descriptions." —LA Review of Books

"Freeman's story of self-discovery and falling away from the Mormon Church will resonate strongly with many readers, particularly since in some ways not all that much has changed. In April 2016 the The Salt Lake Tribune broke a story about victims of sexual assault at LDS church-run Brigham Young University who are routinely expelled for Honor Code violations due to a blame-the-victim mentality. Mormon women interviewed for the news story told of being overwhelmed by guilt and shame and said that they lacked a vocabulary to even talk about what had happened to them. Freeman would recognize the problem. Nonetheless, her memoir is not stridently anti-Mormon and in parts she recounts spiritual experiences connected to her childhood faith and pride in her family history." —15 Bytes

"A bittersweet, luminous journey." —Barnes & Noble Review

"Fascinating." —New York Journal of Books

"For those readers outside the Mormon tradition, The Latter Days offers some marvelous insights into the faith, as Freeman blends church history and doctrine into her childhood stories, giving readers a stronger sense of both the draw of this faith for Freeman and her family, and the difficultly she faces when she moves away and begins meeting colleagues and friends who are not Mormon — or who are not religious at all….Freeman certainly has a fascinating life story." —Cedar Rapids Gazette

"A remarkable memoir….beautifully written….insightful social and religious commentary." —Dialogue Journal
or
Not Currently Available for Direct Purchase