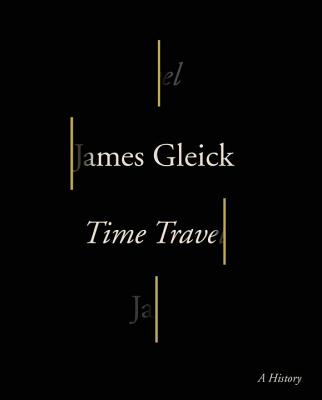 Time Travel
A History
Hardcover

* Individual store prices may vary.
Other Editions of This Title:
Digital Audiobook (9/26/2016)
Paperback (9/5/2017)
CD-Audio (9/27/2016)
Description
"A time-jumping, head-tripping odyssey." —The Millions
"A bracing swim in the waters of science, technology and fiction." —Washington Post
"A thrilling journey of ideas." —Boston Globe

From the acclaimed author of The Information and Chaos, here is a mind-bending exploration of time travel: its subversive origins, its evolution in literature and science, and its influence on our understanding of time itself.

The story begins at the turn of the previous century, with the young H. G. Wells writing and rewriting the fantastic tale that became his first book and an international sensation: The Time Machine. It was an era when a host of forces was converging to transmute the human understanding of time, some philosophical and some technological: the electric telegraph, the steam railroad, the discovery of buried civilizations, and the perfection of clocks. James Gleick tracks the evolution of time travel as an idea that becomes part of contemporary culture—from Marcel Proust to Doctor Who, from Jorge Luis Borges to Woody Allen. He investigates the inevitable looping paradoxes and examines the porous boundary between pulp fiction and modern physics. Finally, he delves into a temporal shift that is unsettling our own moment: the instantaneous wired world, with its all-consuming present and vanishing future.

(With a color frontispiece and black-and-white illustrations throughout) 
Praise For Time Travel: A History…
"A fascinating mash-up of philosophy, literary criticism, physics and cultural observation. It's witty . . . pithy . . . and regularly manages to twist its reader's mind . . . . Throughout the book [Gleick] displays an acute and playful sensitivity to how quickly language gets slippery when we talk about time . . . a wonderful reminder that the most potent time-traveling technology we have is also the oldest technology we have: storytelling." —Anthony Doerr, The New York Times Book Review (cover)

"Exhilarating . . . Time travel has become a veritable theme park of playful attractions, which Mr. Gleick explores with infectious gusto." —Michael Saler, The Wall Street Journal

"A grand thought experiment, using physics and philosophy as the active agents, and literature as the catalyst. Embedded in the book is a bibliography for the Babel of time—a most exquisitely annotated compendium of the body of time literature. What emerges is an inquiry, the most elegant since Borges, into why we think about time, why its directionality troubles us so, and what asking these questions at all reveals about the deepest mysteries of human consciousness and about what Gleick so beguilingly calls 'the fast-expanding tapestry of interwoven ideas and facts that we call our culture'...the kind of book that lodges itself in the imagination, planting seeds of ideas, insights, and revelations bound to go on blossoming for the remainder of this lifetime." —Maria Popova, Brainpickings

"Like [David Foster] Wallace, Gleick's a wide-ranging enthusiast and a graceful explainer….one of the great charms of this book is its author's willingness to embrace multiple points of view and to credit art and experience as much as theory." —Kate Tuttle, Los Angeles Times

"Extraordinary….Ultimately, Time Travel centers around a single question: Why do we need time travel? To find the answer, Gleick brilliantly stitches together moments at seemingly disparate points in history: He goes from explaining the plot of an episode of Doctor Who in one sentence to revisiting the invention of the Cinématographe in 1890s France the next. But what could be a dizzying narrative is deftly handled. And that's because Gleick's adventure in time travel is, in the end, not about distinctions between past and future, but a love letter to 'the unending now.'" —Adrienne LaFrance, The Atlantic

"In his enthralling new book, James Gleick mounts H.G. Wells's time machine for an invigorating ride through the most baffling of the four dimensions. In these pages, time flies." —John Banville, author of The Sea

"James Gleick is a master historian of ideas—no one else can do what he does. Synthesis leads to elucidation leads to stunning, original insight. Time Travel, like so much of his work, is simply indispensable." —Charles Yu, author of How to Live Safely in a Science Fictional Universe

"Time Travel is another of James Gleick's superb, unclassifiable books—rich in obscure and illuminating information, laced with lyricism, wit, and startling and convincing insights.  It is an exploration not only of the (theoretical) phenomenon of time travel but of our understanding of 'time' itself." —Joyce Carol Oates

"Magnificent. A riveting history of an idea that changed us so profoundly, we forgot we had even been changed. But Gleick remembers." —Lev Grossman, Books Editor of TIME and author of The Magicians Trilogy

"Against Kingsley Amis' skeptical assertion that 'time travel is inconceivable,' Gleick adduces impressive evidence that the phenomenon has tantalized novelists, philosophers, poets, scientists, moviemakers, and even cartoonists as a transformative possibility. Readers follow the fictional 'Time Traveler' that H. G. Wells sends into future centuries; track the gyrations of time-spanning thought that Borges unfolds in his labyrinthine tales; ponder the temporal cause-effect paradoxes that Bertrand Russel surmounts; and puzzle over the reversibility of time in the physics with which Einstein revolutionized science….Ultimately, readers discern behind the modern mania for the phenomenon a human craving for immortality that—particularly in a secular age—fosters this mania. Both piquant and profound." —Booklist *starred review*

"A dazzling voyage through the concept of time….Deeply philosophical and full of quirky humor—'The universe is like a river. It flows. (Or it doesn't, if you're Plato.)'—Gleick's journey through the fourth dimension is a marvelous mind bender." —Publishers Weekly *starred review*

"Engaging…[Gleick's] book resembles a salon where the guests include physicists (Richard Feynman and Albert Einstein), science-fiction writers (Robert Heinlein, Hugo Gernsback and the inevitable Isaac Asimov), philosophers (Richard Taylor), logicians (Kurt Gödel) and scientist-philosophers (Arthur Eddington), among many other articulate souls. Their discussions draw upon the theater (Tom Stoppard's "Arcadia"), TV series ("Doctor Who") and movies ("La Jetée"), as well as books of philosophy and works in theoretical physics….Time Travel presents a great read—as well as a wide-ranging, rich list for further reading—for anyone intrigued by the scientific romance of time travel." —The Washington Post

"Illuminating and entertaining….there isn't a paragraph in Gleick's book without good sentences and fascinating information." —John Lanchester, The New York Review of Books

"Fascinating….Gleick's hybrid of history, literary criticism, theoretical physics, and philosophical meditation is itself a time-jumping, head-tripping odyssey, and it works so well. Even though Gleick can elucidate complex ideas into accessible language, he's even better at explicating notions that remain perplexing….Time Travel is as elegant and eloquent as it is edifying." —Jonathan Russell Clark, The Millions

"The consummate temporal tour guide, Gleick deftly navigates the twists and turns of our fascination with time travel, investigating its evolution in literature, exploring scientific principles that have hinted at or scotched the idea, and teasing apart the curious spell it cast across society with its suggestion of immortality….Intoxicating." —The Guardian

"Far ranging, accessible, and witty, Time Travel tackles its elusive subject from unusual angles but with fine-tuned focus….Knowledgeable, curious and humane, Gleick proves to be the perfect tour guide for this mind-bending intellectual expedition into the past, present and future." —San Antonio Express-News
 
"From Wells to Schrödinger to Twitter, [Gleick] doesn't miss a beat, and he imparts a wry appreciation for humorous detail, making him one of the most enjoyable science writers in the field….Another fantastic contribution…from Gleick, whose lush storytelling will appeal to a wide range of audiences." —Kirkus Reviews

"Mind-blowing . . . . A fascinating argument that the most important time is the present." —TIME Magazine

"In Time Travel, James Gleick provides an absorbing history of the idea, eloquently elucidating the reasons for its enduring appeal…. Within physics, Gleick captures some of the intellectual ferment in his account of the debate about whether time is an illusion. Within literature, he's particularly incisive in his account of alternative histories, which originated as an accident of time travel." —New Scientist

"Gleick is particularly well equipped to explore how the idea of time travel evolved across the past century in science, literature, technology and philosophy. Far-ranging, lucid, accessible and witty, 'Time Travel' tackles its elusive subject from unusual angles but with fine-tuned focus." —SF Gate
 
"Dazzling." —The Boston Globe, "Best Books of 2016"

"Isaac Newton's biographer takes a smart, scholarly look at this science fiction staple. With a little help from Gleick, you might finally understand Interstellar." —Esquire Magazine, "Nine Books That You Need To Know"

"A brilliant, wise, insightful and mind-boggling look at the nature of time." —The Missourian
 
"A pleasurable romp over Wells's fourth dimension and polished Victorian machinery; 'golden age' science-fiction authors such as Isaac Asimov, who provided the templates for modern treatments of time travel; and the Doctor Who franchise. Gleick also explores more highbrow offerings from writers such as David Foster Wallace and Jorge Luis Borges (who envisaged time as a "Garden of Forking Paths"), and filmmaker Chris Marker, whose 1962 sci-fi short La Jetée inspired 1995 time-travel noir 12 Monkeys." —Nature

"An engaging and entertaining look at science that will always remain fiction. It's lucidly written, a breeze to read and erudite in assessing a vast range of literary and popular media treatments of time travel as dream and desire." —Science News

"A whirling polymathic joy ride…It's a work of history that, in its attempt to buck chronology, dissolves the illusory distinctions between science and art, theory and fiction. Gleick reveals a unified culture connected by existential questions and desires to escape the bounds of time and space….Time Travel is most delightful, and fun, when Gleick pulls the lever and connects Everett and Jorge Luis Borges; Isaac Asimov and Augustine; Robert Heinlein and David Foster Wallace; and other thinkers separated, merely, by time and space." —Joshua Alvarez, Brooklyn Rail
 
"There's much to commend….Anyone who picks up Time Travel: A History will find quotes and witticisms galore, a plethora of absorbing historical footnotes and trenchant observations on humanity's relationship with time….A stunningly learned tour…Joyous." —Alvaro Zinos-Amaro, Tor.com
 
"Gorgeous." —Joshua Kim, Inside Higher Ed
 
"I thoroughly enjoyed it….An entertaining and informative read, and also a fantastic resource for anyone interested in time travel stories." —Jonathan H. Liu, GeekDad.com
Pantheon, 9780307908797, 352pp.
Publication Date: September 27, 2016
About the Author
JAMES GLEICK (around.com) is our leading chronicler of science and technology, the best-selling author of Chaos: Making a New Science, Genius: The Life and Science of Richard Feynman, and The Information: A History, a Theory, a Flood. His books have been translated into thirty languages.
or
Not Currently Available for Direct Purchase