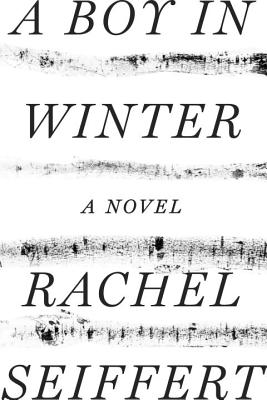 A Boy in Winter
A Novel
Hardcover

* Individual store prices may vary.
Other Editions of This Title:
Digital Audiobook (7/31/2017)
Paperback (7/10/2018)
Description
Early on a grey November morning in 1941, only weeks after the German invasion, a small Ukrainian town is overrun by the SS. This new novel from the award-winning author of the Booker Prize short-listed The Dark Room tells of the three days that follow and the lives that are overturned in the process.

Penned in with his fellow Jews, under threat of deportation, Ephraim anxiously awaits word of his two sons, missing since daybreak.

Come in search of her lover, to fetch him home again, away from the invaders, Yasia must confront new and harsh truths about those closest to her.

Here to avoid a war he considers criminal, German engineer Otto Pohl is faced with an even greater crime unfolding behind the lines, and no one but himself to turn to.

And in the midst of it all is Yankel, a boy determined to survive this. But to do so, he must throw in his lot with strangers.

As their stories mesh, each of Rachel Seiffert's characters comes to know the compromises demanded by survival, the oppressive power of fear, and the possibility of courage in the face of terror.

Rich with a rare compassion and emotional depth, A Boy in Winter is a story of hope when all is lost and of mercy when the times have none.
Praise For A Boy in Winter: A Novel…
**A New York Times Notable Book of 2017**

"The power of [Seiffert's] writing comes not from emotional manipulation or verbal fireworks but from her marshaling of the sort of visual detail that makes her settings feel almost tangible, and from the bonds she builds between her wary characters who, like it or not, must accept their need for one another. Her first novel, The Dark Room, which was a finalist for the 2001 Man Booker Prize, bears a certain resemblance to A Boy in Winter…But this new novel is even stronger. While retaining the muscularity that has always distinguished her prose, she has allowed these disparate portraits to migrate and meld, producing one interactive, consolidating vision. As the stories of Yankel and Yasia, Otto and Mykola, Ephraim and Miryam collide and overlap in one condensed, disastrous three-day time frame, their mingled plights merge in multidimensional, expressive collage….With A Boy in Winter, Seiffert has unleashed literature's unique power to analyze history's scroll, to let fiction judge." —The New York Times Book Review

"Halfway through Rachel Seiffert's new novel, when the SS death squad starts shooting, most readers will shudder. They all know, they think, what is coming: not just a gruesome depiction of the Nazis' murderous campaign against European Jews, but the Holocaust narrative itself, by now a well-stocked shelf. It is a mark of Seiffert's gifts that her slender tale, A Boy in Winter, upends these expectations….Ms. Seiffert's prose is not showy, but graceful and precise. The misery of the dank streets is relieved by flashes of light and humanity….Most literature of the 'third generation' after the war explores the impact on its descendants. Ms. Seiffert's fictions are different: they inhabit the events themselves. Yet from all too familiar horror they swerve into the unexpected, into a new story—a gleam in the darkness that readers haven't seen before." —The Economist

"Swift and terrifying….Seiffert is such a patient and poised storyteller that, even though history tells us otherwise, like all the characters in the book, we read toward its terrible climax believing — perhaps it will not happen. As in her other two novels and story collection, Seiffert packs a great deal into a small amount of space. Her prose style resembles a cello onstage played in the pitch dark. Sonorous and somber and yet what use it makes of just a few notes….Eventually, what this book has been building toward happens, and there are few passages in modern literature as harrowing and as necessary to read….[Seiffert] has done a tremendous service to memory, and she has given us not a way out, but deeper in, where we must go." —The Boston Globe

"Seiffert's contribution to the ever growing shelf of Holocaust fiction provides an emotional close-up of the experiences of several characters in a small Ukrainian town on the day the German troops arrive to round up the Jews, the day the nightmare begins in earnest….This novel allows the reader to imagine and to empathize, to have a vivid moral experience, while managing to avoid the surfeit of violent, horrific detail that can sometimes result in a kind of genocide porn. All the notes of the Holocaust song, including the rare ray of hope, are played in this spare, fast-moving novel." —Kirkus Reviews
 
"Effectively captures the looming horror of the Holocaust….A quietly persuasive work; highly recommended." —Library Journal *starred review*

"Seiffert's characterization is well-realized, with a Nazi Sturmbannführer (military officer) portrayed with more complexity than archetypal villainy. The novel truly shines in its offering of diverse, authentic perspectives…. Seiffert does provides more successful instances of kindness as well as hope in her accomplished literary work." —Booklist

"The primal energy in this novel is a moral sore that will never heal … [a] fine novel." —John Sutherland, The Times
 
"Seiffert's cool tone never wavers—her spare, beautiful prose is a joy to read." —Helen Dunmore, The Guardian
 
"Rachel Seiffert's new novel A Boy in Winter stretches over only three days, through which you encounter all the emotions of the time, horror and instinct for survival, family loyalty, and above all perhaps, bravery." —James Naughtie, BBC World TV
 
"Spare, elegant and devastating." —Psychologies
 
"Completely captures those times in a vivid, precise, captivating and terrible way." —Philippe Sands, author of East West Street

"This is not a gruesome depiction of the Nazis' murderous campaign against European Jews but an upending of those dire expectations. We see light in the darkness and humanity in the inhumane. After the horror there is hope and a new story begins…. In a period of just three days, we experience every emotion possible rendered to us in Seiffert's gorgeous prose. The times are captured vividly and terribly. I had to remind myself that I was actually reading and not experiencing what I read. We cannot say that about many authors." —Amos Lassen
Pantheon, 9780307908834, 256pp.
Publication Date: August 1, 2017
About the Author
RACHEL SEIFFERT's first novel, The Dark Room, was short-listed for the Booker Prize, won the Los Angeles Times First Fiction Prize, and was the basis for the acclaimed motion picture Lore. She was one of Granta's Best of Young British Novelists in 2003; in 2004, Field Study, her collection of short stories, received an award from PEN International. Her second novel, Afterwards, and her third, The Walk Home, were both long-listed for the Orange/Bailey's Prize for Fiction. In 2011, she received the E. M. Forster Award from the American Academy of Arts and Letters. Seiffert's books have been published in eighteen languages. She lives in London with her family.
or
Not Currently Available for Direct Purchase