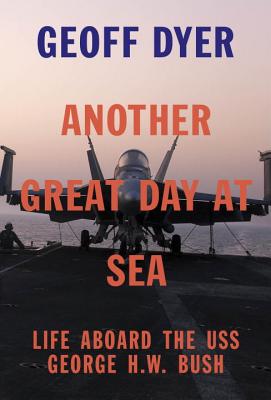 Another Great Day at Sea
Life Aboard the USS George H.W. Bush
Hardcover

* Individual store prices may vary.
Other Editions of This Title:
Digital Audiobook (5/19/2014)
Paperback (4/7/2015)
Paperback (3/5/2015)
Paperback (5/27/2014)
Description
From a writer whose genre-jumping refusal to be pinned down makes him] an exemplar of our era (NPR), a new book that confirms his power to astound readers.
As a child Geoff Dyer spent long hours making and blotchily painting model fighter planes. So the adult Dyer jumped at the chance of a residency aboard an aircraft carrier. Another Great Day at Sea chronicles Dyer's experiences on the USS George H.W. Bush as he navigates the routines and protocols of carrier-world, from the elaborate choreography of the flight deck through miles of walkways and hatches to kitchens serving meals for a crew of five thousand to the deafening complexity of catapult and arresting gear. Meeting the Captain, the F-18 pilots and the dentists, experiencing everything from a man-overboard alert to the Steel Beach Party, Dyer guides us through the most AIE (acronym intensive environment) imaginable.
A lanky Englishman (could he really be both the tallest and the oldest person on the ship?) in a deeply American world, with its constant exhortations to improve, to do better, Dyer brilliantly records the daily life on board the ship, revealing it to be a prism for understanding a society where discipline and conformity, dedication and optimism, become forms of self-expression. In the process it becomes clear why Geoff Dyer has been widely praised as one of the most original and funniest voices in literature.
Another Great Day at Sea is the definitive work of an author whose books defy definition.
Praise For Another Great Day at Sea: Life Aboard the USS George H.W. Bush…
Publishers Weekly
"An often hilarious and aphoristic, short-chaptered account written by a British essayist who is fascinated by American culture….a highly entertaining read."

Jason Diamond, Flavorwire
"When Geoff Dyer wants to write about something, he gets totally into it. Be it a Russian film or yoga, Dyer's unique take on whatever situation he's focused on always yields a great book. In this latest case, Dyer finds himself on an American supercarrier, and the results are nothing short of superb."

Huffington Post
"When Dyer delves into a specific topic, he delves deeply, which is why we're looking forward to his latest exploration: what life aboard an aircraft carrier is like. As always, he laces his observations with comedy and captivating storytelling."

Jay Freeman, Booklist
"Unique, interesting, and surprising . . . fascinating."

Billy Collins, author of Aimless Love
"Geoff Dyer has managed to do again what he does best: insert himself into an exotic and demanding environment (sometimes, his own flat, but here, the violent wonders of an aircraft carrier) and file a report that mixes empathetic appreciation with dips into brilliant comic deflation. Welcome aboard the edifying and sometimes hilarious ship Dyer."

Annie Dillard, author of Pilgrim at Tinker Creek
"What could be better than weeks far away on the flat seas of the Arabian Gulf with Geoff Dyer? He is, if possible, even more witty and charming than usual. The carrier's hugeness, its crew's tireless cheer and openness, and the enormous mechanical and electrical forces at work everywhere fare wonderfully here with Dyer's unique combination of depth, irreverence and explosive humor."

John Jeremiah Sullivan, author of Pulphead
"I hope one day to meet the demented genius who decided to put Geoff Dyer aboard an American aircraft carrier. The result sounds in places as if Sterne en route to his sentimental journey had paused for a week's stint on HMS Victory. There's something like New Journalism happening but in the hands of a writer who'll suddenly flash out sentences such as, 'The sea was a prairie of glitter green.' In the end one is forced to call it "a Dyer book," which luckily for him and us is a high compliment."

Steve Martin
"Dyer stows himself away on an American aircraft carrier, fortunately, with all his hilarious tics in place. A rare kind of non-fiction, with sentences that keep on giving long after your eye has sailed on."

Brenda Wineapple, author of Ecstatic Nation
"Another Great Day at Sea, Geoff Dyer's chronicle of his two weeks in residence aboard the USS George H. W. Bush, is a tale of routine, lyricism and terror, of long hours and hard work, and of camaraderie and conviction, which are a form of faith.  Original, humane, and very funny, Another Great Day is another great book by an incomparable writer."

David Finkel, author of Thank You for Your Service
"Another Great Day at Sea is what we've all come to expect from Geoff Dyer—another great book. I loved everything about it. It's brilliantly observed, beautifully written, incisive, funny, and filled with stirring truths about life and the value of service."

Sam Lipsyte, author of The Fun Parts: Stories
"A great day is any day you get to read Geoff Dyer, and this book is no exception. Witty, empathetic, and insatiably curious, Dyer is the perfect guide to the floating world of an American aircraft carrier. With Another Great Day at Sea he makes a perfect night landing on the 'postage stamp,' with élan to spare."

Tom Bissell, author of Magic Hours: Essays on Creators and Creation
"I have read Geoff Dyer on World War I, jazz, photography, the Venice Biennale, and D. H. Lawrence, among many other subjects. It's as though his mind is slave to some unpredictable Internet browser inaccessible to the rest of us. His new book—an inimitably close study of life on an American aircraft carrier—is one of his best, funniest, and most humane yet. Geoff Dyer remains an unconventionally great writer—perhaps the most bafflingly great writer at work in the English language today."
Pantheon Books, 9780307911582, 208pp.
Publication Date: May 20, 2014
About the Author
GEOFF DYER s books include But Beautiful (winner of the Somerset Maugham Award); The Missing of the Somme; Out of Sheer Rage; The Ongoing Moment (winner of the ICP Infinity Award for writing on photography); Jeff in Venice, Death in Varanasi; and Zona. His many awards include the E. M. Forster Award from the American Academy of Arts and Letters, a Lannan Literary Fellowship, and, most recently, a National Book Critics Circle Award for the essay collection Otherwise Known as the Human Condition. He is a fellow of the Royal Society of Literature, and his books have been translated into twenty-four languages. Dyer currently lives in Venice, California."
or
Not Currently Available for Direct Purchase