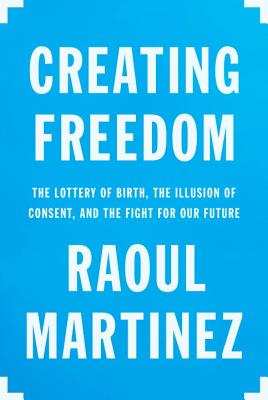 Creating Freedom (Hardcover)
The Lottery of Birth, the Illusion of Consent, and the Fight for Our Future
Pantheon, 9780307911643, 512pp.
Publication Date: January 31, 2017
Other Editions of This Title:
Paperback (11/28/2017)
Compact Disc (1/31/2017)
MP3 CD (1/31/2017)
Compact Disc (1/31/2017)
* Individual store prices may vary.
Description
The ideal of freedom is at the heart of our political and economic system. It is foundational to our sense of justice, our way of life, our conception of what it is to be human. But are we free in the way that we think we are? 

In Creating Freedom, Raoul Martinez brings together a torrent of mind-expanding ideas, facts, and arguments to dismantle sacred myths central to our society—myths about free will, free markets, free media, and free elections. From the lottery of our birth to the consent-manufacturing influence of concentrated power, this far-reaching manifesto lifts the veil on the mechanisms of control that pervade our lives. It shows that the more we understand how the world shapes us, the more effectively we can shape the world. 

A highly original exploration of the most urgent questions of our time, Creating Freedom reveals that we are far less free than we like to think, but it also shows that freedom is something we can create together. In fact, our very survival may depend on our doing so.
About the Author
RAOUL MARTINEZ is a philosopher, artist, and award-winning filmmaker. Creating Freedom is his first book. It is informed by over a decade of research and is accompanied by a documentary series of the same name. Episode One, The Lottery of Birth – produced, written and co-directed by Raoul – was nominated for Best Documentary at London's Raindance Film Festival and went on to win the Artivist Spirit 2012 Award at Hollywood's Artivist Festival. Raoul lives and works in London, where his paintings have been selected for exhibition in the National Portrait Gallery.
Praise For Creating Freedom: The Lottery of Birth, the Illusion of Consent, and the Fight for Our Future…
"Exceptional . . . This year's essential text for thinking radicals" —The Guardian (UK)

"A stunning treatise; the freedoms within our society are illusory or entirely antithetical to actual liberty.... The author, and the arguments within his book, have a tendency to leave a reader feeling enlivened, stirred and provoked." —Irish Times           

"In this stunning and lucid book, Raoul Martinez re-assesses our past, re-examines our present, and re-imagines our future. It's such an exciting and compelling read that you almost don't notice at first how radical it is. Creating Freedom makes me think that we humans are on the cusp of our next big step—and it's this kind of thinking that will carry us over." —Brian Eno

"I've been working my way through, highlighter in hand, at times thinking, 'Why bother! Just highlight the whole thing.'"  —David Byrne

"Provocative, powerful and important—Creating Freedom is a rigorous exploration of what's gone wrong with our society and how to make it right. A book for our time, this radical manifesto exposes the myths at the heart of our system and shows what the ideal of freedom truly demands from us, individually and collectively." —Susan Sarandon

"Creating Freedom is quite magnificent in its intelligence, acuity, scope, human warmth and - most importantly - hope! My book of the year." —Stephen Fry

"Martinez speaks for a generation living through a profound mismatch between their aspirations for freedom and creativity and the thudding conformity a society, driven by the market, demands" —Paul Mason

"Everyone trying to puzzle through how to deal with the madness of the world - and the forces destroying it - should read this book" —Johann Hari

"An impassioned social and political critique with glimmers of hope for change. British artist and documentarian Martinez makes his literary debut writing on a theme taken up recently by writers such as economists Thomas Piketty and Joseph Stiglitz, journalist Bob Herbert, and activist Ralph Nader: inequality, injustice, greed, and entrenched power have undermined democracy and threaten the common good and the future of our planet….An intelligent, rigorous manifesto." —Kirkus Reviews

'If you believe you are free, think again. Strong arguments . . . epic in scope . . . [A] manifesto to enlighten citizens stuck in an illusion of democracy" —Financial Times

"Thought-provoking . . . sound and persuasive . . . Eminently readable with a an elegance of style not often found in theoretical works. It is no less than a rallying cry to take back the substance rather than the illusions of our freedoms." —New Internationalist
 
"Beautifully written, vigorously argued and remarkably researched . . . No one has examined the issues of freedom and moral responsibility in such an extensive and fascinating context, or done more to show that these issues are not ivory tower debates but absolutely life and death issues for individuals and quite possibly for our species" —Bruce Waller 

" This discussion of the impossibility of ultimate moral responsibility is extremely well written, aphoristic in places, and philosophically right on target." 
—Galen Strawson

or
Not Currently Available for Direct Purchase