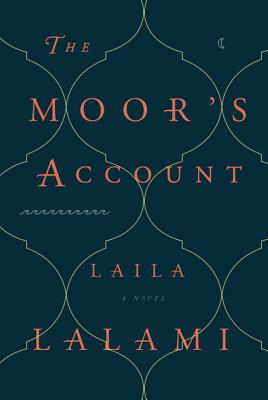 The Moor's Account
A Novel
Hardcover

* Individual store prices may vary.
Other Editions of This Title:
Paperback (8/18/2015)
MP3 CD (11/3/2015)
Compact Disc (8/2/2016)
Description
**Longlisted for the 2015 Man Booker Prize**
**Nominated for the 2016 International IMPAC Dublin Literary Award**

A Pulitzer Prize Finalist
A New York Times Notable Book
A Wall Street Journal Top 10 Book of the Year
An NPR Great Read of 2014
A Kirkus Best Fiction Book of the Year


In this stunning work of historical fiction, Laila Lalami brings us the imagined memoirs of the first black explorer of America—a Moroccan slave whose testimony was left out of the official record.
 
In 1527, the conquistador Pánfilo de Narváez sailed from the port of Sanlúcar de Barrameda with a crew of six hundred men and nearly a hundred horses. His goal was to claim what is now the Gulf Coast of the United States for the Spanish crown and, in the process, become as wealthy and famous as Hernán Cortés.
 
But from the moment the Narváez expedition landed in Florida, it faced peril—navigational errors, disease, starvation, as well as resistance from indigenous tribes. Within a year there were only four survivors: the expedition's treasurer, Álvar Núñez Cabeza de Vaca; a Spanish nobleman named Alonso del Castillo Maldonado; a young explorer named Andrés Dorantes de Carranza; and Dorantes's Moroccan slave, Mustafa al-Zamori, whom the three Spaniards called Estebanico. These four survivors would go on to make a journey across America that would transform them from proud conquis-tadores to humble servants, from fearful outcasts to faith healers.
 
The Moor's Account brilliantly captures Estebanico's voice and vision, giving us an alternate narrative for this famed expedition. As the dramatic chronicle unfolds, we come to understand that, contrary to popular belief, black men played a significant part in New World exploration and Native American men and women were not merely silent witnesses to it. In Laila Lalami's deft hands, Estebanico's memoir illuminates the ways in which stories can transmigrate into history, even as storytelling can offer a chance for redemption and survival.
Praise For The Moor's Account: A Novel…
"Feels at once historical and contemporary . . . For Lalami, storytelling is a primal struggle over power between the strong and the weak, between good and evil, and against forgetting . . . Lalami sees the story [of Estebanico] as a form of moral and spiritual instruction that can lead to transcendence."
—The New York Times Book Review

"Assured, lyrical . . . Certainly the most extensive telling of the tale from 'the Moor's' point of view . . . Adding a new spin to a familiar story, Lalami offers an utterly believable, entertainingly told alternative to the historical record. A delight."
—Kirkus (starred review)

"In 1527, Pánfilo de Narváez set out for the Americas. Laila Lalami reimagines his story in her stunning historical novel, through the eyes of one of his crewman's Moroccan slave, Mustafa al-Zamori. The Moor's Account sheds light on all of the possible the New World exploration stories that didn't make history."
—Huffington Post, "Best Books for Fall 2014"

"A deeply layered, complex portrait of all-too-familiar characters in an unfamiliar world . . . A totally engrossing and captivating novel that reconsiders the overlooked roles of Africans in New World exploration."
—Booklist 

"Laila Lalami has fashioned an absorbing story of one of the first encounters between Spanish conquistadores and Native Americans, a frightening, brutal, and much-falsified history that here, in her brilliantly imagined fiction, is rewritten to give us something that feels very like the truth." 
—Salman Rushdie
 
"A beautiful, rousing tale that would be difficult to believe if it were not actually true. Lalami has once again shown why she is one of her generation's most gifted writers."
—Reza Aslan, author of Zealot

"Tremendous and powerful, The Moor's Account is one of the finest historical novels I've encountered in a while. It rings with thunder!"
—Gary Shteyngart, author of Super Sad True Love Story and Little Failure

"Laila Lalami's radiant, arrestingly vivid prose instantly draws us into the world of the first black slave in the New World whose name we know—Estebanico.  A bravura performance of imagination and empathy, The Moor's Account reverberates long after the final page."
—Henry Louis Gates, Jr., Alphonse Fletcher University Professor and Director of the Hutchins Center for African & African American Research, Harvard University

"¡Qué belleza! Laila Lalami has given us a mesmerizing reimagining of one of the foundational chronicles of exploration of the New World and an indictment of the uncontainable hubris displayed by Spanish explorers—told from the point of view of Estebanillo, an Arab slave and Cabeza de Vaca's companion in a trek across the United States that is as important as that of Lewis and Clark. The style and voice of sixteenth-century crónicas are turned upside down to subtly undermine our understanding of race and religion, now and then. The Moor's Account is a worthy stepchild of Don Quixote de la Mancha."
—Ilan Stavans, author of On Borrowed Words: A Memoir of Language and general editor of The Norton Anthology of Latino Literature
 
"A novel of extraordinary scope, ambition and originality. Laila Lalami has given voice to a man silenced by for five centuries, a voice both convincing and compelling. The Moor's Account is a work of creativity and compassion, one which demonstrates the full might of Lalami's talent as a writer."
—Aminatta Forna, the Commonwealth Writers' Prize and Hurston Prize Legacy Award-winning author of The Memory of Love, Ancestor Stones, and The Devil That Danced on the Water
 
"Laila Lalami has created an unforgettable drama of wonder out of the gaps and silences in the master narratives of colonial conquests. She gives name to the unnamed; agency to the sidelined; she takes them from footnotes into the footprints that make up the pages of this remarkable novel. Lalami gives voice to the silences of history."
—Ngũgĩ wa Thiong'o
Pantheon, 9780307911667, 336pp.
Publication Date: September 9, 2014
About the Author
Laila Lalami was born and raised in Morocco. She is the author of the short story collection Hope and Other Dangerous Pursuits, which was a finalist for the Oregon Book Award, and the novel Secret Son, which was on the Orange Prize long list. Her essays and opinion pieces have appeared in the Los Angeles Times, The Washington Post, The Nation, The Guardian, and The New York Times, and in many anthologies. She is the recipient of a British Council Fellowship and is an associate professor of creative writing at the University of California at Riverside. She lives in Los Angeles.
Coverage from NPR
or
Not Currently Available for Direct Purchase