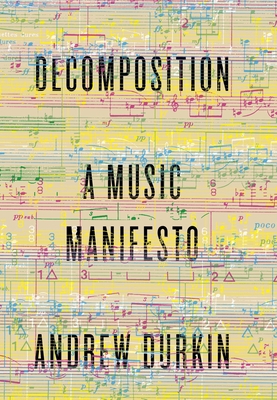 Decomposition
A Music Manifesto
Hardcover

* Individual store prices may vary.
Description
Decomposition is a bracing, revisionary, and provocative inquiry into music—from Beethoven to Duke Ellington, from Conlon Nancarrow to Evelyn Glennie—as a personal and cultural experience: how it is composed, how it is idiosyncratically perceived by critics and reviewers, and why we listen to it the way we do.

Andrew Durkin, best known as the leader of the West Coast–based Industrial Jazz Group, is singular for his insistence on asking tough questions about the complexity of our presumptions about music and about listening, especially in the digital age. In this winning and lucid study he explodes the age-old concept of musical composition as the work of individual genius, arguing instead that in both its composition and reception music is fundamentally a collaborative enterprise that comes into being only through mediation.
 
Drawing on a rich variety of examples—Big Jay McNeely's "Deacon's Hop," Biz Markie's "Alone Again," George Antheil's Ballet Mécanique, Frank Zappa's "While You Were Art," and Pauline Oliveros's "Tuning Meditation," to name only a few—Durkin makes clear that our appreciation of any piece of music is always informed by neuroscientific, psychological, technological, and cultural factors. How we listen to music, he maintains, might have as much power to change it as music might have to change how we listen.
Pantheon, 9780307911759, 400pp.
Publication Date: November 18, 2014
About the Author
Andrew Durkin is a composer and writer who has a PhD in English from the University of Southern California, where his mentor was Joseph Dane, author of What Is a Book? He was a postdoctoral fellow at the Annenberg Center for Communication at USC, where he worked with digital media pioneer Bob Stein. He lives in Portland, Oregon.
or
Not Currently Available for Direct Purchase