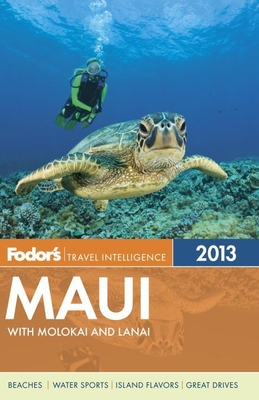 Fodor's Maui 2013: with Molokai and Lanai (Paperback)
with Molokai and Lanai
Fodor's, 9780307929310, 344pp.
Publication Date: August 28, 2012
* Individual store prices may vary.
or
Not Currently Available for Direct Purchase
Description
As host of the 2016 Summer Olympics, Brazil promises to be one of the hottest travel destinations in upcoming years. And the country is primed to celebrate. From the picturesque beaches of Rio de Janeiro to the majestic Iguacu Falls to the wonders of the Amazon rainforest, Brazil offers something for every type of traveler--and Fodor's Brazil covers the best that the country has to offer. -EXPANDED COVERAGE: With the FIFA World Cup in 2014 and the Olympic Games in 2016, Brazil continues to undergo rapid change. This edition highlights new restaurants and hotels in the flourishing cities of Rio de Janeiro, Sao Paulo, and Salvador. It also features expanded coverage of the Pantanal, Iguacu Falls, and Amazon River cruises and jungle lodges. -COLOR INSERTS: A NEW 8-page color section provides high-level planning tips on the 2016 Rio Summer Olympics, along with practical information on the neighborhoods that will host events. In addition, an 8-page color insert on Top Experiences shows the beauty and cultural flair of Brazil. -OLYMPIC CONTENT FEATURED ON COVER: The fact that this edition includes a special section on the Rio 2016 Summer Olympic Games, taking place August 5th through August 21st, will be called out on a sticker appering of the front cover of the book. -SPECIAL FEATURES: The Experience Brazil chapter contains in-depth information on Carnival, beaches, and the sounds, tastes, and wildlife of Brazil. It also works as an expert trip planner, with useful features on things to do and Great Itineraries. A standalone section at the back of the book provides helpful Portuguese phrases and pronunciations to guide travelers on their journeys. -INDISPENSABLE TRIP-PLANNING TOOLS: Convenient overviews show each region and its highlights, and detail-rich chapter planning sections have on-target advice and tips for planning your time and for getting around the country by plane, car, and bus. Each chapter opens with a map, Top Reasons to Go and other essential information to help visitors plan time and vacation details effectively. The guide also offers indispensable tips on finding tour operators throughout the country. -SPECIAL EVENTS: Brazil will be in the spotlight as the host of the 2016 Summer Olympics. Fodor's Brazil 7th Edition contains detailed coverage on the venues that will host Olympic events, tips on finding lodging in Rio during the Olympics, and useful information on securing tickets and attending the games. -DISCERNING RECOMMENDATIONS: Fodor's Brazil offers savvy advice and recommendations from local writers to help travelers make the most of their time. Fodor's Choice designates our best picks, from hotels to nightlife. -ABOUT FODOR'S AUTHORS: Each Fodor's Travel Guide is researched and written by local experts.
Advertisement