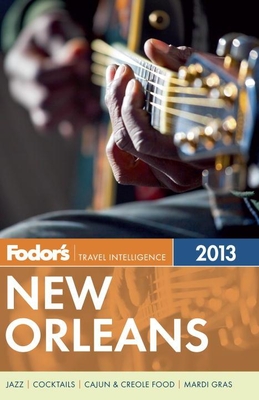 Fodor's New Orleans 2013 (Paperback)
Fodor's, 9780307929334, 344pp.
Publication Date: November 6, 2012
* Individual store prices may vary.
or
Not Currently Available for Direct Purchase
Description
As host of the 2016 Summer Olympics, Rio de Janeiro will see an influx of visitors in upcoming years, and this colorful city, along with the equally vibrant metropolis of Sao Paulo, will not disappoint. Whether travelers want to soak in the sun on Rio's glamorous Copacabana Beach, shop in Sao Paulo's cutting-edge fashion boutiques, or indulge in Latin American's most innovative cuisine, Fodor's Rio and Sao Paulo is the guidebook that ensures they get the most out of these two exciting cities. -EXPANDED COVERAGE: With the FIFA World Cup in 2014 and the Olympic Games in 2016, Rio de Janeiro and Sao Paulo have experienced rapid change recently. Our writers have uncovered the best new restaurants, hotels, and sights throughout both cities. In addition, the guide has expanded coverage on numerous side trips to national parks and resort towns in the surrounding areas, such as the pristine beaches at the ever-popular Buzios. -NEW COLOR SECTION: A new 8-page color section provides high-level planning tips on the 2016 Rio Summer Olympics, along with practical information on the neighborhoods that will host events. -OLYMPIC CONTENT FEATURED ON COVER: The fact that this edition includes a special section on the Rio 2016 Summer Olympic Games, taking place August 5th through August 21st, will be called out on a sticker appering of the front cover of the book. -SPECIAL FEATURES: The Experience chapter has in-depth information on visiting Rio and Sao Paulo, including the best beaches in the region and insider tips on attending Carnival. It also works as an expert trip planner, with extensive information on side trips for travelers looking to unwind from the frenetic pace of Rio or Sao Paulo. In addition, an 8-page color insert on Top Experiences shows the beauty and cultural flair of these dynamic cities. -INDISPENSABLE TRIP-PLANNING TOOLS: Each chapter opens with an orientation and planning section that includes maps, the top reasons to go, and other essential information to help visitors plan their time effectively and navigate these cities and their environs. -SPECIAL EVENTS: Rio de Janeiro will be in the spotlight as the host of the 2016 Summer Olympics. Fodor's Rio de Janeiro and Sao Paulo contains detailed coverage on the venues that will host Olympic events, tips on finding lodging in Rio during the Olympics, and useful information on securing tickets and attending the games. -DISCERNING RECOMMENDATIONS: Fodor's Rio de Janeiro and Sao Paulo offers savvy advice and recommendations from local writers to help travelers make the most of their time. Fodor's Choice designates our best picks, from hotels to nightlife. -ABOUT FODOR'S AUTHORS: Each Fodor's Travel Guide is researched and written by local experts.
Advertisement