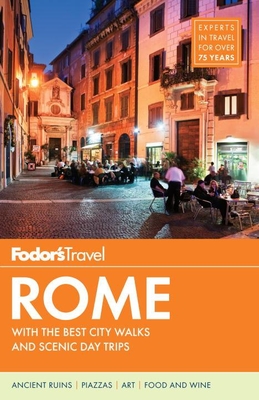 Fodor's Rome: With the Best City Walks and Scenic Day Trips (Paperback)
With the Best City Walks and Scenic Day Trips
Fodor's Travel Publications, 9780307929358, 448pp.
Publication Date: October 9, 2012
* Individual store prices may vary.
or
Not Currently Available for Direct Purchase
Description
Fodor's Italy is the essential take-along companion to one of Europe's most enduringly popular destinations. With inviting full-color photos, this updated edition highlights everything that visitors adore--from Italy's great food and wine to art and architecture, as well as glorious Tuscan hill towns, shopping, and much, much more. -EXPANDED COVERAGE: Fodor's Italy continues to provide thorough, insightful coverage to this year-after-year top European destination. New this edition is a handy Need to Know feature, giving readers an at-a-glance snapshot to help them dive into planning. Dozens of scintillating new reviews are sure to entice first-time and even longtime visitors to hotels and restaurants scattered throughout Rome, Venice, and Florence. Establishments in farther-flung cities and towns are also given their due, and this guide has long featured rich coverage of the "Mezzogiorno": those now-trendy southern Italy destinations in Puglia, Calabria, and Basilicata. -ILLUSTRATED FEATURES: Multiple full-color features bring the many sides of Italy to vibrant life. Included among the photogenic array of riches are the ancient ruins of Rome, Sicily, and Pompeii; Michelangelo's spectacular Sistine Chapel ceiling, Palladio's villas, Florence's Duomo, and Assisi's basilica of St. Francis; the vineyards of Barolo and Tuscany; the scenic glory of the Cinque Terre and Venice's Grand Canal; Pizza, Naples-style; and more. -INDISPENSABLE TRIP-PLANNING TOOLS: Convenient overviews show each region and its notable highlights, and chapter planning sections provide knowledgeable guidance for making the most of travelers' time, with top tips on getting from cities to countryside villages. Enticing cuisine highlights are given in each regional chapter. -DISCERNING RECOMMENDATIONS: Fodor's Italy 2016 offers savvy advice and recommendations from local writers to help travelers make the most of their time. Fodor's Choice designates our best picks, from hotels to nightlife. -PULLOUT MAP: Handy take-along maps of Rome and Venice provide added value, giving travelers essential information about top attractions, walking tours, and nearby dining so they can travel with confidence. -INCLUDES: Rome, Venice, Florence, Tuscany, Milan, Sicily, Sardinia, the Amalfi Coast, and more. -ABOUT FODOR'S AUTHORS: Each Fodor's travel guide is researched and written by local experts.
Advertisement