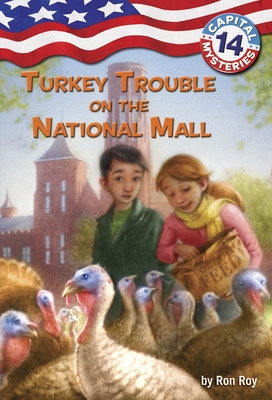 Turkey Trouble on the National Mall (Paperback)
Random House Books for Young Readers, 9780307932204, 89pp.
Publication Date: August 28, 2012
Description
Every year, the president pardons one turkey for Thanksgiving. One. But KC and her best friend, Marshall, think one isn't enough This year, they want to gather lots of turkeys to be spared. The night before the holiday, the turkeys are in a big flock on the National Mall waiting to be set free. The next morning, they're gone Who would steal 117 Thanksgiving turkeys? KC and Marshall have to ruffle some feathers to find out.
About the Author
RON ROY has been writing books for children since 1974. He is the author of dozens of books, including the popular A to Z Mysteries, Capital Mysteries, and Calendar Mysteries. When not working on a new book in his Connecticut home, Ron likes to teach tricks to his dog Pal, play poker with friends, travel, and read thrilling mystery books. Visit him online at RonRoy.com.
Advertisement