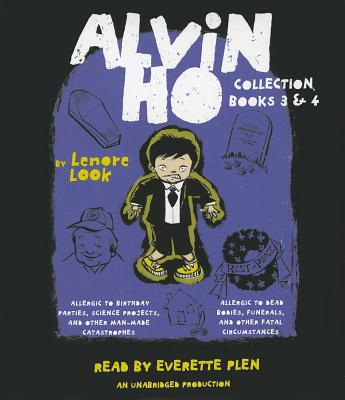 Alvin Ho Collection: Books 3 and 4: Allergic to Birthday Parties, Science Projects, and Other Man-Made Catastrophes and Allergic to Dead Bodies, Funer (Compact Disc)
Books 3 and 4: Allergic to Birthday Parties, Science Projects, and Other Man-Made Catastrophes and Allergic to Dead Bodies, Funer
Listening Library, 9780307941541
Publication Date: September 13, 2011
* Individual store prices may vary.
or
Not Currently Available for Direct Purchase
Description
Everyone's favorite neurotic second grader is back, with a collection of the funniest and most touching Alvin Ho books to date. 
 
Allergic to Birthday Parties, Science Projects, and Other Man-made Catastrophes
In the third hilarious book about Alvin Ho, a boy who's afraid of everything, includes his fear of a birthday party.  What could possibly be so scary about a birthday party? Let Alvin explain:
You might be dressed for bowling . . . but everyone else is dressed for swimming.
You could get mistaken for the piñata.
You could eat too much cake.
You could throw up.
So when Alvin receives an invitation to a party—a girl's party—how will he ever survive?
 
Allergic to Dead Bodies, Funerals, and Other Fatal Circumstances
In the fourth book in the Alvin Ho series, Alvin is facing something truly scary: the idea that someone he loves might die. When Alvin's GungGung loses his best friend, Alvin (gulp) volunteers to go with him to the funeral. Lenore Look and LeUyen Pham touch on a more serious subject in this Alvin book, but it's still filled with the same humor and laugh-out-loud antics fans have come to expect from the series.
 
Lenore Look's touching, drop-dead-funny book about an Asian American second grader has tons of boy appeal and is great for reluctant readers. The previous books in the series, Alvin Ho: Allergic to Girls, School, and Other Scary Things and Alvin Ho: Allergic to Camping, Hiking, and Other Natural Disasters, have received rave reviews. "Alvin's a winner," declares the New York Post, and Newsday says, "The novel . . . shares with Diary of a Wimpy Kid the humor that stems from the hero's Herculean efforts to manipulate the world around him in his favor, without all the facts at his disposal." Alvin Ho perfectly captures the trials and tribulations of boyhood.
About the Author
First, Lenore Look, is afraid of spider babies, scary dreams, creepy old houses, and roller coasters. Second, she's the author of the Ruby Lu series. "Ruby Lu, Brave""and True" was named an ALA-ALSC Notable Children's Book and "Ruby Lu, Empress of Everything," also an ALA-ALSC Notable Children's Book, was deemed "exuberant" in a "School Library Journal" starred review and received a Gryphon Honor. The third thing you should know about Lenore is that she lives in New Jersey near a very scary bridge. "From the Audiobook Download edition."
Advertisement