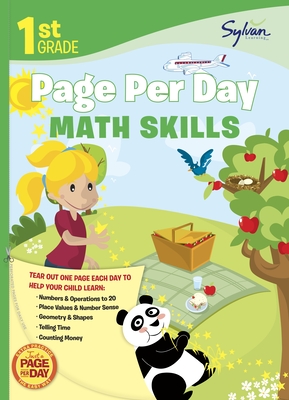 First Grade Page Per Day: Math Skills (Paperback)
Math Skills
Sylvan Learning Publishing, 9780307944603, 59pp.
Publication Date: May 8, 2012
Description
Learn the Basics with Just One Page of Activities Each Day

Sylvan Learning's First Grade Page Per Day: Math Skills uses engaging games and activities to help children become familiar with real-world math concepts, including: - Numbers & Operations to 20
- Adding Sums & Subtracting Differences
- Place Values & Number Sense
- Geometry & Shapes
- Telling Time
- Counting Money Students improve their math skills while they complete fun activities, such as: - Showing "chart smarts" by reading charts to determine how many people like hamburgers better than pizza, or prefer hockey to soccer
- Determining how many cupcakes are left on the plate after the Cupcake Eater eats some
- Connecting pictures of quarters, nickels, and dimes with pictures of toys with a matching price tag
- And much more With perforated pages that can easily be removed for short, portable lessons, First Grade Page Per Day: Math Skills will help give your child daily exposure to activities that are both fun and educational.
About the Author
Sylvan Learning is the premier provider of tutoring services for grades pre-K to 12 in North America. With over 850 locations in the United States and Canada, Sylvan provides individualized tutoring services, both in centers and online, in subjects including math, language arts, writing, study skills, and more.Sylvan's proven process and personalized methods have helped more than two million students unlock their academic potential. With products based on solid and scientific research, Sylvan is committed to both quality education and to helping children discover a love of learning!
Advertisement