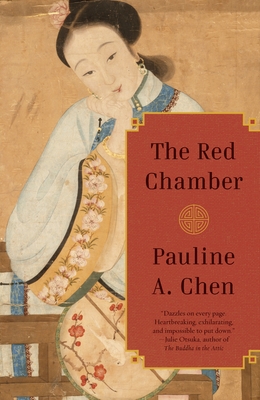 The Red Chamber (Paperback)
Vintage, 9780307946560, 400pp.
Publication Date: April 9, 2013
* Individual store prices may vary.
Description
In eighteenth-century China, the beautiful orphan Daiyu leaves her home in the provinces to seek shelter with her mother's family in Beijing. At Rongguo Mansion, she is drawn into a world of sumptuous feasts, silken robes, and sparkling jewels—as well as a complex web of secret rivalries and intrigues that threatens to trap her at every turn. When she falls in love with Baoyu, the family's brilliant, unpredictable heir, she finds the forces of the family and convention arrayed against her, and must risk everything to follow her heart.

Based on the epic Dream of the Red Chamber—one of the most famous love stories in Chinese literature—this novel recasts a timeless tale for Western audiences to discover.
About the Author
Pauline A. Chen earned her B.A. in classics from Harvard, her J.D. from Yale Law, and her Ph.D. in East Asian Studies from Princeton. She has taught Chinese language, literature, and film at the University of Minnesota and Oberlin College. She is also the author of the children's novel Peiling and the Chicken-Fried Christmas.
Praise For The Red Chamber…
"Dazzles on every page. Heartbreaking, exhilarating, and impossible to put down." —Julie Otsuka, author of The Buddha in the Attic

"Bold and memorable. . . . Chen retells and recreates in lush detail the daily life inside the Rongguo Mansion, where scandalous secrets and lies are hidden behind a grand façade." —Chicago Tribune

"Elegant. . . . takes a long hard look at the complex interconnected desires, ambitions, and conventions that can bind a family together—or tear it apart." —The Daily Beast

"Rarely does a cast of beloved literary figures from another culture and time come alive on the pages of a modern writer's work. Pauline Chen has reimagined the characters from my very favorite novel to make a compelling new version of China's great literary masterpiece." —Arthur Golden, author of Memoirs of a Geisha

"Draws a memorable portrait of the Qing dynasty era, revealing a dangerous world of intrigue and secrets within the entrapping web of societal mores and manners. Written in a precise, cinematic style, Chen's novel brings this fascinating historical period to vivid life." —Dan Chaon, author of Stay Awake

"Chen's adaptation boils down the original story to focus, in part, on that famous [love] triangle that just about everyone in China knows." —NPR

"All the reversals and treachery of a telenovela. . . . moving, startling, and quite beautiful." —The Plain Dealer

"Offers a window into a foreign world. . . . Chen's framework provides a context for her characters' actions, as often flawed as they are heroic, that makes things not just knowable but comprehensible." —The Denver Post

 "A tangled past shapes a present rich with sex, violence, intrigue, guilt and jealousy. . . . Here is clearly a work of love and a pleasing introduction to a novel—and a world—that Americans deserve to get to know." —The Columbus Dispatch

"Chen raises the bar extraordinarily high in this reimagining of one of the most famous Chinese books ever written. . . . reads like a cross between Upstairs Downstairs and War and Peace. This is a well-crafted novel full of skill and grace from an author to watch out for." —Sunday Business Post (Ireland)

"Gripping. . . . These are complex storylines and well-loved literary characters, but Chen handles their emotions artfully and with compassion. . . . Chen has successfully unravelled and rethreaded Cao's masterpiece for a new audience." —Sunday Morning Post (Hong Kong)

 "Guaranteed to appeal to fans of Lisa See. . . . From the mighty heights to the depths of poverty and despair, the significance of female relationships, friendships, and rivalries are at the forefront of this compelling glimpse into an exotic time and place." —Booklist

"The writing is supple and Chen often touches notes of emotional depth." —Kirkus Reviews

"Full of lavish details of the palace, sumptuous feasts, and day-to-day minutiae, levitating whispered conversations overheard by the wrong parties, capricious scheming between family members, and gossip hidden beneath every elegant tapestry and beaded pillow to lofted heights." —Publishers Weekly

"Fans of historical fiction who appreciate resonant details, unexpected intrigue, and multigenerational plotting will find this work irresistible. . . . just the right blend of the highbrow literary and guilty summer pulp" —Library Journal