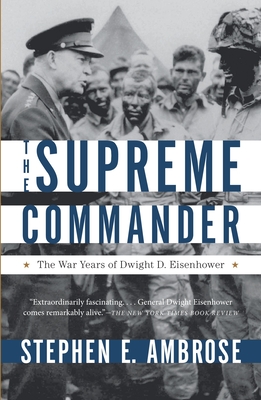 The Supreme Commander: The War Years of General Dwight D. Eisenhower (Paperback)
The War Years of General Dwight D. Eisenhower
Anchor Books, 9780307946621, 732pp.
Publication Date: January 17, 2012
Description
In this classic portrait of Dwight D. Eisenhower the soldier, bestselling historian Stephen E. Ambrose examines the Allied commander's leadership during World War II.
Ambrose brings Eisenhower's experience of the Second World War to life, showing in vivid detail how the general's skill as a diplomat and a military strategist contributed to Allied successes in North Africa and in Europe, and established him as one of the greatest military leaders in the world. Ambrose, then the Associate Editor of the General's official papers, analyzes Eisenhower's difficult military decisions and his often complicated relationships with powerful personalities like Churchill, de Gaulle, Roosevelt, and Patton. This is the definitive account of Eisenhower's evolution as a military leader--from its dramatic beginnings through his time at the top post of Allied command.
About the Author
Stephen E. Ambrose was the author or co-author of more than thirty books on military affairs and foreign policy. Early in his career he was an associate editor of The Eisenhower Papers, and he later went on to publish the definitive, three-part biography of Eisenhower, as well as many bestselling books of military history, including Band of Brothers and Undaunted Courage. He died in 2002.
Praise For The Supreme Commander: The War Years of General Dwight D. Eisenhower…
"Extraordinarily fascinating. . . . General Dwight Eisenhower comes remarkably alive."
—The New York Times Book Review

"Ambrose is that rare breed: an historian with true passion for his subjects."
—Ken Burns

"Ambrose should be assigned a special, honored place among modern historians. . . . All of us who write or read history are in his debt."
—Fort Worth Star-Telegram
 
"A masterful historian."
—People

Advertisement