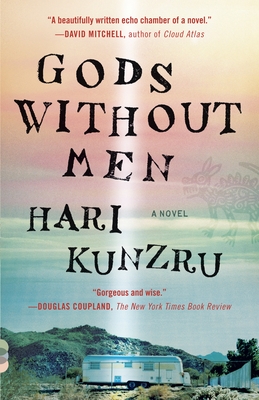 Gods Without Men (Vintage Contemporaries)
Paperback

* Individual store prices may vary.
Other Editions of This Title:
Digital Audiobook (9/30/2011)
Description
Jaz and Lisa Matharu are plunged into a public hell after their son, Raj, vanishes during a family vacation in the California desert. However, the Mojave is a place of strange power. Before Raj reappears— inexplicably unharmed, but not unchanged—the fate of this young family will intersect with that of many others, both past and present, who have traveled through this odd, remote town in the shadow of a mysterious rock formation known as the Pinnacles.
 
Among them are an 18th-century Spanish missionary, a former WWII aviation engineer turned desert-cult messiah, and an incognito rock star on the run. As their stories collide and build upon one another, Gods Without Men becomes a heartfelt exploration of the search for meaning in a chaotic universe.

Praise For Gods Without Men (Vintage Contemporaries)…
"A beautifully written echo chamber of a novel." —David Mitchell, author of Cloud Atlas

"Gorgeous and wise." —Douglas Coupland

"A wildly ambitious novel that spans centuries." —Michiko Kakutani, The New York Times

"A distinctly American novel worthy of comparison with the best work of Pynchon and DeLillo."  —Salon 
 
 "Kunzru can rival … any current novelist with the strength of his prose and imaginative boldness." —The Wall Street Journal
 
"[A] big, innovative, questioning book…. Deeply beautiful." —San Francisco Chronicle 
 
"Quite a ride: This is a book in which monks of the 18th century trudge the Mojave with drug-sodden hippies from the Summer of Love. A book in which Native Americans poised at the twilight of a dying culture try valiantly to guard their myths from relentlessly literal-minded anthropologists. . . . Here are cynical veterans from World War II, hard-bitten GIs fresh from Iraq, randy communards, washed-up bankers, wasted groupies whose only thought is their next roach or a place to park their sleeping bag. Here is death, sex, and rock-and-roll. And all of it, as random as it may sound, is a fitting paean to this jittery world." —The Washington Post
 
"A stunning achievement. . . . Gods Without Men will undoubtedly prove to be one of the most important works of fiction published this year." —The New York Journal of Books
 
"Ambitious and wonderful. . . . Rather than looking for easy answers, Kunzru suggests, we should read instead for the questions—remembering that when you travel in the desert, what looks like an oasis is usually just a mirage." —Milwaukee Journal Sentinel
 
"[A] dreamscape of a novel. . . . Kunzru is a fiercely intelligent writer, who exhibits remarkable control over both his material and his impressive variety of narrative voices." —Slate
 
"The clever symmetries that link the stories reveal the bleached bones of America; violence, an unending contest over the politics of meaning and faith." —The Paris Review
 
"A compelling exploration of cosmic-American weirdness." —Entertainment Weekly
 
"[Kunzru's] deft descriptions of contemporary life capture attention, but what impresses at the end of this novel is its sense of history as a mosaic of endless variations on the human effort to make sense of the world." —The Washington Times
 
 "Gods Without Men [is] in a genre all by itself. It's not a book easily forgotten, and it may haunt you after you've closed the final pages." —Bookreporter
 
"The finest novel about a cult since Portis's Masters of Atlantis." —Time Out New York
 
"A powerful excavation of the frayed nerves of New Age America. Whether dealing in UFOs, Indian legends or derivative trading systems, Gods Without Men is a novel about the need for faith in a fragmented, postmodern world shorn of grand narratives and credible belief systems." —The New York Observer
 
"Mind-blowing. . . . One of the most original novels I have read in years, daringly imaginative, funny and troublesome, and above all a commentary on certain kinds of lunacy that helps define the American character. . . . The ride the writer takes us on up until the final page is one hell of a hair-raising experience, almost every scene demonstrating Kunzru's extraordinary virtuosity." —Counterpunch
 
"Simultaneously simple and complex, clear and ambiguous." —The Philadelphia Inquirer
 
"Beautifully written, ambitiously conceived." —Newsday

Vintage, 9780307946973, 480pp.
Publication Date: January 8, 2013
About the Author
Hari Kunzru is the author of the novels The Impressionist, Transmission, and My Revolutions, and is the recipient of the Somerset Maugham Award, the Betty Trask Prize from the Society of Authors, a British Book Award, and the Pushcart Prize. Granta has named him one of its twenty best young British novelists, and he was a Fellow at the New York Public Library's Cullman Center for Scholars and Writers. His work has been translated into twenty-one languages, and his short stories and journalism have appeared in The New York Times, The Guardian, The New Yorker, the London Review of Books, Wired, and the New Statesman. He lives in New York City.
 
www.harikunzru.com