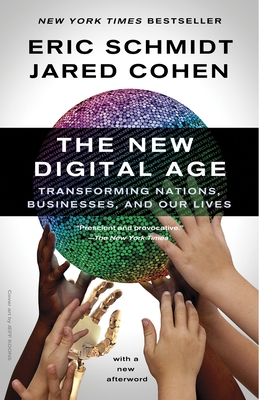 The New Digital Age (Paperback)
Transforming Nations, Businesses, and Our Lives
Vintage, 9780307947055, 368pp.
Publication Date: March 4, 2014
Other Editions of This Title:
Compact Disc (3/4/2014)
MP3 CD (4/8/2014)
Compact Disc (8/6/2013)
* Individual store prices may vary.
Description
In the next decade, five billion new people will come online, posing for our world a host of new opportunities—and dangers. Google's Eric Schmidt and Jared Cohen traveled to thirty-five countries, including some of the world's most volatile regions and met with political leaders, entrepreneurs, and activists to learn firsthand about the challenges they face. Packed with fascinating ideas, informed predictions, and prescient warnings, The New Digital Age tackles some of the toughest questions about our future: how will technology change the way we approach issues like privacy and security, war and intervention, diplomacy, revolution and terrorism. And how can we best use new technologies to improve our lives? More than a book about gadgets and data, this is a prescriptive glimpse of how technology is reshaping our world and the lives of the people who live in it.

With a new afterword.
About the Author
Eric Schmidt is executive chairman of Google, where he served as chief executive officer from 2001 to 2011. A member of the President's Council of Advisors on Science and Technology, Schmidt also chairs the board of the New America Foundation and is a trustee of the Institute for Advanced Study in Princeton, New Jersey.

Jared Cohen is director of Google Ideas and an Adjunct Senior Fellow at the Council on Foreign Relations. He is a Rhodes Scholar and the author of several books, including Children of Jihad and One Hundred Days of Silence. He is a member of the Director's Advisory Board at the National Counterterrorism Center.
Praise For The New Digital Age: Transforming Nations, Businesses, and Our Lives…
Praise for The New Digital Age

"Prescient and provocative."
—The New York Times 
 
"In this fascinating book, Eric Schmidt and Jared Cohen draw upon their unique experiences to show us a future of rising incomes, growing participation, and a genuine sense of community—if we make the right choices today."
—Bill Clinton
 
"This is the most important—and fascinating—book yet written about how the digital age will affect our world."
—Walter Isaacson
 
"Shifts the debate about technology, elevating it . . . to the wider issues of how technology interacts with power."
—The Economist

"Ambitious [and] fascinating . . . [this] book is filled with tantalizing examples of futuristic goods and services."
—Scientific American

"Schmidt and Cohen make a formidable intellectual duo, combining Schmidt's encyclopedic knowledge of digital technology with Cohen's equally impressive grasp of international diplomacy and politics. . . . The New Digital Age reads with surprising clarity, verve, and even occasional wit. . . . Sophisticated analysis. . . . Balanced and interesting."
—The Christian Science Monitor

"Full of fresh thinking, tightly researched examples and creative twists…. . If you care about the future . . . read this book. Bound to get the digerati buzzing and cause regular people to reflect deeply about our future. . . It will give you resolve to take action and perhaps even help you figure out what is to be done."
—The Huffington Post

"Together [Schmidt and Cohen] forecast a raft of new innovations and corresponding threats that will arise for dictatorships, techno revolutionaries, terrorists and you."
—NPR

"As tech-industry VIPs, Schmidt and Cohen deserve credit for probing the dark side of progress. In the wake of the Boston bombings, their warnings about the Net's dangers have gained chilling salience."
—The San Francisco Chronicle

"Eric Schmidt and Jared Cohen have produced a searching meditation on technology and world order. Even those who disagree with some of their conclusions will learn much from this thought-provoking volume."
—Henry A. Kissinger

"A guide to the future written by two experts who possess a profound understanding of humanity's altered prospects in a wireless world. There are insights on every page and surprising conclusions (and questions) in every chapter. For experts and casual readers alike, Eric Schmidt and Jared Cohen have produced an indispensable book."
—Former U.S. secretary of state Madeleine Albright

"A brilliant book that should be required reading for anyone who wishes to understand the huge ramifications of the Age of Google not only for our lifestyles but, more importantly, for our privacy, our democracy and our security. . . . The 'technoptimistic' case will never be more smartly argued."
—Niall Ferguson, author of Civilization: The West and the Rest

"The New Digital Age is must-reading for anyone who wants to truly understand the depths of the digital revolution. . . . Schmidt and Cohen blend the technical and the human, the scientific and the political, in ways I rarely saw while in government. They challenge the reader's imagination on almost every page."
—General Michael Hayden, former director of the CIA

"This is a book that describes a technological revolution in the making. How we navigate it is a challenge for countries, communities and citizens. There are no two people better equipped to explain what it means than Eric Schmidt and Jared Cohen."
—Tony Blair

"Few people in the world are doing more to imagine—and build—the new digital age than Eric Schmidt and Jared Cohen. With this book, they are looking into their crystal ball and inviting the world to peek in."
—Michael R. Bloomberg

"Thoughtful, well-researched. . . . Readers might be left with more questions than answers, but that's the idea—we are at our best when we ask 'What's next?'"
—Elon Musk, cofounder of Tesla Motors and PayPal

"The New Digital Age offers an intriguing fusion of ideas and insights about how the virtual world is intersecting with the 'Westphalian order.'. . . This book should launch a valuable debate about the practical implications of this new connectivity for citizens and policy makers, societies and governments."
—Robert B. Zoellick, former president of the World Bank Group

"Schmidt and Cohen offer a rigorous approach to decoding what the future holds in a story that is as well written and entertaining as it is important."
—General Brent Scowcroft, former National Security Advisor

"At last, a brilliant guide book for the next century—what the future holds for entrepreneurs, revolutionaries, politicians, and ordinary citizens alike. Schmidt and Cohen offer a dazzling glimpse into how the new digital revolution is changing our lives. This book is the most insightful exploration of our future world I've ever read, and once I started reading I was simply unable to put it down."
—Sir Richard Branson, founder and chairman, Virgin Group

"This brilliant book will make you re-examine your concepts of the digital age, the way the world works, what lies ahead, and what all this means for you, your family and your community. A must read."
—Mohamed El-Erian, chair, President Obama's Global Development Council