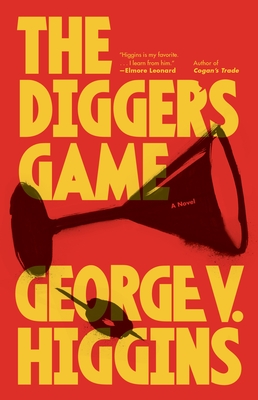 The Digger's Game (Paperback)
Vintage Books, 9780307947260, 214pp.
Publication Date: March 6, 2012
Description
A riveting George V. Higgins masterpiece about Jerry Doherty and his trip to Vegas that puts him eighteen grand in the hole.
Jerry "Digger" Doherty is an ex-con and proprietor of a workingman's Boston bar, whosupplements his income with the occasional "odd job," like stealing live checks or picking up hot goods. Hisbrother's a priest, his wife'sa nag, and he has a deadlyappetite for martinis and gambling. On a trip to Vegas, the Diggerfinds himself in the sights of a loan sharkknown as the Greek. Luckily--if you call it luck--the Diggerhasbeen let in on a little job that can turnhis gambling debt into a profit, if only he can pull it off without getting himselfkilled.
About the Author
George V. Higgins was the author of more than twenty novels, including the bestsellers The Friends of Eddie Coyle, Cogan's Trade, The Rat on Fire, and The Digger's Game. He was a reporter for the Providence Journal and the Associated Press before obtaining a law degree from Boston College Law School in 1967. He was an assistant attorney general and then an assistant United States attorney in Boston from 1969 to 1973. He later taught Creative Writing at Boston University. He died in 1999.
Praise For The Digger's Game…
 
"Another bullseye for Higgins!" —The New York Times
 
 "Digger is so real that the next time you order a drink from a bartender, you'll look at him hard, wondering what he does on his days off."—Los Angeles Times
  
"Higgins is one hell of a writer."--Newsday
 
"Aspiring writers of any genre, not just legal suspense, would be wise to read lots of George Higgins." --John Grisham

 "Higgins deserves to stand in the company of the likes of Chandler and Hammett as one of the true innovators in crime fiction." —Scott Turow
 
"Higgins can plot a whole book like one long chase scene. He can write dialogue so authentic it spits." —Life
 
"The Balzac of the Boston underworld. ... Higgins is almost uniquely blessed with a gift for voices, each of them ... as distinctive as a fingerprint."—The New Yorker
 
"One of the great crime writers of the twentieth century." —Kansas City Star

"Higgins writes about the world of crime with an authenticity that is unmatched." --The Washington Post
 
"A uniquely gifted writer . . . who does at least as well by the Hogarthian Boston he knows as Raymond Chandler once did for Southern California." —The New York Times 
 
Advertisement