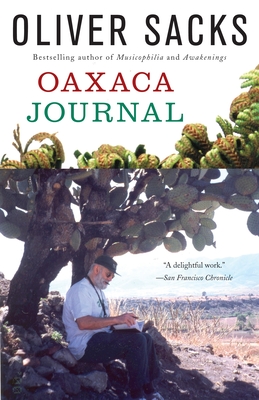 Oaxaca Journal
Paperback

* Individual store prices may vary.
Description
Since childhood, Oliver Sacks has been fascinated by ferns: an ancient class of plants able to survive and adapt in many climates. Along with a delightful group of fellow fern aficionados—mathematicians, poets, artists, and assorted botanists and birders—he embarks on an exploration of Southern Mexico, a region that is also rich in human history and culture. He muses on the origins of chocolate and mescal, pre-Columbian culture and hallucinogens, the vibrant sights and sounds of the marketplace, and the peculiar passions of botanists. What other species would comb ancient Zapotec ruins on their hands and knees, searching for a new type of fern? Combining Sacks's enthusiasm for natural history and the richness of humanity with his sharp and observant eye for detail, Oaxaca Journal is a rare treat.

Praise For Oaxaca Journal…
"A delightful work." —San Francisco Chronicle

"Sacks's boundless curiosity is always a reward." —The New York Times Book Review

"Sacks doesn't waste a word. . . . He deftly characterizes people he meets along the way, smoothly slips facts from his wide-ranging reading into his narrative, expertly describes landscapes and raises up a hero: Boone Hallberg, a U.S.-born scientist who has lived in Oaxaca since the 1940s, working to conserve the priceless diversity of the natural world." –San Francisco Chronicle

"Light and fast-moving. . . . Among the botanical and anthropological observations, one catches glimpses of Sacks's inner life: his preoccupation with dualities, his nearly Victorian sense of modesty, his fascination with the world around him." —The New Yorker
 
"Like all the best journals, it has a rich immediacy, a sense that we share the moment of the author's perceptions. Since Sacks is such a lovely writer, and he and his fellow travelers such fonts of knowledge about everything from Mexican history to Mayan culture to chocolate making to the workings of fern evolution, the book is a rare treat. . . . It makes you want to strap on your field glasses and catch the first flight south." –The Globe and Mail
 
"Relaxed yet observant. . . . [Sacks'] thoughtful, sometimes wistful ruminations, no matter how expansive they may grow, are always rooted in the concrete details he has observed. . . . Those who read Oaxaca Journal will appreciate Sacks' own diligence as an observer and his skill in translating the wonders of the material world into words." —Los Angeles Times
 
"Oaxaca Journal whipped up my appetite for a visit to Mexico, as the best travel writing does." —The Providence Journal
 
"The combination of his insatiable curiosity and rigorous scientific observation makes him an excellent travelling companion. . . . Mexico past and present emerges from these bursts of association and digression. . . . With so much of the world made superficially familiar by tourism, Oliver Sacks's dogged pursuit of the exotic is especially welcome. He has, moreover, succeeded in striking that elusive balance of input between traveler and culture that makes for good travel writing." —Times Literary Supplement (London)
 
"Bittersweet and profound. . . . Truly a lovely book." —The Chicago Tribune
Vintage, 9780307947444, 176pp.
Publication Date: March 6, 2012
About the Author
Oliver Sacks was a neurologist, writer, and professor of medicine. Born in London in 1933, he moved to New York City in 1965, where he launched his medical career and began writing case studies of his patients. Called the "poet laureate of medicine" by The New York Times, Sacks is the author of thirteen books, including The Man Who Mistook His Wife for a Hat, Musicophilia, and Awakenings, which inspired an Oscar-nominated film and a play by Harold Pinter. He was the recipient of many awards and honorary degrees, and was made a Commander of the British Empire in 2008 for services to medicine. He died in 2015.