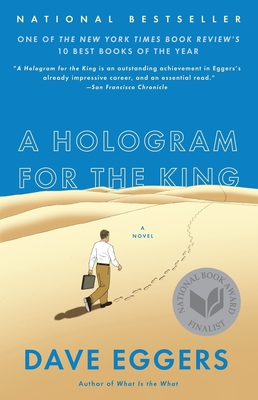 A Hologram for the King
A Novel
Paperback

* Individual store prices may vary.
Other Editions of This Title:
Digital Audiobook (5/6/2019)
Hardcover (6/19/2012)
Paperback (4/19/2016)
MP3 CD (6/23/2015)
Description
A Hologram for the King takes us around the world to show how one man fights to hold himself and his splintering family together in the face of the global economy's gale-force winds. In a rising Saudi Arabian city, far from weary, recession-scarred America, a struggling businessman pursues a last-ditch attempt to stave off foreclosure, pay his daughter's college tuition, and finally do something great. This taut, richly layered, and elegiac novel is a powerful evocation of our contemporary moment — and a moving story of how we got here.

A National Book Award Finalist
One of the New York Times Book Review's 10 Best Books of the Year
One of the Best Books of the Year from The Boston Globe and San Francisco Chronicle
Praise For A Hologram for the King: A Novel…
"A Hologram for the King is an outstanding achievement in Eggers's already impressive career, and an essential read." —San Francisco Chronicle

"[A] clear, supremely readable parable of America in the global economy that is haunting, beautifully shaped, and sad. . . . A story human enough to draw blood…. Groundbreaking." —The New York Times Book Review

"Completely engrossing. . . . Perfect." —Fortune
 
"Dave Eggers is a prince among men. . . . A strike against the current state of global economic injustice." —Vanity Fair
 
"A fascinating novel." —The New Yorker
 
"Eerie, suspenseful and tightly controlled." —The Globe and Mail
 
"A comic but deeply affecting tale about one man's travails that also provides a bright, digital snapshot of our times." —The New York Times
 
"Eggers's most fully-realized character to date. . . . True genius." —Boston Globe
 
"An unforgettable read." —Entertainment Weekly

"A novel poised on the central meridian of our times. . . . Eggers maintains an exquisite balance of irony, empathy, dark humor, and unexpected tenderness in this taut exploration of the ever-increasing price of ordinary survival. A book as heartbreaking as the global economy it explores with such beauty and ferocity." —National Book Awards citation
 
"Eggers, continuing the worldly outlook that informed his recent books Zeitoun and What Is the What, spins this spare story—a globalized Death of a Salesman—into a tightly controlled parable of America's international standing and a riff on middle-class decline that approaches Beckett in its absurdist despair." —The New York Times citation for Best Books of the Year
 
"Solidly constructed and elegantly told. There is nothing inaccessible about it. . . . Clay may not be like each of us, but he is an everyman whose irrelevancy is parallel to America's own." —Los Angeles Times
 
"Eggers understands the pressures of American downward-mobility, and in the protagonist of his novel, Alan Clay, has created an Everyman, a post-modern Willy Loman. . . . The novel operates on a grand and global scale, but it also is intimate." —The Chicago Tribune
 
"Fascinating. . . . A Hologram for the King, as far from home as it might seem, is an acute slice of American life." —Tampa Bay Times
 
"A fresh surprise. . . . Strong and satisfying. As the kingless days pass, Alan ventures from the tent and hotel into the rich, unsettling realities of the Kingdom, and Eggers ventures deeper into Alan, as well as into the question that has seemingly guided Eggers' work for years: What does it mean to be an American in a world that has places like the Sudan, Saudi Arabia, or post-Katrina New Orleans?" —San Francisco Weekly
 
"Deft and darkly comic . . . A Hologram for the King is not only a portrait of a man in midlife trying desperately to salvage his future. The book is emblematic of what Eggers sees as wrong in America today: the collapse of homegrown industry, the outsourcing of labor, a loss of confidence, soured ideals. . . . But [it] isn't a bummer—or if it is, it's a bummer beautifully enlivened by oddball encounters and oddball characters, by stranger-in-a-strange-land episodes. . . . A Hologram for the King moves forward—a momentum of melancholy and possibility, driven by the meditations and memories of its once-noble American salesman hero." —The Philadelphia Inquirer
 
"Eggers's spare prose is a pleasure, and A Hologram for the King proves to be a deft blend of surreal adventure, absurd comedy and pointed observations." —San Jose Mercury News
 
"[Hologram] has at its center a sort of moral vision quest. . . . Alan's plight is endearing in its universality, even while being singularly his." —Time Out Chicago
 
"A Hologram for the King presents us with the Great American Novel for this not-so-great America. . . . It strikes a new note for Eggers with its pervading sense of gallows humor." —Baltimore City Paper
 
"A Hologram for the King . . . reads fast and clear, with clean, stripped-down prose and a tone at once mournful and darkly amused. . . . It's not that this world is changing, or that it will change. The world already changed, and now everyone, whether they like it or not, is tasked with figuring out how—or if—they can adapt." —Portland Mercury

"A Beckettian masterpiece. . . . The finest work to date from an influential figure in American letters." –The Telegraph (UK)
Vintage, 9780307947512, 352pp.
Publication Date: June 4, 2013
About the Author
Dave Eggers is the author of six previous books, including Zeitoun, winner of the American Book Award and the Dayton Literary Peace Prize. What Is the What was a finalist for the 2006 National Book Critics Circle Award and won France's Prix Medici. That book, about Valentino Achak Deng, a survivor of the civil war in Sudan, gave birth to the Valentino Achak Deng Foundation, which operates a secondary school in South Sudan run by Mr. Deng. Eggers is the founder and editor of McSweeney's, an independent publishing house based in San Francisco that produces a quarterly journal, a monthly magazine, The Believer, and an oral history series, Voice of Witness. In 2002, with Nínive Calegari he co-founded 826 Valencia, a nonprofit writing and tutoring center for youth in the Mission District of San Francisco. Local communities have since opened sister 826 centers in Chicago, Los Angeles, New York, Ann Arbor, Seattle, Boston and Washington, DC, and similar centers now exist in London (the Ministry of Stories), Dublin (Fighting Words) and in Copenhagen, Stockholm, Melbourne, and many other cities. A native of Chicago, Eggers now lives in Northern California with his wife and two children.
In the first few pages, we learn many things about Alan Clay: he lacks the courage to spend more time with a woman he is attracted to; he lacks the money to pay his daughter's college tuition; he is divorced; his house is on the market but has not yet sold; he owes money to many people. We are told, "he had made a series of foolish decisions in his life. He had not planned well. He had not had courage when he needed it" (4). Do you feel distant from Alan, or do you feel empathy for him? Does your response to him change as the novel proceeds? Can you think of similar protagonists in other novels you have read?
The story of Charlie Fallon's suicide comes up in the first chapter (5-6), and then intermittently throughout the novel (59-60, 128, 183-84). What does Charlie's suicide mean to Alan, and why does he keep thinking about it?
Alan "had moved from Schwinn to Huffy to Frontier Manufacturing Partners to Adam Clay Consulting to sitting at home watching DVDs of the Red Sox winning the Series in '04 and '07" (11). What has caused the decline of Alan's career? Is there any way he might have averted the situation in which he now finds himself?
Alan sits next to a drunken man on the plane to Saudi Arabia who argues that the United States is a nation in decline: "We've become a nation of indoor cats," he says. He attributes the decline partly to the fact that "People were done manufacturing on American soil" (13). Is Alan's life exemplary of this crisis in American identity?
While Alan's whole life depends on selling an IT system to King Abdullah for the new Economic City, Alan's driver Yousef believes the city will never be built. But the friendship between Yousef and Alan continues nonetheless. How are Alan's jokes important to the friendship? What is appealing about Yousef? What does he distrust about Alan?
How is digital technology—which Alan is now trying to sell to King Abdullah—different from the creation and export of manufactured things? How do the young people Alan is working with on the hologram presentation differ from him in their assumptions about work and business?
There is interesting tension between Alan's former life, in which he was involved in the production of real goods (bicycles) and his situation during the course of Hologram¸ where he is, essentially, selling NOTHING — a mirage, a dream, an image. Is this a commentary on America's role in the global marketplace?
Hanne gives Alan some contraband alcohol, which he enjoys alone in his hotel room. How do Alan's alcohol-fueled reflections affect the mood of the novel? Why is Alan surprised by what he sees at the embassy party Hanne takes him to (141-46)?
Is it surprising that Alan doesn't encourage Hanne's attempts to seduce him? Why does he think that without sex, "life was altogether more streamlined now" (177)? How does he respond to the physical presence of his doctor, Zahra Hakem (153)?
To what degree are Alan's difficulties in the present related to his marriage to his ex-wife, Ruby (Chapters xvi, xxi, xxiii, xxix)? How has his failed marriage affected his relationship with his daughter?
Intermittently, Alan is mentally writing a letter to his daughter, Kit. One of the statements that comes to him is, "The key thing is managed awareness of your role in the world and history. Think too much and you know you are nothing. Think just enough and you know you are small, but important to some. That's the best you can do" (102-03). Discuss the value or limitation of this statement as a maxim for life.
Yousef takes Alan along to his father's house in the desert. Impressed that Yousef's father saved the money from selling shoes to build the enormous house, Alan reflects on a wall he built back at home (235-38). What does the story of Alan's wall reveal about bureaucratic barriers to action, independence and productivity?
What does Alan learn about the realities of life in the Kingdom of Saudi Arabia through his conversations with Hasan, Yousef, and Yousef's friends? Are their ambitions for the future as restricted as his own? Based on these relationships, do you think the novel could have been set in another country and successfully addressed the same themes and issues—i.e., is Eggers more interested in exploring the culture of Saudi Arabia and the Middle East or Alan Clay?
"It will be good to be the one to see and shoot the wolf," Alan thinks (260). How does Alan manage to nearly kill the shepherd boy, and what does he learn about himself in that moment (261-62)?
What function does Alan's mental letter to his daughter serve in his own mind? What is he trying to communicate to her? Does their trip to see the launch of the space shuttle Atlantis show him to be a good father (270-76)?
When the benign cyst is removed from Alan's neck, he feels confused: "If there was no tumor attached to his spine, dragging him to these recent depths, then what was the explanation?" (277). Does the fact that there is nothing physically wrong with him imply that he will now feel better psychologically?
Alan tells Zahra a story about a camping trip with his father (304-07). What is the meaning of the story, and how does Zahra react? Does Alan's romantic visit with Zahra seem to imply a happier time ahead for him, or not?
Alan finally does make his presentation to King Abdullah. How does the ending work and what response does it create in you?
Eggers has chosen for the epigraph—"It is not every day that we are needed"—a quote from Samuel Beckett's Waiting for Godot. The character Vladimir says, "Let us do something, while we have the chance! It is not every day that we are needed. Not indeed that we personally are needed. Others would meet the case equally well, if not better. To all mankind they were addressed, those cries for help still ringing in our ears! But at this place, at this moment of time, all mankind is us, whether we like it or not." Is Alan an American everyman? Why might Eggers have chosen this passage for the epigraph? What does Alan's plight suggest about the last few decades of American history, and also about Alan himself as a man experiencing what one might call an existential crisis?