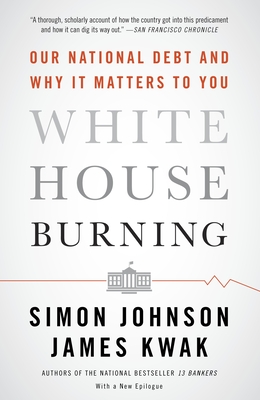 White House Burning
Our National Debt and Why It Matters to You
Paperback

* Individual store prices may vary.
Other Editions of This Title:
Digital Audiobook (4/2/2012)
Hardcover (4/3/2012)
Description
From the authors of the national bestseller 13 Bankers, a chilling account of America's unprecedented debt crisis: how it came to pass, why it threatens to topple the nation as a superpower, and what needs to be done about it.
 
With bracing clarity, White House Burning explains why the national debt matters to your everyday life. Simon Johnson and James Kwak describe how the government has been able to pay off its debt in the past, even after the massive deficits incurred as a result of World War II, and analyze why this is near-impossible today. They closely examine, among other factors, macroeconomic shifts of the 1970s, Reaganism and the rise of conservatism, and demographic changes that led to the growth of major—and extremely popular—social insurance programs. What is unquestionably clear is how recent financial turmoil exacerbated the debt crisis while creating a political climate in which it is even more difficult to solve.
Praise For White House Burning: Our National Debt and Why It Matters to You…
Praise for Simon Johnson and James Kwak's White House Burning

"A thorough, scholarly account of how the country got into this predicament and how it can dig its way out. . . . In their important, enlightening new book, economist Simon Johnson and lawyer James Kwak point out the absurdities of a budget debate dominated by partisan exaggerations and warnings of pending doom."
—San Francisco Chronicle
 
"Thought-provoking. . . . Sobering. . . . Lucid. . . . Alarming."
—Financial Times
 
"Johnson and Kwak bring dispassionate insights to bear on the bedeviling question of how to fix our fiscal mess before it gets fixed for us." 
—Bloomberg
 
"A must-read for anyone who wishes to understand the true nature of our fiscal problems."
—Liaquat Ahamed, Pulitzer Prize-winning author of Lords of Finance

"[Johnson and Kwak] shatter dozens of additional myths about deficit spending. . . . [Johnson and Kwak] thankfully dispel the widespread notion that a nation debt totaling trillions of dollars means that a government is too big."
—USA Today

"A detailed, lucid, sure-to-be controversial account of whether the massive national debt of the U.S. government actually matters. . . . [Johnson and Kwak's] especially valuable insight is that the national debt is a major problem only if it is perceived as a problem. . . . A book to be enjoyed by ideologues and non-ideologues of all stripes because it is not a tract for Republicans, Democrats or any other partisan organization."
—Kirkus Reviews

"In this powerful book, Johnson and Kwak cut through both the partisanship and the complexities of the debate over America's national debt to give us a clear understanding of why it matters and what to do about it. America's future depends vitally upon bringing our deficits under control while also investing in our growth, and this book tells us how to do both."
—Charles Ferguson, director of the Academy Award-winning documentary Inside Job

"By skillfully placing the debt debate in an insightful historical context and providing detailed recommendations, Johnson and Kwak make a major and timely contribution to a national debate that will only get more heated in the years ahead. It's a must-read for those wondering about the relationship between the national debt and America's challenges; the choices that we must make to restore fiscal viability, promote growth, create jobs, and reduce inequality; and the way that polarized politics torpedoes coherent discussion of these complex issues."
—Mohamed A. El-Erian, CEO of PIMCO and prize-winning author of When Markets Collide

"Full of wisdom and specific recommendations, [White House Burning] reminds us that only when citizens understand the seriousness of our predicament will politicians take the necessary steps to strengthen our country. Let's hope this book is a best seller."
—Bill Bradley, former United States senator and cosponsor of the Tax Reform Act of 1986

"Could there be a more important subject today than the national debt? And could there be two smarter, clearer, more incisive writers to tell us about it than Simon Johnson and James Kwak? With precision and common sense, White House Burning tells the story of where our debt came from, what it means, and what we can do about it. This is the kind of important, informed, and accessible book a democracy can't do without."
—Noah Feldman, Bemis Professor of International Law, Harvard Law School, and author of Scorpions: The Battles and Triumphs of FDR's Great Supreme Court Justices

"As they did in 13 Bankers, Johnson and Kwak imbed a crucial current policy debate in the history of the United States economy. Their blueprint for resolving the budget problem without trampling on the basic needs of average Americans is must-reading."
—C. Fred Bergsten, director, Peterson Institute for International Economics

"If you are puzzled about how our country's finances got so messed up, look no further. Johnson and Kwak explain, with great lucidity and flair, how the battle lines on debt and taxes have been drawn going back to the founding fathers, and how things got off the rails in the last two decades. And they have good news for you: even if our politicians are incorrigible, our problems are not insoluble."
—Daron Acemoglu, Elizabeth and James Killian Professor of Economics, MIT, and coauthor of Why Nations Fail: The Origins of Power, Prosperity, and Poverty

"The politicians don't care about the economics. The economists don't understand the politics. Johnson and Kwak get both, that's why you should read this book."
—James Robinson, David Florence Professor of Government, Harvard University, and coauthor of Why Nations Fail: The Origins of Power, Prosperity, and Poverty
Vintage, 9780307947642, 384pp.
Publication Date: February 12, 2013
About the Author
Simon Johnson is the Ronald A. Kurtz Professor of Entrepreneurship at MIT's Sloan School of Management and a senior fellow of the Peterson Institute for International Economics. James Kwak is an Associate Professor at the University of Connecticut School of Law. He previously co-founded Guidewire Software.
 
Visit them at: http://baselinescenario.com/
Follow: http://twitter.com/baselinescene
or
Not Currently Available for Direct Purchase