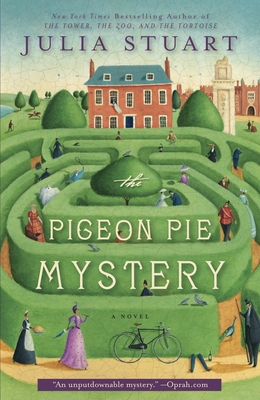 The Pigeon Pie Mystery (Paperback)
Anchor, 9780307947697, 336pp.
Publication Date: May 7, 2013
Other Editions of This Title:
Digital Audiobook (8/6/2012)
Hardcover (8/7/2012)
Hardcover, Large Print (12/26/2012)
* Individual store prices may vary.
Description
 When Indian Princess Alexandrina—nickname "Mink"—is left penniless by the sudden death of her father, Queen Victoria grants her a grace-and-favor home in Hampton Court Palace. Though it's rumored to be haunted, Mink and her lady's maid, Pooki, have no choice but to take the Queen up on her offer and join the palace's eccentric collection of guests. But when a reviled General-Major dies after eating a pie Pooki made, it makes her the number one suspect in a murder investigation.
 
Not about to let her faithful servant hang, Mink begins an investigation of her own. . . only to discover that Hampton Court isn't such a safe place to live after all. 
 
About the Author
JULIA STUART is an award-winning journalist and the author of two previous novels, The Tower, The Zoo, and the Tortoise and The Matchmaker of Perigord. She lives in London.
Praise For The Pigeon Pie Mystery…
"Cracking a Julia Stuart novel is like opening the door of an old-fashioned English tearoom. A bell tinkles merrily, and you enter a cozy world all the more inviting for being slightly claustrophobic." —The Washington Post

"With the wit of P.G. Wodehouse, the cunning of Agatha Christie, the tartness of Angela Thirkell and the Schadenfreude of Ruth Rendell - as well as her own startling originality of imagination - Stuart has blessed readers with a novel that's endlessly entertaining and ultimately tender. Even Mink's rescuer, dour old Queen Victoria, might have been amused." —Richmond Times-Dispatch

"Quirky characters, a feisty protagonist, a clever mystery and the requisite historical tidbits combine for an amusing read." —Kirkus Reviews

"A delicate yet kooky romp. . . . As Mink investigates, she finds something surprising: a group of people filled less with malice than with a desire for love in a world that offers little of it. Their longing gives them a zany wisdom that helps Mink find her own place in the world." —Oprah.com, "Book of the Week"

"The enchanting aspect of Julia Stuart's confections of books about English legends is that she does her historical homework, then tarts it up to poke the aristocracy in the eye." —The Washington Times

"Fans of Stuart's novel The Tower, the Zoo, and the Tortoise will find the same wit on display. ." —Publishers Weekly