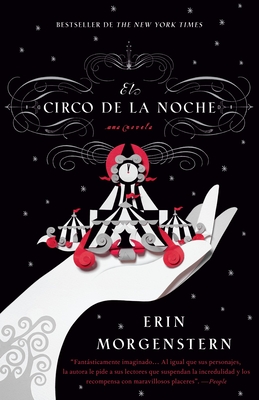 El Circo de la Noche = The Night Circus (Paperback)
Vintage Books, 9780307947857, 568pp.
Publication Date: February 21, 2012
* Individual store prices may vary.
or
Not Currently Available for Direct Purchase
Description
El circo llega sin aviso, sin anuncio. Simplemente aparece. Dentro de sus carpas blancas y negras se vive una experiencia unica, un banquete para los sentidos en el que se puede explorar un laberinto de nubes, caminar en un jardin de hielo o perderse en los ricos aromas de canela y caramelo que flotan en el aire. Bienvenidos al Circo de los suenos. Pero detras de estas maravillosas escenas existe una feroz competencia --un duelo entre dos magos jovenes, Celia y Marcos, que han sido entrenados desde la infancia para competir en un "juego." Obligados a participar por sus caprichosos amos, sin que ellos lo sepan, este es un juego en el que solo uno puede sobrevivir y el circo no es mas que el escenario para una extraordinaria batalla de imaginacion y voluntad. A pesar de todo, Celia y Marco caen irremediablemente enamorados --un amor profundo y magico que causa que las luces parpadeen y el ambiente se caliente con solo tocarse las manos. Pero sus amos siguen moviendo los hilos y el amor imprevisto de Celia y Marco les obliga a intervenir, dejando la vida de todos, desde los artistas a los espectadores, en gran peligro. Divertida, original y fascinante, El circo de la noche es una rica historia de amor que capta la imaginacion y encanta los sentidos.
About the Author
Erin Morgenstern es una escritora y artista que describe toda su obra como "cuentos de hadas, de una forma u otra." Actualmente vive en Massachusetts.
Advertisement