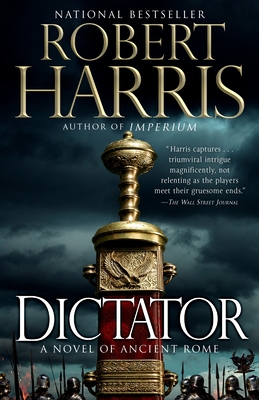 Dictator (Paperback)
A Novel
Vintage, 9780307948137, 416pp.
Publication Date: August 23, 2016
Other Editions of This Title:
Digital Audiobook (1/11/2016)
Hardcover, Large Print (4/6/2016)
CD-Audio (1/12/2016)
Hardcover (1/12/2016)
* Individual store prices may vary.
Description
The long-awaited final volume of the Cicero Trilogy, from a beloved bestselling author "incapable of writing an unenjoyable book" (The Wall Street Journal).

At the age of forty-eight, Cicero—the greatest orator of his time—is in exile, his power sacrificed on the altar of his principles. The only way to return to Rome is to pledge his support to a charismatic and dangerous enemy: Julius Caesar. Harnessing his political cunning, unrivalled intellect, and the sheer brilliance of his words, Cicero fights his way back to prominence. Yet no public figure is completely safeguarded against the unscrupulous ambition of others. 

Riveting and tumultuous, Dictator encompasses the most epic events in ancient history, including the collapse of the Roman Republic, the murder of Pompey, and the assassination of Caesar. But its central question is a timeless one: how to keep political freedom unsullied by personal gain, vested interests, and the corrosive effects of ceaseless foreign wars. In Robert Harris's indelible portrait, Cicero is a deeply fascinating hero for his own time and for ours.
About the Author
ROBERT HARRIS is the author of nine best-selling novels: Fatherland, Enigma, Archangel, Pompeii, Imperium, The Ghost Writer, Conspirata, The Fear Index, and An Officer and a Spy. Several of his books have been adapted to film, most recently The Ghost Writer, directed by Roman Polanski. His work has been translated into thirty-seven languages. He lives in the village of Kintbury, England, with his wife, Gill Hornby.
Praise For Dictator: A Novel…
Praise for Robert Harris's Dictator
 
One of the Best Books of the Year
The Guardian * The Sunday Times (London) * The Mail on Sunday
The Spectator * BBC History Magazine * Metro * The Herald (Glasgow)

"[Harris] is incapable of writing an unenjoyable book. . . . He captures . . . triumviral intrigue magnificently, not relenting as the players meet their gruesome ends." —The Wall Street Journal

"Harris brings Cicero to life with wit, verve, and vanity. . . . This is storytelling at its finest—and not to be missed." —The Christian Science Monitor

"It is the measure of Harris's achievement that we experience a 2,000-year-old crisis as though we were reading about it in a contemporary memoir." —The New York Times Book Review
 
"Splendid. . . . A three-dimensional, historically specific, often witty work of empathy and imagination." —Chicago Tribune

"Thrilling. . . . Harris remains impressively faithful to the ancient sources, embellishing the gaps with terse dialogue, exhilarating exchanges and witty observations. . . . His novel often feels like the best kind of narrative history, at once frenetic but measured in its assessment of the characters who brought the Republic to an end." —New Statesman
 
"Cicero's was a life rich in gravitas and drama, and Harris depicts it with erudition and élan. . . . Harris seems to have mastered every telling aspect of the world and the conflicts he dramatizes." —The Washington Post
 
"A sensational political thriller. . . . [Harris] has a pitch-perfect ear for class snobbery, hypocrisy, parliamentary posturing, and bluster. His best episodes bring crucial behind-the-scenes moments in Roman political skullduggery to colourful life. . . . I could not put it down." —Edith Hall, The Guardian
 
"Masterly. . . . Harris's version of the events preceding Caesar's assassination is persuasively realized, and he renders the terrifying uncertainty of its aftermath with such skill that the ensuing betrayal and destruction of the Roman Republic can almost draw a tear. . . . Deeply satisfying." —The Telegraph (London)
 
"Harris gives ancient history the feel of an ongoing thriller, a true-life game of thrones. But for all the pyrotechnics, his depth and fidelity put him in league with Marguerite Yourcenar." —New York Magazine
 
"Superb. . . . Informed by Harris's wide reading of classical texts and his intimate knowledge of current intrigue, the novel proves that when it comes to ruthless politics, there's nothing new under the sun. It confirms Harris's undisputed place as our leading master of both the historical and contemporary thriller." —The Daily Mail
 
"Charming as well as engrossing. . . . Harris has written smart, gripping thrillers . . . but his Cicero novels are more akin to Hilary Mantel's Wolf Hall in their subjects—men of towering intellect and humanity—and in their visceral evocation of history." —Kirkus Reviews (starred review)
 
"The real triumph of Dictator is how successfully it channels what is perhaps the supreme fascination of ancient Rome: the degree to which it is at once eerily like our own world and yet profoundly alien." —The New York Times Book Review
 
"[Dictator] is as skillful as it is sobering. . . . Its gripping dramas and powerful themes—the fragility of democracy and the fallibility of human beings among them—richly illuminate the conflicts of its era and our own." —Publishers Weekly
 
"Brilliant and gripping. . . . With Dictator Robert Harris brings his Cicero trilogy to a triumphant, compelling, and deeply moving conclusion. The three novels are surely the finest fictional treatment of Ancient Rome in the English language. They are distinguished by mastery of the sources, sympathetic imagination, political intelligence, and narrative skill." —The Scotsman
 
"The most strident historian will admire Harris's masterful storytelling and his vivid re-creation of this critical period in the development of Western Civilization. . . . But even if you have never given ancient Rome a second thought since escaping that confounding Latin class decades ago, you will find yourself right at home, jumping in on the final chapter of the life of this giant of a man and the final decade of his beloved republic." —The Buffalo News