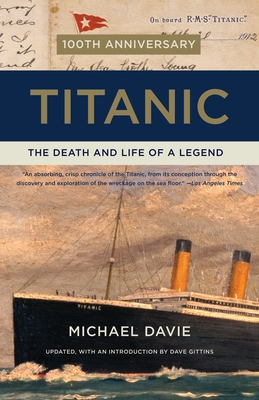 Titanic: The Death and Life of a Legend (Paperback)
The Death and Life of a Legend
Vintage, 9780307948397, 384pp.
Publication Date: April 3, 2012
Description
Newly updated on the hundredth anniversary of the tragedy by Titanic expert Dave Gittins to reflect the latest facts and theories about the ship's sinking, Titanic: The Death and Life of a Legend will fascinate Titanic experts, amateurs, and newcomers alike. In this gripping, deeply researched exploration of the Titanic's tragic sinking, journalist Michael Davie investigates the events, controversies, and legends that have surrounded the disaster. Sifting through historical documents and survivors' accounts, Davie details the nineteenth-century origins of the White Star Line, narrates the story of the "unsinkable" ship's deadly voyage, and describes the dramatic discovery of the Titanic's wreckage in 1985. Davie offers insightful portraits of the protagonists and dramatizes the confusing and terrifying hours that passed from the moment the ship hit the iceberg until its survivors were picked up by the USS Carpathia a full day later.
About the Author
Michael Davie was a leading British journalist. He was a reporter, columnist, and editor for the London Observer and the Melbourne (Australia) Age, and wrote books on topics as varied as Lyndon B. Johnson, California, and cricket. He died in 2005. Dave Gittins lives in Adelaide, South Australia. He is the author of Titanic: Monument and Warning and co-author of Report into the Loss of the SS Titanic: A Centennial Reappraisal.
Praise For Titanic: The Death and Life of a Legend…
"An absorbing, crisp chronicle of the Titanic, from its conception through the discovery and exploration of the wreckage on the sea floor." 
—Los Angeles Times 
Advertisement