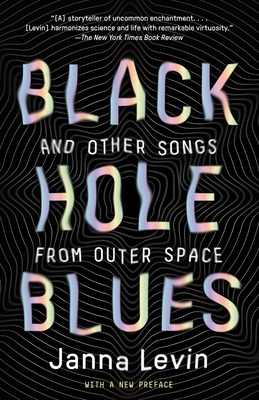 Black Hole Blues and Other Songs from Outer Space
Paperback

* Individual store prices may vary.
Other Editions of This Title:
Digital Audiobook (3/28/2016)
Hardcover (3/29/2016)
Paperback, Chinese (8/2/2018)
Description
The authoritative story of Rainer Weiss, Barry Barish, and Kip Thorne's Nobel Prize–winning discovery of gravitational waves—by an eminent theoretical astrophysicist and award-winning writer.

With A New Preface

In 1916, Einstein predicted the presence of gravitational waves. One century later, we are recording the first sounds from space, evidence of the waves' existence caused by the collision of two black holes. An authoritative account of the headline-making discovery by theoretical astrophysicist and award-winning writer Janna Levin, Black Hole Blues and Other Songs from Outer Space recounts the fascinating story of the obsessions, aspirations, and trials of the scientists who embarked on an arduous fifty-year endeavor to capture these elusive waves

Five decades after the experiment was dreamed up, the team races to intercept a wisp of sound with two colossal machines, hoping to succeed in time for the centenary of Einstein's most radical idea. With unprecendented access to the surprises, disappointments, achievements, and risks in this remarkable story, Janna Levin's absorbing account offers a portrait of modern science that is unlike anything we've seen before.
Praise For Black Hole Blues and Other Songs from Outer Space…
"[A] storyteller of uncommon enchantment. . . . [Levin] harmonizes science and life with remarkable virtuosity." —New York Times Book Review

"[An] astonishing story. . . . This is a splendid book that I recommend to anyone with an interest in how science works and in the power of human imagination and ability." —The Wall Street Journal

"Poetic. . . . The reader can't help sharing her surprises, her concerns, and her sympathies." —The New York Review of Books
 
"Fun and insightful. . . . [A] quick, engaging read . . . with vividly described personalities and personality conflicts." —Forbes 

"It is hard to imagine that a better narrative will ever be written about the behind-the-scenes heartbreak and hardship that goes with scientific discovery. Black Hole Blues is . . . a near-perfect balance of science, storytelling and insight. The prose is transparent and joyful." —New Statesman (London)
 
"[Levin] explains in clear terms the scientific heart of this achievement and the deep and personal fascination that pursuing it has held for several generations of scientists. She also captures the cost of getting to this point, both financial—this is big science in its truest sense—and, in many cases, personal. . . . Illuminating." —Nature
 
 "One of the most fascinating and beautifully written books I've ever read. . . . With a novelist's flair for unraveling the universal through the specific, [Levin] chronicles this particular scientific triumph in order to tell a larger story of the human spirit, its tenacious ingenuity in the face of myriad obstacles, and the somewhat mysterious, somewhat irrational animating force that compels scientists to devote their entire lives to exploits bedeviled by uncertainty, frequent failure, and meager public appreciation." —Brain Pickings
 
"This is a popular science book that is very, very well written. . . . Levin has inverted the usual formula. . . . Levin starts from the humans and the story, and lets the science emerge until, finally, the science and the human become one. . . . Brilliant." —The Sunday Times (London)
 
"She perfectly captures the fast-paced, forward-thinking, bureaucracy-averse atmosphere of a large-scale scientific experiment, but she also lays bare the decades of interpersonal strife that, at times, threatened to undermine the experiment's success. The author's portrait of these pioneers is especially engaging for her ability to contextualize humanness not just within the scope of the physical experiment, but in the face of such dizzying stakes—surely a Nobel is on the line and has been since the beginning." —Kirkus (Starred Review)
 
"As compelling as a novel. . . . It's punchy, witty, timely and deeply insightful; I haven't read a better book on the realities of doing science." —Michael Brooks, New Statesman (London) Books of the Year 2016
 
"A remarkable achievement that potentially opens up a whole new chapter in our understanding of the cosmos and, with perfect timing, Janna Levin's elegant and lucid book is here to tell us how it was done." —Mail on Sunday (London)
 
"Worthwhile reading for anyone considering a science career, or for those of us who love to learn how science frontiers are pushed forward." —San Francisco Book Review
 
"Levin recounts the dramatic search over the last 50 years for these elusive waves, which are considered to be the holy grail of modern cosmology and the soundtrack of the universe. Levin is an accomplished astrophysicist and a colleague of the four scientists at the center of this book. It is a story that, until now, has been known only to those most involved with the project." —NPR
 
"Lively, poignant, engaging. . . . A story worth telling." —Science Magazine


Anchor, 9780307948489, 256pp.
Publication Date: April 18, 2017
About the Author
JANNA LEVIN is a professor of physics and astronomy at Barnard College of Columbia University. She is also director of sciences at Pioneer Works, a center for arts and sciences in Brooklyn, and has contributed to an understanding of black holes, the cosmology of extra dimensions, and gravitational waves in the shape of spacetime. Her previous books include How the Universe Got Its Spots and a novel, A Madman Dreams of Turing Machines, which won the PEN/Bingham Prize. She was recently named a Guggenheim fellow.