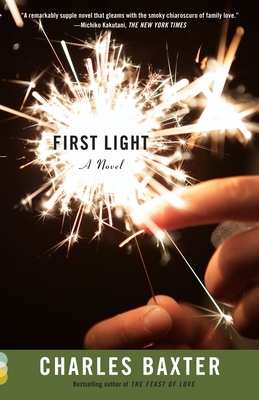 First Light (Paperback)
Vintage Books, 9780307948519, 286pp.
Publication Date: February 14, 2012
Description
Hugh Welch has cared for his little sister Dorsey ever since they were children, when Dorsey looked at him as though he were a god. But when Dorsey returns to their small Michigan hometown with a successful career as an astrophysicist and a happy family life, Hugh, who has a long habit of worrying about his sister, realizes that it's his own life he has to cure, not Dorsey's. As they explore their complicated history over one hot Fourth of July weekend, they'll come to terms with the experiences that put such distance between them and discover the imperfect love that ties them as siblings.
About the Author
Charles Baxter is the author of the novels "The Feast of Love" (nominated for the National Book Award), "The Soul Thief," "Saul and Patsy," and "Shadow Play," and the collections "Gryphon," "Believers," "A Relative Stranger," "Through the Safety Net," and "Harmony of the World." He lives in Minneapolis and teaches at the University of Minnesota and in the M.F.A. Program for Writers at Warren Wilson College.
Praise For First Light…
"A remarkably supple novel that gleams with the smoky chiaroscuro of family love."—Michiko Kakutani, The New York Times 
 
"A novel of great emotional power, of heart-twisting intimacy and intellectual force." —Newsday  
 
"An intricately reflective, simply beautiful book." —Los Angeles Times
 
"Only a virtuoso could manage such a narrative, and Baxter is and does." —The Washington Post Book World
 
"A book one reads with pleasure from the first word to the last for the delicacy and truth of its perceptions." —J. M. Coetzee
 
"[Baxter's] prose is like filtered late-summer light dancing through leaves not quite turned yet—a light bathed with sadness, humor, and a clear, intelligent intensity." —USA Today 
 
"First Light is a novel that moves backward in time, traveling from past to present as though through a tunnel of memory. . . . Like Chekhov, [Baxter] is both tough-minded and compassionate, and he never makes his characters more or less than what they are. They are human, and that in itself is a rare achievement for a writer, a thing to be celebrated above and beyond all other achievements in this splendid book." —Paul Auster
 
"Here is a voice worth listening to, a voice that has shown itself, in this wonderful, magical novel, to command the music of the spheres." —San Jose Mercury News
 
"Without question, Charles Baxter is among our best contemporary writers—always graceful, always dramatic. Superlatives are insufficient. Here is literature. Here is art." —Tim O'Brien
 
"Charles Baxter asks the most wonderful questions and addresses the most essential subjects—the things we have been thinking but haven't . . . known how to begin to say." —Francine Prose
 
"It's exceedingly rare to come across writing as seamless and engrossing as Charles Baxter's." —The Plain Dealer
 
"Light and dark, the motifs of Baxter's haunting and human fiction touch the reader in evocative ways." —The Boston Globe
 
"Baxter's passionate writing raises the level of regard for life itself, let alone the art of writing." —Howard Norman
 
"Moves over everyday details with the inexorable, contrary tug of memory." —Time
 
"First Light illuminates the way out of the abyss and into the miracles and wonders that comprise life." —Minneapolis Star-Tribune
 
"First Light is a daredevil technical feat, and very much more besides that. Charles Baxter's long-term admirers will find that it satisfies their highest hopes." —Madison Smartt Bell 
Advertisement