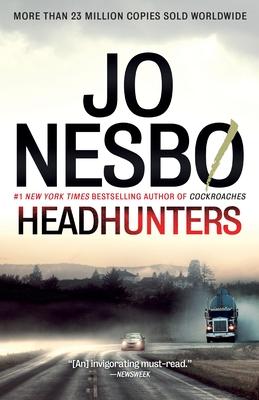 Headhunters (Paperback)
Vintage Crime/Black Lizard, 9780307948687, 288pp.
Publication Date: September 6, 2011
Other Editions of This Title:
Digital Audiobook (10/10/2011)
Paperback (4/17/2012)
Hardcover, Large Print, Large Print (2/1/2012)
Paperback (1/1/2012)
Paperback (9/1/2011)
* Individual store prices may vary.
Description
From the author of The Snowman, a funny, dark, and twisted caper story worthy of Quentin Tarantino and the Coen brothers. 

Roger Brown is a corporate headhunter, and he's a master of his profession. But one career simply can't support his luxurious lifestyle and his wife's fledgling art gallery. At an art opening one night he meets Clas Greve, who is not only the perfect candidate for a major CEO job, but also, perhaps, the answer to his financial woes: Greve just so happens to mention that he owns a priceless Peter Paul Rubens painting that's been lost since World War II—and Roger Brown just so happens to dabble in art theft. But when he breaks into Greve's apartment, he finds more than just the painting. And Clas Greve may turn out to be the worst thing that's ever happened to Roger Brown.
About the Author
Jo Nesbø is a musician, songwriter, economist, and author. The first crime novel in his Inspector Harry Hole series was published in Norway in 1997, an instant hit, winning the Glass Key Award for best Nordic crime novel (an accolade shared with Stieg Larsson and Henning Mankell). He also established the Harry Hole Foundation, a charity to reduce illiteracy among children in the third world. He lives in Oslo.
Praise For Headhunters…
"This stand-alone gives us a brilliant array of variously flawed human beings involved in a tale of intricate plotting, excellent characterization, made-for-the-movies effects and images, and a multifaceted surprise ending. . . . A true thriller from start to finish." —Library Journal
 
"A twisty, plot-driven Hitchcockian thriller. . . . Nesbo delivers one shock after the other, culminating with a doozy of a switcheroo at the finish. It's gripping reading." —Booklist
 
"Nesbø takes a break from his Harry Hole detective series . . . with this stellar stand-alone caper.. . . . The dizzying reversals of fortune and situations that would be over-the-top in lesser hands make for a delightful roller-coaster ride. Carl Hiaasen and Elmore Leonard fans will be delighted."—Publishers Weekly (starred review)

"If you don't know Nesbø, it's time to get with it." —USA Today

"Like [Stieg] Larsson, Nesbø explores the darkest criminal minds with grim delight and puts his killers where you least expect to find them. . . . [and] his novels are maddeningly addictive." —Vanity Fair

"Chances are you'll be hooked . . . as Nesbø lays down a trail rich in Nordic atmosphere and in character-driven development . . . Ultimately, though, what sets Nesbø apart is his ability to keep the pages turning with such intellectual dexterity." —Newsday

"Nesbø has a horrormeister's flair for transforming natural scenes into ominous situations." —The New York Times Book Review
 
"Irresistibly addictive. . . . This is reading as you experienced it in childhood, without any gap between eye and mind, but with the added pleasures that adult plots and adult characters can bring. . . . Brilliantly conceived, carefully worked out, and complicatedly satisfying." —Slate
 
"Nesbø's books have a serious, socially significant heft, as well as a confident (even cocky) narrative stride that is unmatched." —Richmond Times-Dispatch
 
"Nesbø's pace is unerring, and the way he builds up suspense will incite Pavlovian page-turning." —Time Out New York
 
"With Henning Mankell having written his last Wallander novel and Stieg Larsson no longer with us, I have had to make the decision on whom to confer the title of best current Nordic writer of crime fiction. . . . I hesitate no longer. [Nesbø] wins. . . . This is crime writing of the highest order." —The Times (London)
 
"A mind-blowing story that captivates the reader from the very first page. … [Nesbø] has found a delightfully laconic, hard-boiled tone in Raymond Chandler and Dashiell Hammett's tracks, which triumphs exactly where it should: when circumstances are the worst, the bullets zing by and the corpses pile up. . . . Entertaining, sharp and suspenseful." —Dagens Nyheter (Sweden)

"This book is one you absolutely have to read. . . . The outrageous storytelling is so stimulating, it makes James Ellroy look like a Boy Scout and Bret Easton Ellis like a Sunday-school boy." —Helsingin Sanomat (Finland)

"A highly entertaining, first-rate crime novel, where Nesbø uses his entire register of narrative techniques and tricks to tell a story that is wilder and more zany than anything he has ever written before." —Dagbladet (Norway)
 
"Nesbø can out-write most of his Scandinavian colleagues. . . . Cleverly written and effectively composed, and you can easily devour it in one ravishing read." —Nordjyske Stiftstidende (Denmark)
 
"Headhunters has everything that makes a good crime novel: Strange murders, inventive disappearing acts and above all brilliant fraud for all you're worth." —Bogrummet (Denmark)

"The reader is glued to the pages like gum to the street. . . . With Headhunters, Nesbø has accomplished [a] . . . brilliant and elegant thriller." —Dagsavisen (Norway)