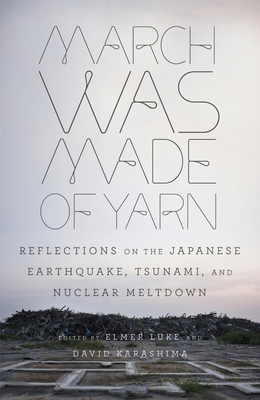 March Was Made of Yarn: Reflections on the Japanese Earthquake, Tsunami, and Nuclear Meltdown (Paperback)
Reflections on the Japanese Earthquake, Tsunami, and Nuclear Meltdown
Vintage, 9780307948861, 240pp.
Publication Date: March 6, 2012
Description
In time for the one year anniversary of the 2011 earthquake in Japan, a collection of essays and stories by Japanese writers on the devastating disaster, its aftermath, and the resolve of a people to rebuild.
On March 11, 2011, a massive earthquake occurred off the northeastern coast of Japan, triggering a 50-foot tsunami that crushed everything in its path highways, airports, villages, trains, and buses leaving death and destruction behind, and causing a major radiation leak from five nuclear plants. Hereeighteen writers give us their trenchant observations and emotional responses to such a tragedy, in what is a fascinating, enigmatic and poignant collection.
About the Author
Elmer Luke is a writer and editor who has worked in publishing houses in New York and Tokyo, with a range of authors including Tom Wicker, Haruki Murakami, Colleen McCullough, Hiromi Kawakami, and Robert Whiting. He is adviser to the Read Japan project. David Karashima is an author whose first novel, in Japanese, was recipient of a prize for new writers; he is also a widely published translator of contemporary Japanese fiction into English, having translated works by Hitomi Kanehara, Taichi Yamada, Yasutaka Tsutsui, and Hisaki Matsuura, among others. In 2008 he helped found the Read Japan initiative at the Nippon Foundation, a partnership among authors, translators, editors, publishers, and universities to facilitate the publication of Japanese literature in translation.
Advertisement