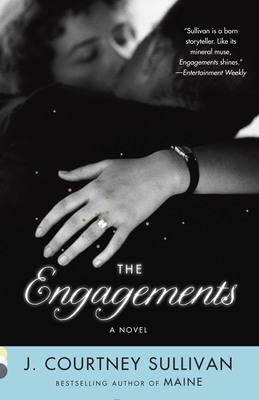 The Engagements (Vintage Contemporaries)
Paperback

* Individual store prices may vary.
Other Editions of This Title:
Digital Audiobook (6/10/2013)
Paperback, Large Print (6/1/2014)
Description
A People Magazine Top 10 Best Book of the Year

The bestselling author of Maine returns with an exhilarating novel about Frances Gerety, the real pioneering ad woman who coined the famous slogan "A Diamond is Forever," and four unique marriages that will test how true—or not—those words might be.
 
Evelyn has been married to her husband for forty years, but their son's messy divorce has put them at rare odds; James, a beleaguered paramedic, has spent most of his marriage haunted by his wife's family's expectations; Delphine has thrown caution to the wind and left a peaceful French life for an exciting but rocky romance in America; and Kate, partnered with Dan for a decade, has seen every kind of wedding and has vowed never, ever, to have one of her own. As the stories connect to each other and to Frances's legacy in surprising ways, The Engagements explores the complicated ins and outs of relationships, then, now, and forever. 
Praise For The Engagements (Vintage Contemporaries)…
"Sullivan is a born storyteller. Like its mineral muse, Engagements shines."
—Entertainment Weekly

"The Engagements is a delightful marriage of cultural research and literary entertainment."
—The Washington Post
 
"Sullivan takes the cake when it comes to tying the knot. . . . A generously populated, multi-generational tale."
—The Chicago Tribune, Editor's Choice
 
"Any one of the five stories of The Engagements could have been a novel in itself. Taken together, though, they rather brilliantly represent different facets of marriage…. Captivating."
—The Minneapolis Star Tribune

"This is one smart summer read."
—People

"Well-crafted. . . . Sullivan's admiration and affection for Gerety, and sensitivity to the challenges she faced, make for entertaining and touching passages."
—USA Today

"The Engagements is a rollicking, entertaining read and a thought-provoking one too."
—The Huffington Post

"A fun look at diamond advertising and the people who do—and do not—buy into the hype."
—Real Simple

"Dazzling. . . . An exhilarating, compulsive read. Sullivan fully inhabits her characters, whether she's writing about a blue-collar Massachusetts emergency worker or a patrician elderly woman."
—BookPage

"A seamless tapestry . . . Sullivan is a keen observer of people and how they morph over time, either being softened by the years or made more brittle by strife."
—Bookreporter

"Satisfying. . . . At each stage of the game, the engagement ring has a different meaning."
—Janet Maslin, The New York Times

"Sullivan has written an intricate, beautifully timed novel, so delicious in its gradual unfolding that readers will want to reread it immediately to enjoy the fully realized ties."
—Library Journal

"An honest interpretation of the American marriage along with the true story of how the diamond ring has become so deeply integrated into society."
—The Tampa Bay Times

"[Sullivan] threads her story with the glitter of diamonds. . . . A tale that sweeps across varied emotional landscapes."
—Daily News 

"An entertaining read of emotional maturity."
—The Guardian (London)

"Sullivan pulls off the difficult task of creating distinctive voices for characters spread across the past sixty years."
—The Wall Street Journal

"A modern update of The Spoils of Poynton; elegant, assured, often moving and with a gentle moral lesson to boot."
—Kirkus Reviews (starred review)

"At the heart of each episode lies that sparkly symbol of romantic commitments . . . given a sharp and crystalline coherence by virtue of Sullivan's sometimes bold, sometimes nuanced improvisation on the resonance of the diamond engagement ring."
—Booklist
Vintage, 9780307949226, 544pp.
Publication Date: May 20, 2014
About the Author
J. Courtney Sullivan is the New York Times bestselling author of the novels Commencement, Maine and The Engagements. Maine was named a Best Book of the Year by Time magazine, and a Washington Post Notable Book for 2011. The Engagements was one of People Magazine's Top Ten Books of 2013 and an Irish Times Best Book of the Year. It will be translated into seventeen languages. Her writing has also appeared in The New York Times Book Review, the Chicago Tribune, New York magazine, Elle, Glamour, Allure, Real Simple, and O: The Oprah Magazine, among many others. She lives in Brooklyn, New York.
The Engagements' epigraph refers to diamonds as "nothing more than an empty cage for our dreams-blank surfaces upon which the shifting desires of the heart could be written." What does this tell us about the novel we're about to discuss?
Feminism and the role of women is a recurring theme in The Engagements. Which character's attitude did you relate to the most, and why?
Two of the novel's major characters are anti-marriage, with story lines that are decades apart. How does time change society's attitude toward intentionally unmarried women?
On page 27, Evelyn thinks, "Men made mistakes and when they asked forgiveness, women forgave. It happened every day." Does this prove true throughout the novel, with other characters?
Did you know that Frances Gerety was a real person? How does that change your feelings about the character?
Why do you think Frances is the only character whose story moves through time?
On page 100, in a section set in 1972, Evelyn thinks, "Since she and Gerald were young, what it meant to be an American had changed. There was so much emphasis on the self now-self over country, self over family, self over all else. Her son was a shining example of the consequences." How does this play out in more contemporary sections of the novel and with other story lines?
While the novel is clearly about marriage, parental relationships also play a major role. Discuss and compare the parenting styles of Evelyn, James, and Kate.
How does Delphine's bond with her late father influence her romantic life?
In the novel, a Stradivarius violin and a diamond ring are each cherished heirlooms. Which do you think has more value? Which does the author value more?
What did you think about Delphine's reaction to P.J.'s betrayal?
On page 175, Meg says to Frances, "Sometimes it just feels like we can't tell what we've given up until it's too late." What other characters could have uttered that line?
Sullivan paints Kate as principled yet judgmental. Does Sullivan want us to like her?
On page 275, May says to Kate, "It's very rare to find anyone who's absolutely certain that she chose the right ring." What metaphor is at work here?
Late in the novel, on page 344, Gerald says to Evelyn, "No one has the right to comment on the way anyone else falls in love." He says that in 1972. How does it apply in other decades?
What did you think when you learned how James was connected to the other stories?
What point do you think Sullivan is making about the ethics of diamonds? Did reading this novel change your feelings about them?
Which story line did you enjoy the most? Whose story would you like to keep reading?
or
Not Currently Available for Direct Purchase