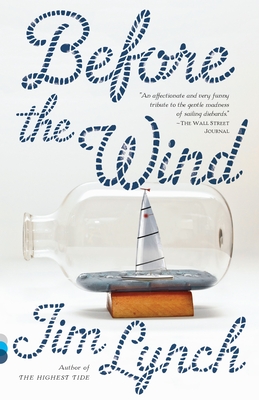 Before the Wind
A Novel (Vintage Contemporaries)
Paperback

* Individual store prices may vary.
Other Editions of This Title:
Digital Audiobook (4/18/2016)
CD-Audio (4/19/2016)
Hardcover (4/19/2016)
Compact Disc (4/19/2016)
MP3 CD (4/19/2016)
Description
The Johannssens are a sailing family: adventurous, fanatical, and, for now, a complete and total mess. Ruby, a prodigiously talented skipper, has taken off for Africa. Bernard is god-knows-where at sea. And at thirty-one years old, Josh Johannssen, the middle child, is fixing up an old family boat and trying to figure out where it all went wrong. When Josh's father coaxes his children home for one last yacht race, the Johannssens find themselves reunited under thrilling circumstances that will change the course of their lives. Before the Wind is a funny, tender, and big-hearted novel about a gifted, volatile family whose love for the sea rivals their love for each other."


Praise For Before the Wind: A Novel (Vintage Contemporaries)…
"Lovably obsessive . . . an incredibly robust evocation of the sailing world of Puget Sound [with] profound familiarity. . . . Writers have long found poetry in sailing. Lynch's skill is to find it in the mundane tasks and motley milieu that underpin glory on the water." —Caitlin Macy, The New York Times Book Review
 
"Breathtaking, emotionally satisfying and genuinely surprising . . . a magical, heartbreaking book." —Robert Wierseman, The Toronto Star

"An affectionate and very funny tribute to the gentle madness of sailing diehards [that] will amuse even readers who can't tell a jib from a spinnaker. . . . Lynch's writing is propelled by his appreciation of the obsessives and eccentrics who populate the country's marinas, convinced that 'boats embody dreams like nothing else.'" —Sam Sacks, The Wall Street Journal

"A brilliantly crafted family story that moves with the speed and elegance of one of the racing boats it so lovingly describes. . . . Indeed, the two aspects of this novel—the sailing yarn and the family history—are seamless. . . . It's an exhilarating read." —Claire Hopley, The Washington Times

"Lynch writes about the science of sailing and the grandeur of Puget Sound with a Melville-like attention to detail, but in the very concreteness of those details a kind of poetry emerges that speaks of the transience of life in all its terrible beauty and exhilarating terror." —Booklist

"Before the Wind, a cautionary tale of obsession and its price, is one of those impossible-to-put-down books that make ideal summer reading." —Practical Sailor

"In Before the Wind, author Jim Lynch tells the engaging tale of the Johannssens, a sailing family that's like a distillation of all the eccentric, funny and cranky sailors you've ever met. All too many writers have failed to convey both the technicalities and the spiritual joys of sailing in a manner that will engage the uninitiated without alienating the experienced, but lifelong sailor Lynch carries it off with this enjoyable read." —Peter Nielsen, Sail Magazine

"A cautionary tale of obsession and what it can cost tells of three generations whose devotion to sailing holds them together until it sunders them…. Lynch dissects an uncommon family with, after all, more than one thing in common in a highly readable tale." —Kirkus Reviews (starred)
 
"Lynch writes both humorously and movingly about one family's lifelong love of sailing. For those who love a good sea story, this novel will be as bracing as salt spray during an autumn sail." —Publishers Weekly

"Lynch has won some nice honors, plus appreciative reviews, but now it's breakout time." —Library Journal 

"To the outsider, the land-bound, sailing has always seemed to be the perfect marriage of science and poetry. This makes Jim Lynch the perfect writer for this story—the story of a family with an outlaw brother, a magical sister, and a legacy of wind, water, and sail. Lynch brings his usual gifts—a wide-ranging mind, an ear for precise but musical language, empathy, intelligence, and imagination—to what may be his best yet. I so loved this book!" —Karen Joy Fowler

"Not since the fly-fishing Maclean clan of A River Runs Through It have I encountered such a compellingly human fictional family as the sailing Johannssens in Jim Lynch's magnificent new novel, Before the Wind. There are the "two Bobos," grandfather and father, boat builders and racers nonpareil, who live to sail. There's Bobo Jr.'s wife, a high school physics teacher consumed by a mathematical enigma she's worked on for decades. Then there are their three grown children: Josh, a boat "fixer," who also fixes trouble in the family; his anarchic, smuggler brother, Bernard; and, at the heart of the story, their free-spirited sister Ruby, a natural healer with a preternatural gift for finding and reading the wind. Heartbreaking yet affirmative, so emotionally powerful that I had to look up from the pages several times to regain my own bearings, Before the Wind reveals the ways in which family ties, however tenuous and imperiled, are what best define us frail, wondrous human beings, sailors and landsmen alike." —Howard Frank Mosher

"Jim Lynch does for sailing what A River Runs Through It did for fly-fishing. A family whose religion is sea, wind, and motion. All the complexities and exhilarations of family, failure and the ties that hold us together set to the addictive rush of hulls slicing through water. A beautiful book that smells of the sea with every turn of the page." —Luis Urrea

"This is a terrific book. I love that Einstein is from beginning to end its genius loci, and that the endlessly changing physics of sailing are mirrored by the fluid dynamics of the Johanssen family.  Lynch writes as if every single one of his myriad details comes from intimate first-hand experience. Nothing at all seems researched or vicariously imagined. What I most admire is the tender regard in which he holds all his characters, in all their unpredictable mutations." —Jonathan Raban
 
"Jim Lynch seems to get better with every book—and Before the Wind is no exception to the trend. With its unforgettable setting, irresistible warmth, and oddball cast of characters, Lynch has given us a Cannery Row for the Great Northwest. This is that rare book you can recommend to anyone." —Jonathan Evison
 
"Glorious. Put a rambunctious family clan of misfits and genius sailors in Jim Lynch's masterful hands, and what you get is a gorgeous, full-bodied novel that contains pretty much all of life, from the agonies of online dating and boat repair to Einstein's sublime quest for a 'simple and beautiful' unifying theory of everything. Strap yourselves in for a wild ride—Before the Wind takes off at gale force and never lets up." —Ben Fountain

"I never expected to be captivated by the world of sailing the way I was with Before the Wind.  From the first paragraph I was hooked by Jim Lynch's language, his humor, his wisdom.  The characters are marvelous; the storytelling confident and rollicking; the whole book a delight and a surprise." —Maria Semple
 
"Jim Lynch's Before the Wind is such a wonderful novel—so wry, wise and engaging, so sleek and descriptive—I already have a spot picked out for it on my bookshelf, next to those other classic stories of iconoclastic Western families, Kesey's Sometimes a Great Notion and Duncan's The Brothers K." —Jess Walter
 
"Before the Wind will enthrall the mariner in all of us—our mystical connection with the sea and the irresistible appeal of competition against wind and waves and one another. It is also a story about the complexity of family—alienation, estrangement and sibling rivalry, and the healing power of humour, loyalty and love."  —Linden MacIntyre, 2009 Scotiabank Giller Prize winner
 
 "A beautifully rendered tale of family and friendship, of souls caught on the wind, of birds that think they're fish and sailors who yearn for the shore. It's a story that will stay with you long after it's done, like the spreading wake of a boat passing at dusk." —Will Ferguson

"I was born and raised at the mouth of the ocean and watched boats come and go my whole young life. Jim Lynch's Before the Wind brings me back to those shores as his song of a novel sings of both the ease and magic of the perfect sailing dray and the near impossibility of surviving the worst one." —Alan Doyle
Vintage, 9780307949356, 304pp.
Publication Date: February 21, 2017
About the Author
Jim Lynch is the author of the novels The Highest Tide, Border Songs, and Truth Like the Sun, all of which were adapted for the stage. He's won the Indies Choice Honor Book Award and the Pacific Northwest Booksellers Award and was a finalist for the Dashiell Hammett Prize. Lynch lives and sails with his wife in Olympia, Washington.  


www.jimlynchbooks.com