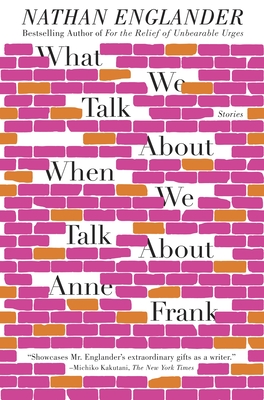 What We Talk About When We Talk About Anne Frank (Paperback)
Stories
Vintage, 9780307949608, 240pp.
Publication Date: March 5, 2013
* Individual store prices may vary.
February 2012 Indie Next List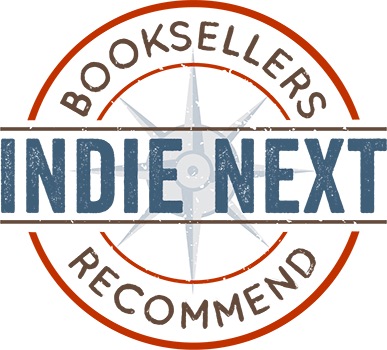 "Ranging from historical and autobiographical fiction to modern tall tales, Englander's stories are written with a ferocious, startling energy. They also pose difficult questions--dilemmas requiring Solomonic wisdom to resolve--and they don't let anyone off the hook. Above all, Englander is after the truth, and he takes notions of transparency to ends both logical and absurd to make his characters--and his readers--bare their souls and see what's there. This is powerful fiction that will haunt you after you close the book."
— Laurie Greer, Politics & Prose Books and Coffee Shop, Washington, DC
View the List
Description
A New York Times Notable Book
An NPR Best Book of 2012

These eight powerful stories, dazzling in their display of language and imagination, show a celebrated short-story writer and novelist grappling with the great questions of modern life.

From the title story, a provocative portrait of two marriages inspired by Raymond Carver's masterpiece, to "Peep Show" and "How We Avenged the Blums," two stories that return to the author's classic themes of sexual longing and ingenuity in the face of adversity, these stories affirm Nathan Englander's place at the very forefront of contemporary American fiction.
About the Author
Nathan Englander's short fiction has appeared in The New Yorker, The Atlantic, and numerous anthologies, including The Best American Short Stories and The O. Henry Prize Stories. Englander is the author of the novel The Ministry of Special Cases and the story collection For the Relief of Unbearable Urges, which earned him a PEN/Malamud Award and the Sue Kaufman Prize for First Fiction from the American Academy of Arts and Letters. He lives in Brooklyn, New York.
Praise For What We Talk About When We Talk About Anne Frank: Stories…
"Showcases Mr. Englander's extraordinary gifts as a writer." —Michiko Kakutani, The New York Times

"I'm in love. For evidence that collections can be just as satisfying, read as deep, if not deeper, and beat with as much life and insight as a hulking novel, look no further." —Elissa Schappell, Vanity Fair

Audacious and idiosyncratic, darkly clever and brightly faceted." —San Francisco Chronicle
 
"Terrific. . . . When is a short story mightier than a novel? When its elisions speak as loudly as its lines. Englander knows where to hold back, a particular gift when writing about and around the martyr of his title, the locked up and locked in. A kind of hard-won wisdom spills out on every page." —Stacy Schiff, The New York Times Book Review

"Imaginatively powerful. . . . What makes the stories resonate long after their final paragraphs is Englander's odd coupling of the morally serious and the deliciously comic. . . . His second collection of short stories more than fulfills the large promises of his first. What do we do when we talk about Englander? We talk about how he has become a master storyteller." —The Miami Herald

"Humane, philosophically provocative. . . . Each story in the book is essentially a parable, and Englander's special talent is to burnish his parables with a patina of persuasive realism. . . . Characters tell (and re-tell) stories within stories, and seek to understand themselves by means of narrative, in a way that seems quintessentially, satisfyingly Jewish." —Boston Globe

"Englander is at his best. . . . He never writes less than gorgeously, but when, from narrow confines, he puts his finger on the universal, he's Shakespeare." —Bloomberg News

"Nathan Englander is a master at putting remarks into the mouths of ordinary people that distill entire streams of politics and religion. . . . They ring true and are a funny, chilling, joy to read." —The Plain Dealer

"Profound and magical. . . . These eight masterful stories also continue the work of Philip Roth, Saul Bellow and Bernard Malamud—authors who mined the Jewish-American experience with tremendous humor, humanity and healthy amounts of guilt." —USA Today

"What Englander is saying is that we know ourselves, or don't, on different levels, that we exist individually and as part of a heritage. . . . Who will hide us? Who are we, really? How do ritual and culture intersect? Such questions exist at the heart of this accomplished collection, in which stories are what make us who we are." —Los Angeles Times

"Nathan Englander writes the stories I am always hoping for, searching for. These are stories that transport you into other lives, other dreams. This is deft, engrossing, deeply satisfying work. Englander is, to me, the modern master of the form. And this collection is the very best." —Geraldine Brooks

"Grade A. . . . Virtuosic. . . . Each of these meticulously chiseled stories contains a hidden stinger that throws the reader for a wicked loop. . . . These are stories that give you goose bumps." —Entertainment Weekly

"Englander's latest short story collection marks him out as one of the finest American writers of his generation." —Financial Times

"It takes an exceptional combination of moral humility and moral assurance to integrate fine-grained comedy and large-scale tragedy as daringly as Nathan Englander does." —Jonathan Franzen

"The stories are so tightly wrought, the sentences laid out so cleanly, the dialogue so real and the humor so self-lacerating. . . . If Mr. Englander is in fact the future of Jewish-American prose, then that future looks to be a far more moral and compassionate one than the writing of the recent past. . . . the humor and the brilliance, and the investigation of cultural identity, are all still there." —The New York Observer

"What We Talk About When We Talk About Anne Frank is Nathan Englander's wisest, funniest, bravest, and most beautiful book. It overflows with revelations and gems." —Jonathan Safran Foer