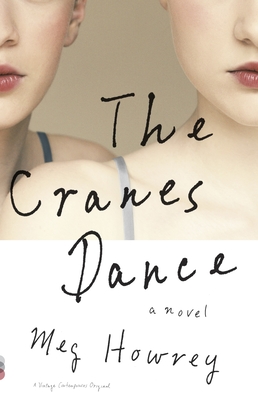 The Cranes Dance (Vintage Contemporaries)
Paperback

* Individual store prices may vary.
Other Editions of This Title:
Digital Audiobook (5/14/2012)
Compact Disc (5/15/2012)
MP3 CD (5/15/2012)
Compact Disc (5/15/2012)
Audio Cassette (5/1/2012)
Description
 I threw my neck out in the middle of Swan Lake last night.

So begins the tale of Kate Crane, a soloist in a celebrated New York City ballet company who is struggling to keep her place in a very demanding world. At every turn she is haunted by her close relationship with her younger sister, Gwen, a fellow company dancer whose career quickly surpassed Kate's, but who has recently suffered a breakdown and returned home.
 
Alone for the first time in her life, Kate is anxious and full of guilt about the role she may have played in her sister's collapse.  As we follow her on an insider tour of rehearsals, performances, and partners onstage and off, she confronts the tangle of love, jealousy, pride, and obsession that are beginning to fracture her own sanity. Funny, dark, intimate, and unflinchingly honest, The Cranes Dance is a book that pulls back the curtains to reveal the private lives of dancers and explores the complicated bond between sisters.
Praise For The Cranes Dance (Vintage Contemporaries)…
"A page-turning narrative…Howrey captures the intricacies of an ambitious and thwarted ballerina dealing with the weight of her younger sister's success in the same field."
—Vogue.com

"An engrossing novel about the cutthroat world of New York City ballet, without the hallucinations…The Cranes Dance is an addictive, absorbing take on competition and sisterhood. B+"
—Entertainment Weekly (Must List, 5/18)

"The Cranes Dance holds the door open to the candy store—the sacrosanct world of ballet—and I couldn't be happier for the privilege.  It's fresh and often hilarious, sharp and adroit.  Finding out who's behind that stage curtain, really behind the curtain, makes for utterly engaging reading.  I love this novel!" —Amanda Boyden, author of Pretty Little Dirty
 
"Howrey's engaging new novel exposes the competitive world of professional ballet through Kate Crane, a charmingly sarcastic ballerina at a crossroads. . . . Kate is an ideal guide to an unfamiliar world, from her irreverent explanations of her ballets (Howrey was a professional dancer) to her relatable self-doubt and honesty. Her revelations about family, talent, and what makes us special create a thought-provoking and entertaining read." —Publishers Weekly

"Witty, sharp and exhilarating. . . . A tale of sibling rivalry, youthful ambition and dreams lost and found." —Susan Fales-Hill, author of One Flight Up  
 
"With its universal themes of ambition and competition, sisterhood and sacrifice, it will appeal to bad dancers as well as balletomanes—an addictive, readable delight." —Caroline Weber, author of Queen of Fashion

"Playful and smart, Meg Howrey's fresh voice unveils an eye opening tale about the secretive and obsessive world of ballet." —Amanda Foreman, author of A World on Fire
Vintage, 9780307949820, 384pp.
Publication Date: May 15, 2012
About the Author
Meg Howrey was a professional dancer and actress. She currently lives in Los Angeles.
Why does Meg Howrey use the passage from Through the Looking-Glass as an epigraph for The Cranes Dance? In what ways is the quote thematically relevant to the novel?
Throughout the novel, Kate directly addresses her readers: "I haven't assigned you a face or body, invisible audience member, let alone a background in the arts" [p. 4]. "You don't know a goddamn thing, you're just following the story like anyone else, right?" [p. 61]. "I like how quiet you are, which allows me to go on performing" [p. 91]. What is the effect of being addressed in this way? In what ways is Kate's narrative a kind of performance?
What kind of narrator is Kate? How does she regard herself and the story she's telling?
Kate writes: "Sentences are trenches you can take cover in. They are not wildly comfortable. They are not bulletproof. But they can give you the illusion of safety" [p. 287]. Kate is clearly exposing much of her inner life in the novel. Is she also "taking cover" in her writing, or in the way she speaks with others?
What makes Kate and Gwen's relationship so complex and challenging? How does Gwen's absence—and lack of communication—affect Kate?
Meg Howrey was a highly accomplished dancer for many years and describes the experience of dancing, and the dancer's life, with a remarkable vividness and authority. What are the daily stresses that high-profile dancers have to deal with? What aspects of being a dancer does Kate find particularly destructive? What aspects does she most enjoy?
In the tense, pivotal scene where Kate finds Gwen in the throes of her final breakdown, Gwen says, "You can't help me. You don't know how. You don't know what I know. You can't ever feel things the way I do. You are just pretending to be alive" [p. 342]. Is there any justice in Gwen's accusations? Should Kate have acted more quickly, or differently, in response to her sister's downward spiral?
Why does Kate feel compelled to keep dancing even though she's suffering constant neck pain, has become a Vicodin addict, and has watched the stress of the dancer's life gradually ruin her sister's—and threaten her own—mental health?
Kate frequently questions where the line between sanity and insanity lies. On p. 108, she writes: "You cut your food up in special ways, or you cut yourself, or paper dolls. You steal things or tell lies or speak to strangers in a Russian accent. You have sex with someone you love or with someone who gets you really drunk. You lie to your parents, your boyfriend, yourself, your therapist. You cheat on your homework or do other people's homework for money. You get up, you take class, you rehearse, you perform, you go to bed. How do you decide which of these things are truly crazy and which are just being alive?" In what ways does the novel demonstrate how slippery the boundary is between "normal" and "crazy" behavior?
The Cranes Dance is a dramatic and often tense novel, but it is also refreshingly funny. What are some of the novel's most comedic moments? How does humor affect the buildup of emotional tension?
What are the pleasures of reading a first-person, present-tense, highly subjective and distinctively voiced novel? How different would the novel have been if it had been told by an omniscient, third-person narrator?
Marius tells Kate: "Sometimes I think you are the only person in the room that understands what I'm saying. It's why I keep you around, you know. As hard as it's been to watch you diminish yourself" [p. 187]. How does Kate react to this statement? In what ways is she diminishing herself? What positive development does Marius's statement foretell?
What drives Kate's own spiraling mental instability? What stops her from following in Gwen's footsteps?
In what ways are Kate's friendships with the young dancer, Bryce, and the older company patron, Wendy, important? What qualities do they bring out in her? How do they affect the course of the novel?
Kate says that she doesn't want a normal life, she wants an extraordinary life. What does the novel contribute to the long-standing debate about the relationship between insanity and creativity? Are extraordinarily talented and artistic people like Kate and Gwen inherently unstable, or fated to live tumultuous lives?
or
Not Currently Available for Direct Purchase