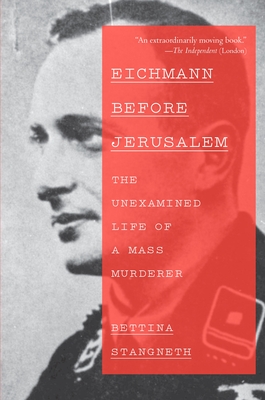 Eichmann Before Jerusalem
The Unexamined Life of a Mass Murderer
Paperback

* Individual store prices may vary.
Description
A New York Times Notable Book
A National Jewish Book Award finalist

In 1960, Adolf Eichmann took to the defendant's box in Jerusalem and insisted that he was no "manager of the Holocaust," as his accusers claimed, just a smalltime bureaucrat following orders. Like countless others, Hannah Arendt—covering the trials for The New Yorker—believed him. Eichmann Before Jerusalem challenges this history for the first time, completely reassessing Eichmann's story and drawing upon a wealth of newly uncovered materials that reveal his great deception, as well as bringing to light shocking truths about Nazis in the post-war world. Mapping out the astonishing links between innumerable past adherents—from ace Luftwaffe pilots to SS henchmen—both in exile and in Germany, Bettina Stangneth reconstructs in detail the secret life of one of the Holocaust's principal organizers.
Praise For Eichmann Before Jerusalem: The Unexamined Life of a Mass Murderer…
"[An] extraordinarily moving book." —The Independent (London)

"[Stangneth's] comprehensive research brings the man and his circumstances firmly back into focus. . . . No future discussion will be able to confront the Eichmann phenomenon and its wider political implications without reference to this book." —The New York Times Book Review

"Meticulously researched, compellingly argued, engagingly written. Bettina Stangneth confronts Hannah Arendt's notion of the 'banality of evil' with important new evidence and nuanced insight, permitting a fresh and informed reassessment of this riven debate." —Timothy Ryback
 
"Well-written and impressively well-researched. . . . Stangneth, acting more like an investigative journalist than an academic philosopher, does an excellent job in tracing the odyssey of [numerous] archival records, which are scattered across various continents. . . . [She] adds many new, surprising details to our picture of Eichmann before the trial." —The Wall Street Journal

"Remarkable. . . . Eichmann called himself a 'small cog' in the Nazi war machine, but Stangneth draws on recently released documents to show that he was anything but." —The New Yorker
 
"[A] brilliant book, exhaustively researched and convincingly argued. . . . Only now, with the publication of [Eichmann Before Jerusalem] . . . can we see how completely Arendt (and later historians) were hoodwinked by Eichmann." —The Daily Telegraph (London)
 
"A detailed portrait." —The New York Times
 
"Important. . . . An extraordinary book. . . . Through unprecedented granular detail, Stangneth unearths exactly what Arendt obscured with her 'banality' thesis. . . . The meticulous quality of her research and her distinctive moral outrage make the journey enthralling. . . . Stangneth presents an Eichmann from whom we cannot avert our eyes." —The Daily Beast
 
"Stangneth's absorbing account of his years in exile . . . adds considerably to our knowledge of Eichmann. . . . [She includes] a full analysis of Eichmann's ideas as he expounded them to his friends and former colleagues in exile." —The Guardian (London)
 
"Stangneth has combined the talents of rigorous academic research with investigative journalism in tracking down and sifting through the mounds of archival data located in diffuse venues. Her efforts at comparing, collating and interpreting the wealth of material in the hall of mirrors and blind alleys that Eichmann erected are nothing less than prodigious. . . . She has freed Eichmann from Arendt's shadow and restored him to center stage." —Haaretz
 
"[A] highly intelligent book. . . . Stangneth makes a compelling argument. . . . Her excellent portrayal of the frighteningly active community of Nazi refugees in postwar Argentina is unmatched." —Irish Times
 
"Stangneth demonstrates, with great forensic skill, that the metaphysical construct, the bedrock of Eichmann's defence before an Israeli court, was and is rubbish." —The Herald (Scotland)
 
"[A] well-researched and path-breaking study." —Jewish Review of Books
 
"It is impossible to overestimate the meticulous care Stengneth has taken. . . . Well worth reading, even more than once." —The Buffalo News
Vintage, 9780307950161, 608pp.
Publication Date: August 18, 2015
About the Author
Bettina Stangneth wrote her dissertation on Immanuel Kant and the concept of radical evil. Ever since then she has been researching a theory of the lie and has written widely on anti-Semitism in eighteenth-century and National Socialist philosophy. In 2000 she was awarded first prize by the Philosophical Political Academy, Cologne, and she received the German NDR nonfiction book award for Eichmann Before Jerusalem in 2011. Bettina Stangneth is an independent philosopher and lives in Hamburg, Germany.
or
Not Currently Available for Direct Purchase