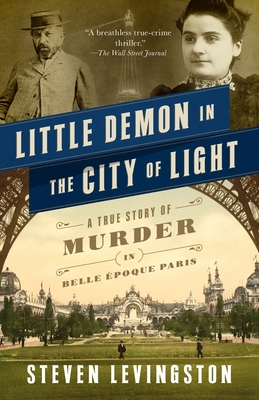 Little Demon in the City of Light (Paperback)
A True Story of Murder in Belle Époque Paris
Anchor, 9780307950307, 352pp.
Publication Date: March 17, 2015
Other Editions of This Title:
Digital Audiobook (2/24/2014)
Hardcover (2/25/2014)
* Individual store prices may vary.
Description
A delicious true crime account of a murder most gallic—think CSI Paris meets Georges Simenon—whose lurid combination of sex, brutality, forensics, and hypnotism riveted first a nation and then the world.

In 1889, the gruesome murder of a lascivious court official at the hands of a ruthless con man and his pliant mistress launched the trial of the century. When Toussaint-Augustin Gouffé entered 3, rue Tronson du Coudray, expecting a delightful assignation with the comely Gabrielle Bompard, he was instead murdered by Gabrielle and her lover, Michel Eyraud. An international manhunt chased the infamous couple from Paris to America's West Coast, culminating in a sensational trial that investigated the power of hypnosis to possess, control, and even kill. As the inquiry into the guilt or innocence of the woman the French tabloids dubbed the "Little Demon" intensified, the most respected minds in France vehemently debated: Was Gabrielle Bompard the pawn of her mesmerizing lover or simply a coldly calculating murderess capable of killing a man in cold blood?
About the Author
A veteran international journalist who has worked in Beijing, Hong Kong, and Paris, along with assignments in New York, Chicago, and Washington, STEVEN LEVINGSTON is the nonfiction book editor of The Washington Post. He lives in Bethesda, Maryland, with his wife and two children.
Praise For Little Demon in the City of Light: A True Story of Murder in Belle Époque Paris…
Praise for Little Demon in the City of Light:

"Levingston has unearthed a whopper of a story, and lovingly crafted a dense, lyrical yarn that hits the true-crime trifecta of setting, story and so-what. Such books remind us that times may change, but the human animal does not. "
—The New York Times

"Levingston, who is nonfiction book editor of the Washington Post and knows a good story when he sees one, has given it a richly enjoyable telling. Its lurid and improbable plot twists are expertly transposed into a breathless true-crime thriller set against a sumptuous evocation of the boulevards, nightclubs and boudoirs of Belle Époque Paris."
—Wall Street Journal

"...An engaging—and finally chilling—portrait of an uneasy era and a city of more shadow than light."
—The Washington Post

"...Fascinating... A rich portrait of the period, as well as the intriguing story of a notorious murder case, with its strange (and often amusing) cast of characters."
—The Boston Globe

"Equal parts period piece, forensic manual, and legal thriller, the book is a strong entry in the 'fascinating case in a fascinating time' genre."
—The Daily Beast

"A terrific story well told."
—The Seattle Times

"...Readers are well-served by his reimagining of this amazing true story."
—Minneapolis Star-Tribune

"Levingston's smartly chipper prose and fine attention to detail...add an entertaining and authentic sensibility to this re-creation of a culture, a crime, and "the first time an accused murderer had put forward a hypnotism defense."
—Booklist

"…The book is lovingly constructed from available sources, including newspapers, memoirs, and secondary histories, and immerses the reader in a period whose newfound obsessions—science and pseudo-science of the mind, criminal forensics, mass media, the macabre, and fame—have a seminal connection to our own time."
—Publishers Weekly
 
"…A well-constructed, informative work by a talented author."
—Kirkus Reviews

"This is an amazing tale of sex and hypnosis and murder in Paris, and it's all true. Levingston has produced both a 'mesmerizing' crime story and also a fascinating look at science and society in the late 19th century."
—Walter Isaacson, CEO of the Aspen Institute and author of biographies of Benjamin Franklin, Albert Einstein and Steve Jobs

"Vividly conjuring a sweeping cast of characters who reflect the lusty excess and dark anxieties of the times, Little Demon in the City of Light paints a lavish portrait of Belle Époque Paris while unfurling one of the most compelling murder trials in the city's history. With penetrating insight and radiant style, Steven Levingston has crafted a mesmerizing true story."
—Karen Abbott, author of Sin in the Second City and American Rose

"Like The Devil in the White City, this Little Demon in the City of Light tracks murder and sexual crime in the days of silk top hats and horse-drawn carriages. The reader will enter Paris, witness a grisly crime, then follow a trans-Atlantic escape and the relentless pursuit by the authorities. The tale plays out not as a whodunit, but rather as a will-she-get-away-it and… should she? In effect, the beautiful young Parisienne didn't plead insanity but rather hypnotism. Was she a calculating predator? Or was she herself a victim, mesmerized by her Svengali-like lover to commit crimes? You decide whether the lawyers, doctors and judges of 19th century Paris got the verdict right."
—Richard Zacks, author of Island of Vice and The Pirate Hunter

"Steven Levingston has given us a deeply-researched and engagingly-told story of murder and science in turn-of-the-century Paris. We think of the Belle Époque as all light and gaiety, but the era had a macabre side as well, which Levingston vividly brings to life."
—Douglas Starr, author of The Killer of Little Shepherds and Blood

"If a book can hover right at the edge of almost-magic and real murder, then Little Demon in the City of Light is that book. Author Steven Levingston casts a spell that weaves together a horrific late-19th century murder in Paris, a pair of the most devious killers possible, and a mystery that hinges on a question that still haunts us today—how much power does one person have over another when it comes to evil?"
—Deborah Blum, author of The Poisoner's Handbook: Murder and the Birth of Forensic Medicine in Jazz Age New York

"Steven Levingston casts a hypnotic spell in this remarkable tale of sex, murder and mesmerism in 19th century Paris. Magnifique!"  
—Daniel Stashower, author of The Hour of Peril: The Secret Plot to Murder Lincoln Before the Civil War

"A first-rate detective story, a sensational trial, and Paris when the Eiffel Tower was new—a wonderfully entertaining piece of social history."
—Joseph Kanon, author of The Good German and Istanbul Passage
 
"What a hypnotic read! Steven Levingston has used an extraordinary French murder case to conjure up an unforgettable picture of Belle Époque Paris and its sexual, cultural and supernatural obsessions. Like Erik Larson's The Devil in the White City, Levingston uses his "Little Demon" to illuminate a historical period and the strange issues that animated it. Meticulously researched and well written, this is truly a book that will take you to another time and place—contemplating bizarre characters and issues you never imagined."
—David Ignatius, Washington Post columnist and author of the forthcoming novel, The Director
or
Not Currently Available for Direct Purchase