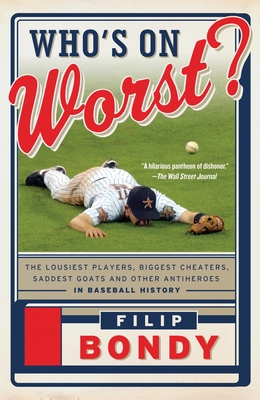 Who's on Worst?: The Lousiest Players, Biggest Cheaters, Saddest Goats and Other Antiheroes in Baseball History (Paperback)
The Lousiest Players, Biggest Cheaters, Saddest Goats and Other Antiheroes in Baseball History
Anchor Books, 9780307950413, 252pp.
Publication Date: February 25, 2014
Description
Who were the best ballplayers of all time? It's an endless question, but here's something much more fun: Who was the worst of all time? Who was the lousiest pitcher? The biggest goat? The most despicable owner? The most over-paid bum?
Finally, Filip Bondy answers these questions, wielding his own brand of formidable research, advanced sabermetrics and considerable wit to provide this indispensable guide to the less glorious side of our national pastime. Each chapter is filled with rich and colorful stories about the players unfortunate enough to be chosen in each category--like "Too Fat to Bat" or "Anyone Seen My Mitt." So welcome to the Hall of Shame. It's awesome.

About the Author
Filip Bondy is a sports columnist for the Daily News, where he has worked since 1993. He has been cited as one of the top ten sports columnists in America by the Associated Press Sports Editors. Over the years, his articles have appeared in such publications as the New York Times, Sports Illustrated, GQ, and the Village Voice. He has also authored or co-authored six books, including Tip Off: How the 1984 NBA Draft Changed Basketball Forever and Chasing the Game: American and the World Cup.
Praise For Who's on Worst?: The Lousiest Players, Biggest Cheaters, Saddest Goats and Other Antiheroes in Baseball History…
"A hilarious Pantheon of dishonor."--The Wall Street Journal

"A delightful . . . an authoritative romp, humorously spot on, through Bottom Ten lists
across the national pastime." --The Charleston Post and Courier

"Wry, witty, and well-researched, Bondy's book mixes facts with humor and offers an entertaining guide to those famously flawed individuals who have helped to immortalize the game." –The Plain Dealer

"A diverting read for folks impatient for Opening Day." --NPR
Advertisement