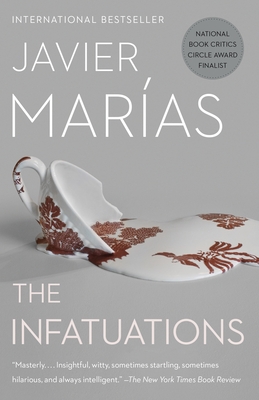 The Infatuations (Vintage International) (Paperback)
Vintage, 9780307950734, 352pp.
Publication Date: April 22, 2014
Other Editions of This Title:
Digital Audiobook (8/12/2013)
Hardcover (8/13/2013)
* Individual store prices may vary.
Description
A New York Times Book Review Notable Book, NPR Great Reads, and Onion A.V. Club Best Book of 2013

Each day before work María Dolz stops at the same café. There she finds herself drawn to a couple who is also there every morning. Observing their seemingly perfect life helps her escape the listlessness of her own. But when the man is brutally murdered and María approaches the widow to offer her condolences, what began as mere observation turns into an increasingly complicated entanglement. Invited into the widow's home, she meets--and falls in love with--a man who sheds disturbing new light on the crime. As María recounts this story, we are given a murder mystery brilliantly encased in a metaphysical enquiry, a novel that grapples with questions of love and death, chance and coincidence, and above all, with the slippery essence of the truth and how it is told.
About the Author
Javier Marías was born in Madrid in 1951. The recipient of numerous prizes, including the International IMPAC Dublin Literary Award and the Prix Femina Étranger, he has written thirteen novels, three story collections, and nineteen works of collected articles and essays. His books have been translated into forty-three languages, in fifty-two countries, and have sold more than seven million copies throughout the world. 
Praise For The Infatuations (Vintage International)…
"Sometimes startling, sometimes hilarious, and always intelligent . . . Marías [has] a penetrating empathy."--New York Times Book Review

"The Infatuations is mysterious and seductive; it's got deception, it's got love affairs, it's got murder. . . sheerly addictive."—Fresh Air/NPR

"Haunting. . . . Evokes verbal puzzle-makers like Borges, and Marías's ingenious chessboard plots bring to mind the 20th century's grand-master strategist, Vladimir Nabokov."—Los Angeles Times

"An arresting story of love and crime."—San Francisco Chronicle

"The unspoken romance at the heart of Marías's work is the recuperation of old-fashioned adventure within perfectly serious, cerebral contemporary fiction."—The Daily Beast
 
"Great art often emerges from breaking, or at least tweaking, rules. A work that transcends its conventions can produce special results. Here's such a book . . . The Infatuations takes you where very few novels do."—Paste magazine
 
"A masterly novel . . . The classical themes of love, death, and fate are explored with elegant intelligence by Marías in what is perhaps his best novel so far . . . Extraordinary . . . Marías has defined the ethos of our time."—The Guardian, UK
 
"Marías has created a splendid tour de force of narrative voice. . . . A luminous performance."—Wichita Eagle
 
"Javier Marías is a master of first lines. He's a master of other things as well . . . All Marías books feel like chapters in one much longer book. And it's one you should start reading, if you haven't already."—Slate
 
"Beyond the interesting ideas his work draws on, Marías's novels are simply a pleasure to read . . . The Infatuations, containing the qualities of Marías's best work, is an important addition to his oeuvre."—The Millions
 
"Marías's novel operates on so many levels simultaneously, it becomes a piece of evidence itself, an artifact that proves its own argument."—The Onion, A. V. Club
 
"Marías's novel weaves an intricate web, but its triumph is in the power of its narrator. Marías has found the ideal voice—detached, inquisitive, and vigilant—for one of his finest novels."—Los Angeles Review of Books
 
"A haunting masterpiece."—The Observer, UK