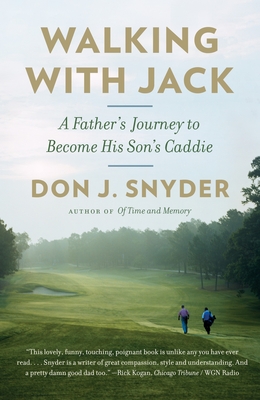 Walking with Jack: A Father's Journey to Become His Son's Caddie (Paperback)
A Father's Journey to Become His Son's Caddie
Anchor Books, 9780307951120, 336pp.
Publication Date: April 8, 2014
* Individual store prices may vary.
or
Not Currently Available for Direct Purchase
Description
When Don Snyder was teaching the game of golf to his son, Jack, they made a pact: if Jack ever played on a pro golf tour, Don would walk beside him as his caddie. So when Jack developed into a standout college golfer years later, Don left the comfort of his Maine home and moved to St. Andrews, Scotland, to learn from the best caddies in the world on famed courses like the Old Course and Kingsbarns. He eventually fought his way onto the full-time caddie rotation and recorded the fascinating stories of golfers from every station in life. A world away, Jack endured his own arduous trials, rising through the ranks and battling within the college golf system. When Don and Jack finally reunite to face the challenges of high-level golf competition together, this moving, one-of-a-kind narrative reveals the special bond between father and son.
About the Author
Don J. Snyder is the author of many acclaimed books, including the memoirs The Cliff Walk and Of Time and Memory and the novels Night Crossing and Fallen Angel.
Praise For Walking with Jack: A Father's Journey to Become His Son's Caddie…
"Don Snyder has teed up one of this year's finest tributes to the sport. . . . [He] breaks the boundaries of sports, sinking his tale squarely into the most relatable realm of all: family ties."
—Biographile
 
"Go walking with Jack and his old man and you'll find your own life, and love of the game, immeasurably enriched. . . . There is something sacred and magical that passes between father and son on the golf course, especially if that transmission takes place over time and distance, on good days and those best forgotten. Bringing a son to the poetry of the game—with its growing pains and stubborn values—is a tricky enterprise few fathers manage to accomplish without lasting wounds, but veteran golf writer Don Snyder and his son Jack make this intimate coming-of-age journey to for both father and son one to cherish."
—James Dodson, author of Final Rounds
 
"More than just a golf story, Walking With Jack is a thought-provoking read for any parent. . . . Although the effort Snyder expends to fulfill a dream with his son might seem extreme, it is by no means futile; through his journey, he discovers serenity in accepting Jack's life choices gracefully, even though they will take the son down a different path than his father envisioned."
—Global Golf Post
 
"This is a terrific book, destined for that small shelf of great golf writing. . . . I don't know if you're going to play better golf after reading Walking with Jack—and there's a good chance you will—but I do know that you're going to want to call your son at the end, wherever he may be, just to say hello. Just because you can. You're also going to see more things, think more thoughts, and have a richer experience when you walk those next 18 holes."
—Leigh Montville, author of Ted Williams

"It's a grand claim to make, but let's risk it: The literature of golf is unrivaled in American sports. The fine-grained prose in the golf essays of John Updike, the polished golf reporting of Herbert Warren Wind at the New Yorker in the 1950s and '60s and the current lucid work by Michael Bamberger in Sports Illustrated are unmatched. . . . The excellence continues. If [Walking With Jack] . . . were evaluated solely on the basis of effort expended—never mind the fascination of the stories told—[it] would still be impressive."
—The Washington Post

"[Snyder] recounts some memorable tales."
—GolfWeek

"Unusual but affecting. . . . Full of vivid detail."
—Booklist

"Walking With Jack is all about the magic that many times takes hold in the interaction between father and son on the golf course. . . . Bonding is just one of the terrific themes of this terrific tome. Outstanding."
—Epoch Times

"Every father hopes he will someday find a way to truly bond with a son. Many of us do it through sports—whether it is playing catch in the backyard, glorying in the successes and wallowing in the failures of a favorite team together or finding a way to compete with one another at some level of a chosen game. Don Snyder found his bond with his son through golf, and he lovingly describes that bond and their relationship and shared love of a sport through Walking with Jack."
—John Feinstein, author of A Good Walk Spoiled

Advertisement