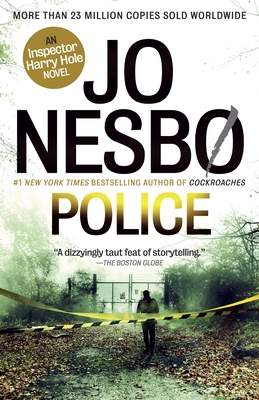 Police (Paperback)
Vintage Books, 9780307951168, 562pp.
Publication Date: July 15, 2014
Description
Inspector Harry Hole investigates a serial killer targeting Oslo's police officers in this installment of Jo Nesbo's New York Times bestselling series. Look out for the latest Harry Hole novel, The Thirst, available now. For years, detective Harry Hole has been at the center of every major criminal investigation in Oslo. His brilliant insights and dedication to his job have saved countless lives over the years. But as the killer grows increasingly bold and the media reaction increasingly hysterical, the detective is nowhere to be found. This time, when those he loves and values most are facing terrible danger, Harry is in no position to protect anyone--least of all himself.
About the Author
Jo Nesbo's books have been translated into forty-seven languages. He is the author of the Harry Hole series, the latest of which is Police, as well as Headhunters and several children's books. He has received the Glass Key Award for best Nordic crime novel. He is also a musician, songwriter, and economist and lives in Oslo.
Praise For Police…
"A dizzyingly taut feat of storytelling."—The Boston Globe

"An invigorating must-read." --Newsweek

"The chills are palpable in this nerve-­racking thriller."—The New York Times Book Review
 
"A hugely enjoyable game of cat-and-mouse. . . . Nesbo manages the book's unnervingly scary scenes so well he should consider tackling a horror novel." —Richmond Times Dispatch
 
"Scandinavian crime thrillers don't come much darker or more tense than the best-selling Harry Hole series, and this tenth outing for the Norwegian detective is the best yet." —Sunday Mirror (UK)

"Nesbø's dark and gripping crime series featuring the Oslo detective Harry Hole [is] fascinating readers with its ever-deepening portrait, Breaking Bad–style, of a hero's gradual transition to an antihero."—Chicago Tribune

"So dark, intense, and bone chilling that immersion in [Nesbø's] world for an extended period is not for the sensitive." —Pittsburgh Post-Gazette

"A multi-layered and intertwining story that makes your head spin, while delivering a masterclass in suspenseful writing. . . .  Simply sit back and enjoy every twist and turn." —Sunday Express (UK)

"An electrifying ride. . . . A master of suspense, red herrings and false trails, as well as a mesmerizing storyteller. Nesbø is in a league of his own." —The Sydney Morning Herald

"Plot twists worthy of a möbius strip."—Bloomberg News

"Attempts at work and sleep [are] futile until it is finished." —The Daily Telegraph
Advertisement