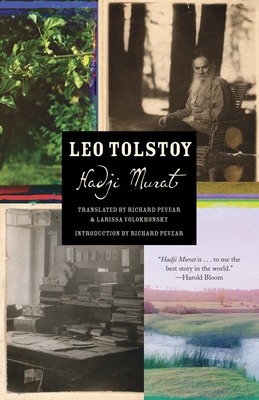 Hadji Murat (Vintage Classics)
Paperback

* Individual store prices may vary.
Other Editions of This Title:
Paperback, Russian (6/25/2014)
Paperback (2/6/2019)
Paperback (5/11/2015)
Paperback (11/28/2015)
Paperback (7/10/2020)
Paperback (7/19/2015)
Paperback (6/5/2019)
Paperback (7/24/2018)
Paperback (11/1/2009)
Paperback (7/8/2003)
Paperback (8/15/2015)
Paperback (8/1/2011)
Description
Tolstoy's final work—a gripping novella about the struggle between the Muslim Chechens and their inept occupiers—is a powerful moral fable for our time.

Inspired by a historical figure Tolstoy heard about while serving in the Caucasus, this story brings to life the famed warrior Hadji Murat, a Chechen rebel who has fought fiercely and courageously against the Russian empire. After a feud with his commander he defects to the Russians, only to find that he is now trusted by neither side. He is first welcomed but then imprisoned by the Russians under suspicion of being a spy, and when he hears news of his wife and son held captive by the Chechens, Murat risks all to try to save his family. In the award-winning Pevear and Volokhonsky translation, Hadji Murat is a thrilling and provocative portrait of a tragic figure that has lost none of its relevance.
Praise For Hadji Murat (Vintage Classics)…
"Hadji Murat is my personal touchstone for the sublime of prose fiction, to me the best story in the world." —Harold Bloom

"Excellent. . . . The duo has managed to convey the rather simple elegance of Tolstoy's prose." —The New Criterion
 
"Pevear and Volokhonsky's new version is . . .  flexible individuated, immediate." —The Nation

"Well translated. As a lover of Tolstoy's work, one couldn't ask for more, and I can't recommend it highly enough." —André Alexis, The Globe and Mail (Toronto)
Vintage, 9780307951342, 144pp.
Publication Date: October 2, 2012
About the Author
Count Leo Tolstoy (1828–1910) was born in central Russia. After serving in the Crimean War, he retired to his estate and devoted himself to writing, farming, and raising his large family. His novels and outspoken social polemics brought him world fame.
 
Richard Pevear has published translations of Alain, Yves Bonnefoy, Alberto Savinio, Pavel Florensky, and Henri Volohonsky, as well as two books of poetry. He has received fellowships or grants for translation from the National Endowment for the Arts, the Ingram Merrill Foundation, the Guggenheim Foundation, the National Endowment for the Humanities, and the French Ministry of Culture. Larissa Volokhonsky was born in Leningrad. She has translated works by the prominent Orthodox theologians Alexander Schmemann and John Meyendorff into Russian.

Together, Pevear and Volokhonsky have translated Dead Souls and The Collected Tales by Nikolai Gogol, The Complete Short Novels of Chekhov, and The Brothers Karamazov, Crime and Punishment, Notes from Underground, Demons, The Idiot, and The Adolescent by Fyodor Dostoevsky. They were twice awarded the PEN Book-of-the-Month Club Translation Prize (for their version of Dostoevsky's The Brothers Karamazov and for Tolstoy's Anna Karenina), and their translation of Dostoevsky's Demons was one of three nominees for the same prize. They are married and live in France.