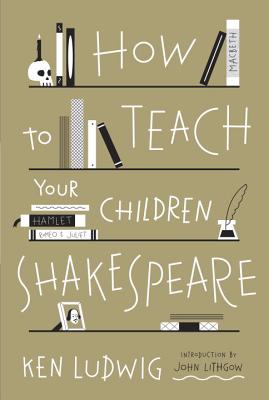 How to Teach Your Children Shakespeare (Hardcover)
Crown Publishing Group (NY), 9780307951496, 348pp.
Publication Date: June 11, 2013
* Individual store prices may vary.
Description
A foolproof, enormously fun method of teaching your children the classic works of William Shakespeare
William Shakespeare's plays are among the great bedrocks of Western civilization andcontainthe finest writing of the past 450 years. Many of the best novels, plays, poetry, and films in the English language produced since Shakespeare's death in 1616 from Jane Austen to"The Godfather" are heavily influenced by Shakespeare's stories, characters, language, and themes. In a sense, his works are a kind of Bible for the modern world, bringing us together intellectuallyand spiritually.Hamlet, Juliet, Macbeth, Ophelia, anda vast array of other singular Shakespearean characters have become thearchetypes of our consciousness. To know some Shakespeare provides a head start in life. In"How to Teach Your Children Shakespeare, "acclaimed playwright Ken Ludwig provides the tools you need to instill an understanding, and a love, of Shakespeare's works in your children, and to have fun together along the way.
Ken Ludwig devised his methods while teaching his own children, and his approach isfriendlyand easy to master.Beginning with memorizing short specific passages from Shakespeare's plays, this method then instillschildren with cultural references they will utilize for years to come. Ludwig's approach includes understanding of the time period and implications of Shakespeare's diction as well as the invaluable lessons behind hiswords and stories.Colorfully incorporating the history of Shakespearean theater andsociety, "How to Teach Your Children Shakespeare"guides readers on aninformedandadventurousjourney through the world in which the Bard wrote.
This book's simple process allows anyone to impartto childrenthe wisdom of plays like"AMidsummer Night's Dream," "Twelfth Night, Macbeth, "and"Romeo and Juliet." And there's fun to be had along the way. Shakespeare novices and experts, and readers of all ages, will each find something delightfully irresistible in"How to Teach Your Children Shakespeare."

About the Author
KEN LUDWIG is an internationally acclaimed playwright who has had numerous hits on Broadway, in London s West End, and throughout the world. He has won two Laurence Olivier Awards (England s highest theater honor), received three Tony Award nominations, and won two Helen Hayes Awards and the Edgar Award. His work has been commissioned by the Royal Shakespeare Company and has been performed in at least thirty countries in over twenty languages. Some of his Broadway and West End shows include Crazy for You, Lend Me a Tenor, Moon Over Buffalo, Twentieth Century, and adaptations of The Adventures of Tom Sawyer and Treasure Island. He studied music at Harvard with Leonard Bernstein and theater history at Cambridge University in England. Visit him at www.kenludwig.com."
Praise For How to Teach Your Children Shakespeare…
"Don't be fooled by the title. This book is for anyone who wants to brush up on Shakespeare… Don't buy this book to teach your children; take them along as you commit these beautiful speeches to memory." --Kirkus 

"Ken Ludwig's enthusiasm for Shakespeare and his lucid, accessible and inspiring book on How To Teach Your Children Shakespeare is a rare treat. You and your children will be transformed into the magic and mystery of Shakespeare and his stories in an instant. I highly recommend the book to all who have a love of language and history."  - Sir Derek Jacobi, CBE

"How to Teach Your Children Shakespeare is an inspired and inspiring book.  It's also a deeply rewarding one that will bring a great deal of pleasure to many parents and children.  Ken Ludwig, a wonderful playwright, proves to be a superb guide to Shakespeare as well."  - James Shapiro, author of A Year in the Life of William Shakespeare and Contested Will
 
"I wish someone had given this book to my parents. It would have made a life-changing task downright fun. Ken Ludwig is a smart, congenial and inventive guide, and everywhere in this remarkable book he takes the strangeness out of Shakespeare's work and leaves the enchanting mystery. A book for all lovers, and potential lovers, of Shakespeare. Like nothing else, it creates a magical home theater for parents and their children."  - J. D. McClatchy, Yale University

"I have been in [Ken's] home.  His children really do know Shakespeare.  Read the book and you'll see why.  It's scholarship dancing around with fun." - Hal Holbrook
or
Not Currently Available for Direct Purchase