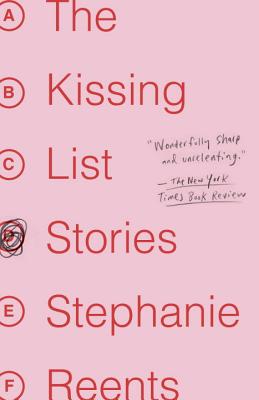 The Kissing List: Stories (Paperback)
Stories
Hogarth, 9780307951830, 240pp.
Publication Date: February 12, 2013
* Individual store prices may vary.
or
Not Currently Available for Direct Purchase
Description
After a post-college year abroad at Oxford, Sylvie moves to New York City to begin a life full of possibility. From new jobs to new friends to new kissing partners, her future is hers to create. But each exciting life she envisions is inevitably shadowed with potential disappointment: the stultifying temp job, the disastrous first date, the surprising and heartbreaking loss of friends, lovers, and roommates. In a modern world that is incresingly unforgiving, Sylvie and the friends she meets along the way test how far they will go to carve out unique and brilliant adult lives for themselves.
About the Author
Stephanie Reents is an assistant professor at the College of the Holy Cross in Worcester, Massachusetts. Her fiction has appeared in the O. Henry Prize Storiesand numerous journals and has been noted in Best American Short Stories.
Praise For The Kissing List: Stories…
"Reents's characters are as sharp as they are sly, as intellectually brilliant as they are oddball. These stories are often funny, but there's a satisfying dark edge....Reents weaves the book's stories together with humor, grief and slender prose."
—The New York Times Book Review

"Imaginative and skillfully written."
—The New Yorker

"Filled with funny observations and sharp insights....cleverness is the defining virtue of this collection....Think Lena Dunham's Girls."
—San Francisco Chronicle

"Funny and fresh."
—New York Daily News

"A hysterical collection of stories about sex and relationships that touch on things that are actually dark and miserable....The short-story collection Lena Dunham might write."
—Grantland.com

"Reents' stories are witty and packed with sharp, irreverent dialogue. With rhythm and verve unusual in most story collections, conversations in 'The Kissing List' turn into flesh and blood."
—San Francisco Examiner

"Reents impresses with her knowledge of conflicted young-adult hearts and her astute portrait of their social lives....Sharp work from a promising writer." 
—Kirkus

"This invigorating debut collection follows a group of young women searching for fulfillment in life and love....Reents's witty narratives highlight the nuances of her characters' desires and hesitations."
—Booklist

"Formally adept...Reents has created a collection that is emotionally vivid and stylistically interesting."
—Publishers Weekly

"The stories in The Kissing List are alternately ferocious, light-footed, sharp, and mordant; Stephanie Reents, in her first collection, proves herself to be a writer of terrific grace and power."
—Lauren Groff, author of the New York Times Bestseller The Monsters of Templeton and Arcadia
 
"The Kissing List is a relevant, daring, and beautifully-written book. The writing is breathless and tricksy, and at the heart of each story lies a radiant desperation. There are dashes of Amy Hempel in here, and Aimee Bender, too, but ultimately the book comes out of a sensibility all Reents' own."
—Anthony Doerr, author of Memory Wall and About Grace
 
"Stephanie Reents' stories are lucid, exciting, and unlike anything I've read before." —Stephen Elliott, author of The Adderall Diaries 
 
"Gird yourself for the talent of Stephanie Reents, whose astringent wit and innovative, crunk-like rhythms could carry this collection alone. The surprise is how deeply moving The Kissing List is, too: at once sassy and soulful, and tart enough to make your eyes water and--yes--your lips pucker."
—Leah Hager Cohen, author of The Grief of Others
 
"The Kissing List is carried forward by a fierce and clear-eyed curiosity about human connection and the creation of self. With sassy sexiness, sophisticated humor, and consummate intelligence, Reents draws us into her exploration of what it means to love. I kept hurrying back to the book so I could read it some more—it's as compulsively readable as it is perceptive."
—Aurelie Sheehan, author of History Lesson for Girls

"Stephanie Reents' The Kissing List is that rare phenomenon, a book that does justice to the complexity and ambivalence and hilarity of human relationships. This is a book about the mortality and mutability of everything that matters:  romance,  female friendship, ideals, and  the self. Through the sheer force of its wit and insight and fearlessness, it is also a book about the things that never die. A moving and razor-sharp debut."
—Suzanne Rivecca, author of Death is not an Option

"Nothing you've read before will prepare you for these sly, funny, beautifully off-kilter stories. In Reents's hands, tragedy and comedy aren't so much related as indistinguishable, and the only happy marriage is between romance and despair.  I guarantee The Kissing List will occupy a place in your heart."
—Eric Puchner, author of Model Home
Advertisement