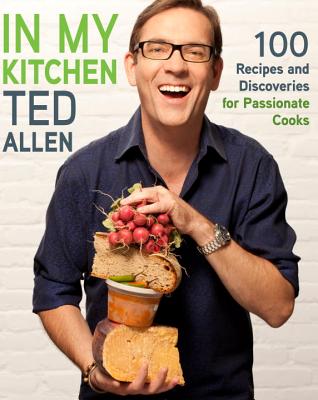 In My Kitchen
100 Recipes and Discoveries for Passionate Cooks
Hardcover

* Individual store prices may vary.
Description
A cookbook for people who love to cook
As host of Food Network's hit show "Chopped, " Ted Allen presides in pinstripes and sneakers while chefs scramble to cook with mystery ingredients. But at home, Ted is the one chopping the vegetables and working the stove, trying unusual ingredients and new techniques, from roasting earthy sunchokes in a piping-hot oven to develop their sweetness or transforming leftover pinot noir into complexly flavored homemade vinegar. In fact, it's discoveries like these that propel him into the kitchen nightly that, of course, and eating the delicious results with friends Now Ted invites likeminded cooks to roll up their sleeves, crank up the stereo, and join him in the kitchen for some fun.
While there are mountains of cookbooks featuring five-minute, three-ingredient, weeknight recipes for harried households, here is a book for food lovers who want to lose themselves in the delight of perfectly slow-roasting a leg of lamb Mexican style or whipping up a showstopping triple-layer cake. Ted is just such a cook and in his latest cookbook he shakes up expectations by topping bruschetta with tomatoes and strawberries; turning plums, sugar, and a bay leaf into an irresistible quick jam; putting everything you can think of on the grill from ribs and pork shoulder to chiles and green beans; and modernizing the traditional holiday trio of turkey, stuffing, and cranberry sauce with fresh ingredients and a little booze. And where there's a will to make something from scratch, Ted provides a way, with recipes for homemade pickles, pizza, pasta, pork buns, preserved lemons, breads, quick jam, marshmallows, and more.
With more than 100 amazing recipes and gorgeous color photographs throughout, "In My Kitchen" is perfect for passionate home cooks looking for inspiring new recipes and techniques to add to their playbooks.

Praise For In My Kitchen: 100 Recipes and Discoveries for Passionate Cooks…
"Ted Allen is a lone voice of wit, reason, and good sense in a field of bland mediocrities. In My Kitchen describes food you want to eat, will easily be able to cook yourself—and a party all of us would very much like to attend. Ted is good and trustworthy company. In person, in the kitchen—and on the page."
—Anthony Bourdain
 
"I just might love Ted Allen more than I love bacon, and that's really saying something! He's super fun in the kitchen and I never turn down an invite to dinner at his house."
—Anne Burrell
 
"Ted has the keys to the kitchen kingdom, offering insightful, clever, delicious, easy recipes that you will make over and over again."
—Art Smith
 
"Ted Allen's In My Kitchen is full of original and inspiring recipes for the adventurous home cook. You can tell these recipes are crafted by someone who truly loves food and loves being in the kitchen. And Ted's spirit is contagious; you'll find yourself wanting to try everything in this book."
—Eric Ripert
 
"This book makes me want to cook, invite some friends over, and throw a party Ted Allen style. It has a lot of well-written recipes for food that people are just going to want to make and eat."
—Elizabeth Falkner
 
"Open up this book, turn up the music, uncork a bottle . . . and let the passion flow! This isn't just a recipe book; it's a gateway to great times for novices and pros alike—and hopeless foodies like me."
—Marc Ecko
 
"In My Kitchen features inspiring recipes with just the right amount of useful information and innovative technique. This book will encourage the home cook to get back in the kitchen on a weeknight and to entertain a crowd on the weekend."
—Wylie Dufresne
 
"I love the idea of being entertained at home by Ted Allen, a passionate and consummate chef."
—Daniel Boulud
 
"In My Kitchen captures everything I adore about Ted Allen and his approach to food—accessibility, generosity, and an unrelenting curiosity for all things delicious. The recipes in this book will make you want to follow his lead and get cooking!"
—Gail Simmons

"Ted Allen cooks food for people from all walks of life. Foodies, home cooks. and professionals will all love his recipes. They exude tremendous flavor and his techniques are clear and precise. Ted's passion for cooking and his sense of adventure in the kitchen really show. His recipes have an updated sensibility to them while still remaining soulful and satisfying."
—Ming Tsai
Clarkson Potter Publishers, 9780307951861, 272pp.
Publication Date: May 1, 2012
About the Author
TED ALLEN is the host of the top Food Network show "Chopped," now in its seventh season (and which to date has taped a network record 174 episodes in just three years), and frequently appears on "The Best Thing I Ever Ate." The food and wine specialist on Bravo s Emmy award-winning "Queer Eye for the Straight Guy," he was also a judge on the first four seasons of Bravo s "Top Chef" and of Food Network s "Iron Chef America." A contributing editor to "Esquire" magazine, Ted lives in Brooklyn, New York, with his longtime partner, interior designer (and serious baker) Barry Rice. This is his second cookbook. Visit Ted at www.tedallen.net or on Facebook at www.facebook.com/tedallenofficial."
or
Not Currently Available for Direct Purchase