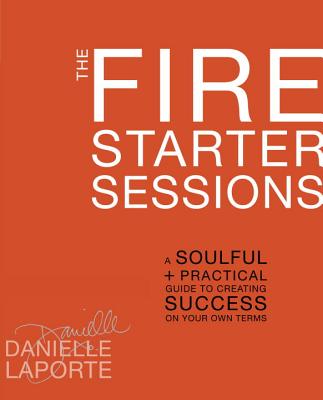 The Fire Starter Sessions (Hardcover)
A Soulful + Practical Guide to Creating Success on Your Own Terms
Crown Archetype, 9780307952103, 333pp.
Publication Date: April 17, 2012
Other Editions of This Title:
Digital Audiobook (4/16/2012)
Paperback (2/18/2014)
Paperback (4/1/2012)
* Individual store prices may vary.
Description
"The Fire Starter Sessions" is an apathy-kicking, integrity-infusing guide to defining success on your own terms.
As the creator of DanielleLaPorte.com--deemed the best place online for kick-ass spirituality, Danielle LaPorte's straight-talk life-and-livelihood sermons have been read by over one million people. Bold but empathetic, she reframes popular self-help and success concepts:
Life balance is a myth, and the pursuit of it is causing us more stress then the craving for balance itself.
Being well-rounded is over-rated. When you focus on developing your true strengths, you enter your mastery zone.
Screw your principles (they might be holding you back).
We have ambition backwards. Getting clear on how you want to "feel" in your life + work is more important than setting goals. It's the most potent form of clarity that you can have, and it's what leads to true fulfillment.
About the Author
A former think tank exec, business strategist and publicist, and a member of Oprah's SuperSoul 100, Danielle LaPorte is one of the most popular and original personal development and career-advice writers online. Forty-something, tattooed, and versed in Buddhism and P&L statements, Danielle is a gifted motivational speaker, and has been featured in "Elle, Body + Soul, More, Vogue Australia, Better Homes and Gardens, Globe and Mail, "the" National Post, Huffington Post, Entertainment Tonight," " USA Today "and" "BusinessWeek.com."
Praise For The Fire Starter Sessions: A Soulful + Practical Guide to Creating Success on Your Own Terms…
"Danielle LaPorte is scary smart, yet so kind and practical that she kindles the fire in you without causing you to feel consumed by the flames. She has the knowledge you need to succeed. Lean in and listen close. What she has to say is what our spirits need to hear."
—Martha Beck, author of Steering by Starlight
 
"The revolution you've been waiting for, it will shake up and wake up every aspect of your life. Danielle LaPorte offers soulful wisdom to create a blueprint for moguls, spiritual rock stars, and lovers of life. Skinny-dip headfirst into this hot and fabulous book. I dare you."
—Kris Carr, author of Crazy Sexy Diet
 
"Danielle's passion leaps off the page, and reading a few chapters of this book will ignite you into action."
—Gretchen Rubin, author of The Happiness Project
 
 "Danielle's work is jam-packed with keen insights and a force of energy that pushes you in invaluable ways. The content is practical and ignites the mind in ways that could change your career and life."
—Scott Belsky, author of Making Ideas Happen
 
"The Fire Starter Sessions is the new, bad-ass Artist's Way."
—Linda Sivertsen, author of Generation Green
 
"A mesmerizing blend of soul, smarts, and grit, The Fire Starter Sessions is a revelation. A virtual road map to a more engaged state of being. One that starts in the heart and burns its way into every fiber of your being."
—Jonathan Fields, author of Uncertainty
 
"Danielle LaPorte is the rockingest, most authentic, and truly lovely guide to lucrative self-realization I know. Buy this book and find yourself . . . and your future."
—Rebecca Walker, author of To Be Real: Telling the Truth and Changing the Face of Feminism
 
"LaPorte has made something that's inherently difficult look easy: makes us aware that the power was with us all along. Harder than it looks. Well done, Danielle."
—Hugh MacLeod, author of Ignore Everybody and Evil Plans
 
"Danielle does something incredibly refreshing with her work: she tells the truth, straight up. Money, failure, power, appreciation—The Fire Starter Sessions doesn't leave anything out of the mix, and Danielle pours it on with a heaping dose of encouragement and possibility thinking."
—Barbara Stanny, author of Overcoming Underearning and Secrets of Six-Figure Women
 
"Fresh, compassionate, practical, sassy, designed (and design is one crucial way that content becomes useful), wise, engaging, and, above all, different."
—Michael Bungay Stanier, author of Do More Great Work and End Malaria
 
"The Fire Starter Sessions shows us how to do what the world tells us we can't: be unapologetic about our deepest desires and live a life beyond our wildest dreams. Danielle reminds us that all the passion and inspiration we're seeking lies within us—and she guides us to uncover that beautiful fire and share it with the world."
—Gabrielle Bernstein, author of Spirit Junkie
 
"The Fire Starter Sessions is a modern masterpiece that will impact millions of lives, for generations to come. It's outrageously inspiring, wise, and actionable. I simply cannot recommend it enough. Prepare for a religious experience. You're going to fall in love with this book."
—Marie Forleo, MarieForleo.com
 
"I don't know about you, but a spreadsheet has never made my hair stand on end, my pulse race, and my brain surge with creative ideas. Read this book and weep—with relief and joy—that you don't have to check your soul and humanity at the door to get killer business results."
—Pamela Slim, author of Escape from Cubicle Nation
 
"Danielle has a real voice. She puts out her true beliefs without sugarcoating ideas to placate folks."
—Yvonne Bynoe, author of Who's Your Mama?: The Unsung Voices of Women and Mothers and Encyclopedia of Rap and Hip Hop Culture
 
"Danielle is one serious Fire Starter, and you'll be one, too, after reading this masterpiece. For best results, read in your igloo and emerge with a suntan."
—Chris Guillebeau, author of The Art of Non-Conformity
or
Not Currently Available for Direct Purchase