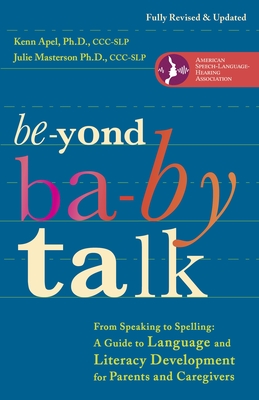 Beyond Baby Talk: From Speaking to Spelling: A Guide to Language and Literacy Development for Parents and Caregivers (Paperback)
From Speaking to Spelling: A Guide to Language and Literacy Development for Parents and Caregivers
Three Rivers Press (NY), 9780307952288, 284pp.
Publication Date: October 2, 2012
Description
Guide your child to effective communication with this fully updated handbook.
Language is about so much more than just words, and healthy communication is the foundation of your child's ability to succeed emotionally, socially, and academically. The first eight years of life are a critical period of language and literacy development, and as a parent, you are your child's primary role model as he or she begins to acquire speaking, reading, and writing skills. And yet, you may be uncertain of what constitutes typical language progress and of what activities and practices will enhance your child's learning experiences the most. Fully revised and updated for our modern times, Beyond Baby Talk is here to guide you through the easiest and most engaging ways to instill strong communication skills in your child, and to provide fun for you both along the way.
Inside, you'll find all of the essential steps and checkpoints to help you gauge your child's progress, as well as easy methods to:
- Evaluate and monitor your child's spoken language development
- Enhance your child's literacy skills for improved spelling, reading, and writing abilities
- Understand and navigate environmental influences on language development such as television, texting, and cultural slang
- Recognize the signs of language and literacy progress problems--and know when to seek professional help
In collaboration with and copyrighted by the American Speech-Language-Hearing Association (ASHA) www.asha.org/BeyondBabyTalk.
About the Author
Kenn Apel, PhD, CCC-SLP, is a professor and chair of communication sciences and disorders at the University of South Carolina and a widely known researcher and educator in language and literacy development and disorders. Julie J. Masterson, Ph.D., CCC-SLP, is a nationally known educator and researcher in speech, language, and literacy development. She is a professor of communication sciences and disorders at Missouri State University.
Praise For Beyond Baby Talk: From Speaking to Spelling: A Guide to Language and Literacy Development for Parents and Caregivers…
"Beyond Baby Talk combines accuracy with readability to produce an excellent resource for parents, caregivers, and clinicians alike." --Arthur C. Maelender, Ph.D., Geisel School of Medicine at Dartmouth


"[Beyond Baby Talk] is well written and enjoyable to read....made concepts much easier to grasp and understand. I would definitely recommend to the families that I care for. " --Michael Metts, D.O., FAAP, FACOP, Des Moines University 
Advertisement