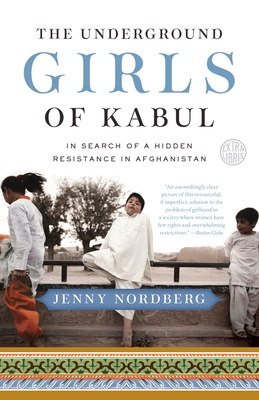 The Underground Girls of Kabul
In Search of a Hidden Resistance in Afghanistan
Paperback

* Individual store prices may vary.
Other Editions of This Title:
Digital Audiobook (9/15/2014)
Description
An investigative journalist uncovers a hidden custom in Afghanistan that will transform your understanding of what it means to grow up as a girl.
 
"An astonishingly clear picture of this resourceful, if imperfect, solution to the problem of girlhood in a society where women have few rights and overwhelming restrictions."—The Boston Globe

In Afghanistan, a culture ruled almost entirely by men, the birth of a son is cause for celebration and the arrival of a daughter is often mourned as misfortune. A bacha posh (literally translated from Dari as "dressed up like a boy") is a third kind of child—a girl temporarily raised as a boy and presented as such to the outside world. Jenny Nordberg, the reporter who broke the story of this phenomenon for the New York Times, constructs a powerful and moving account of those secretly living on the other side of a deeply segregated society where women have almost no rights and little freedom.

The Underground Girls of Kabul is anchored by vivid characters who bring this remarkable story to life: Azita, a female parliamentarian who sees no other choice but to turn her fourth daughter Mehran into a boy; Zahra, the tomboy teenager who struggles with puberty and refuses her parents' attempts to turn her back into a girl; Shukria, now a married mother of three after living for twenty years as a man; and Nader, who prays with Shahed, the undercover female police officer, as they both remain in male disguise as adults.

At the heart of this emotional narrative is a new perspective on the extreme sacrifices of Afghan women and girls against the violent backdrop of America's longest war. Divided into four parts, the book follows those born as the unwanted sex in Afghanistan, but who live as the socially favored gender through childhood and puberty, only to later be forced into marriage and childbirth. The Underground Girls of Kabul charts their dramatic life cycles, while examining our own history and the parallels to subversive actions of people who live under oppression everywhere.
Praise For The Underground Girls of Kabul: In Search of a Hidden Resistance in Afghanistan…
Winner of the 2015 J. Anthony Lukas Book Prize

A Salon 2014 Authors' Favorite Book

One of Buzzfeed's Best Nonfiction Books of 2014

A Business Insider Best Book of 2014

A Columbus Dispatch Best Book of 2014

A Publishers Weekly Best Book of 2014

A PopMatters Best Book of 2014

An FP Interrupted Best Book of 2014

An IPI Global Observatory Recommended Book for 2015

A TruthDig Book of the Year, 2014

Finalist for the Goodreads Choice Award, Nonfiction

"Through extensive interviews with former bacha posh, observation of present ones and conversations with doctors and teachers, Nordberg unearths details of a dynamic that one suspects will be news to the armies of aid workers and gender experts in post-invasion Afghanistan."–New York Times Book Review

"Jenny Nordberg has produced a striking and nuanced work that explores the current status of Afghan women through one of their subcultures...[A] finely written book."–Washington Post

"Five years of intensive reporting have yielded this gritty, poignant, and provocative collage of intimate portraits…Nordberg conveys captivating nuance and complexity; just when you feel some kind of judgment or conclusive opinion is within reach, she deftly turns the tables, leaving us to reexamine our own prejudices and societal norms as we struggle with questions that are perhaps unanswerable."–Elle

"Nordberg's immersive reporting reveals an astonishingly clear picture of this resourceful, if imperfect, solution to the problem of girlhood in a society where women have few rights and overwhelming restrictions."–The Boston Globe

"Nordberg's book is riveting, bringing a practice previously unknown to the West to light, and continuing to elucidate the plight of Afghan women, whose supposed inferiority is so ingrained in their culture that Western feminism can make few inroads."–Minneapolis Star Tribune

"Nordberg's intimate exploration leaves us rooting for her brave subjects."–Mother Jones

"Nordberg creates a moving intimacy with these stories, weaving them into the bigger picture of contemporary Afghanistan. Diving deep into the lives and hearts of people who are usually ignored, she reveals the enormity of a localized struggle even while grounding it in broader human experience, never allowing the reader to reduce her subjects to curiosities."–DallasMorningNews.com

"In clear, simple prose, Nordberg describes her encounters with several current or former bacha posh, including a nurse who kept the role until a month before her wedding, a tae kwon do instructor who now guides younger "underground girls," and an adolescent still resisting being turned into a woman… The book raises provocative questions about gender roles in Afghanistan and beyond."–The Columbus Dispatch

"Fascinating… Nordberg manages to capture the strength of these women, as well as their vulnerabilities, to show the psychological toll bacha posh has on those who endure it, and the ability of women to adapt to the constricts society places on them." –ForeignPolicy.com

"In fluid narrative style, Nordberg explores the [bacha posh] phenomenon through compelling individual portraits… In addition to presenting a rare glimpse of Afghan life, The Underground Girls of Kabul explores the ways that gender identity is shaped and policed. Extending well beyond Afghanistan, this book compels the reader to rethink gender differences."—Straight.com
 
"The Underground Girls of Kabul is an outstanding work of journalism that uncovers new information about an important subject. It's also an extraordinarily well-written book, full of riveting stories about the real lives of girls and women in Afghanistan today." –PopMatters.com

"Five years of research, and an almost novelistic approach to her findings, has produced a book full of fresh stories." —Razia Iqbal, Independent 

"Nordberg's hopeful yet heart-breaking account offers a dazzling picture of Afghan life . . . She is refreshingly non-judgmental . . . Thanks to this book, a little more light has been shone on a country and society so often misunderstood" —Independent on Sunday
 
"Partly a reflection on the politics of sex and gender . . . but it is also a tale of discovery." —Sunday Telegraph
 
"This fascinating study sheds new light on what it's like to be female in the country declared the worst in the world to be a woman . . . This powerful account of powerlessness resonates with the most silenced voices in society." —The Observer

"[A] searing exposé…Nordberg's subtle, sympathetic reportage makes this one of the most convincing portraits of Afghan culture in print." –Publishers Weekly [starred]

"A stunning book… Nordberg has done some staggering work in this unique, important, and compelling chronicle. Book clubs will be riveted, and will talk for hours." –Booklist [starred]

"As affecting as the stories of these women are, Nordberg's conclusion—that women's rights are essential to 'building peaceful civilizations'—is the most powerful message of this compelling book. An intelligent and timely exploration into contemporary Afghanistan." – Kirkus Reviews

"The Underground Girls of Kabul is a groundbreaking feat of reportage, a kaleidoscopic investigation into gender, resistance, and the limits of cross-cultural understanding. Jenny Nordberg is a riveting storyteller and she has an astonishing tale to tell." –Michelle Goldberg, author of The Means of Reproduction: Sex, Power, and the Future of the World

"Jenny Nordberg has given us a fascinating look into a hidden phenomenon of extreme patriarchal societies: a form of gender-bending far riskier and more rewarding than Western academia's trendy, abstract gender categories. Nordberg's reporting is thorough and sensitive, her writing vivid and insightful. You will not forget this book; it will haunt you." – Robin Morgan

"The Underground Girls of Kabul is a brilliant, urgent, groundbreaking work. It is a call to action, and a reminder that even under the greatest abuses of power women have found ways to fight and flourish. The inspiring story of the bacha posh is not just a tale of ingenuity and survival in Afghanistan. It is an excavation of the deep and insidious roots of global misogyny, and an offering of hope." —Cara Hoffman, author of Be Safe I Love You

"The Underground Girls of Kabul draws back the curtain on the world of bacha posh, young Afghan girls whose families disguise them as boys and raise them, until adolescence intervenes, as sons. Jenny Nordberg's book is a tremendous feat of reporting and storytelling: until her work on the custom of bacha posh was published in the New York Times, the practice had never been systematically documented, and her narrative is so finely-observed that it often reads like fiction. Nordberg's curiosity, her humor, and her genuine warmth for her subjects come through on every page." – Katherine Zoepf, fellow, the New America Foundation

"The Underground Girls of Kabul is a riveting, firsthand account of what life as a girl is like in Afghanistan and how it often means becoming a boy.  Jenny Nordberg has written a compelling and important work that exposes the profound gender prejudice that exists, in different forms, all over the world." –Jennifer Clement, author of Prayers for the Stolen

"Forget everything you thought you knew about gender and what it means to be a woman or man. Jenny Nordberg's exquisitely reported look at why Afghans choose to raise their girls as boys is nothing less than heartbreaking, mind-bending, and mesmerizing—not to mention timely."—Lauren Wolfe, director of Women's Media Center's Women Under Siege

"Nordberg brings to light a world that no Afghan speaks of, but everyone knows: the world of girls raised as boys, usually until puberty.  In a society where being a girl means living as chattel, and where families without boys are shamed, the bacha posh tradition arose, as it has in other highly patriarchal societies.  Going deeper, Nordberg discovers that the bacha posh, once adults, become a subversive force: having tasted freedom and opportunity, these women can never go back.  They stand up--for themselves, their daughters, and their country.  The former bacha posh may yet change Afghanistan for the better . . . Nordberg's book is a pioneering effort to understand this hidden world." –Valerie M. Hudson, professor and George H.W. Bush Chair, The Bush School of Government and Public Service, Texas A&M University
 
"The investigation into bacha posh gives a new and unique perspective on the women's situation, gender and resistance in Afghanistan. The author tells the story with empathy and respect for the women who have let her into their lives. This book will interest both those who want to learn about Afghanistan and those wanting to understand how gender works, and it is a must-read for both Afghanistan and gender specialists." –Sari Kouvo, co-director of the Afghanistan Analysts Network

"The Underground Girls of Kabul is an amazing book. The fact that Nordberg brings this to light is eye-opening to everyone—even to Afghans. It is the truth that many Afghans live with it as part of their life."–Naheed Bahram, program director of Women for Afghan Women
Crown, 9780307952509, 384pp.
Publication Date: July 14, 2015
About the Author
JENNY NORDBERG is an award-winning journalist based in New York. A correspondent and columnist for Swedish national newspaper Svenska Dagbladet, she has a long record of investigative reports for, among others, The New York Times, where she also contributed to a series that won the 2005 Pulitzer Prize for National Reporting. In 2010, she was awarded the Robert F. Kennedy Award for Excellence in Journalism for a television documentary on Afghan women. She is a member of the International Consortium of Investigative Journalists (ICIJ).
1. The Underground Girls of Kabul features several women who find ways to resist and subvert power—including Azita, whose status is elevated by disguising her daughter as a son; Mehran, who is able to confidently roughhouse with boys her own age; and Zahra, who fights her parents to maintain her male identity after puberty. Which woman's story did you find most interesting? Why?
2. Although Afghanistan and its conflicts have been well-covered, the book offers a different entry point into the lives of people there. Before reading this book what (if anything) did you know about Afghanistan? What did you find surprising about the country and its history in reading this book?
3. Do you think the practice of bacha posh is subversive, with the potential to change the strict gender culture of Afghanistan? Or do you see it as women capitulating to and reinforcing a system of segregation?
4. Some of the girls who are raised as bacha posh do not want to go back to living as women. How do you think you would react if you were in their position?
5. After reading the book, does the practice of bacha posh make sense to you or is it entirely foreign? How would you explain why this happens?
6. The author outlines a pervasive culture of violence and extreme segregation. Which part of the story, if any, made you angry? Why?
7. What historical and current-day parallels to bacha posh, pretending to be someone or something else due to segregation or oppression can you think of: real or fictional, in different countries, for different reasons?
8. Are the lives of Afghan women entirely different from those of women in the West, or do you see similarities in how we behave and how we live? What are those?
9. Do you agree that there is also a "culture of honor" in our society, where girls should be pure and boys should be aggressive and protective? Where do you see examples of that in the reporting of daily news or in your own life?
10. Many of the women in this book experience the limits of female freedom, even if they have had success. For example, Azita has risen from a small Afghan village to occupy a place in parliament, but she is still very limited in what she can do and how far she can reach. Is there a limit to how far most women can get in our own society today? Why is that?
11. In an interview about the book, Jenny Nordberg said that the story of the bacha posh "cuts right to the most difficult questions of human existence: war, oppression, and the difference between men and women." Do you agree? Why are the differences between men and women so important to us?
12. Jenny Nordberg raises questions about whether or not gender is dichotomous, and she even calls bacha posh "a third kind of child"—neither boy nor girl. What do you think: Are we born a certain way or do we become our gender?
13. Under what circumstances would you consider raising a daughter as a son? And in what situation or circumstance could you imagine disguising yourself in exchange for greater freedom?
14. Did you ever wonder how things would have been different had you been born a child of the other gender?  Did you ever wish, at any stage in your life or in a particular circumstance, that you could be a different gender?
15. For the female reader: Did you ever dress in a less feminine and more traditionally male or conservative way to be taken seriously? Why is that important?
16. For the male reader: What traits that are considered traditionally female have you ever wished you could display more openly, if any? Do you feel a pressure to appear manly in the sense of protecting one's family; to appear capable; et cetera?
17. In what way were you treated like a boy or a girl, respectively, when you were little? Were there things you absolutely couldn't do due to your gender? Do you see a future in which gender roles will be less strict, and how is that a good or a bad thing for men and women?
18. Do you agree with the author's conclusion that women's rights are essential to human rights and to building peaceful civilizations? Why or why not?