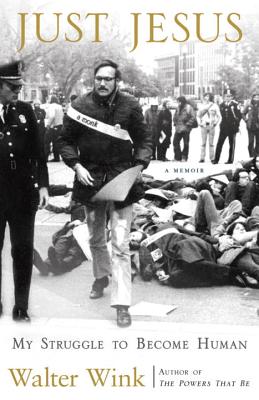 Just Jesus: My Struggle to Become Human (Paperback)
My Struggle to Become Human
Image, 9780307955814, 174pp.
Publication Date: January 21, 2014
Description
Until his death in 2012, Walter Wink was one of the most influential Christian intellectuals of our time. He was a pastor and theologian, a political activist and a writer. He first becme a practitioner of active nonviolence during the Civil Rights Movement in Selma Alabama, and continued to seek social justice for all under dictatorships in Chile and the apartheid in South Africa. Always through the lens of Jesus, Wink's life and work demonstrate just how important the need to understand "the Son of the Man" is in today's modern world.
Wink shows us that inspiration and insight can come from any source: a Pentecostal Church in Oklahoma, dreams, Buddhist meditation centers, childhood traumas, an empty forest, illness, and the Gospels. Wink's work in social justice and his life as a theologian are inextricably entwined, finding evidence for nonviolent resistance in the Bible and seeing the need for Jesus in daily struggles.
"An autobiography of my interest in Jesus, perhaps that is too ambitious," writes Wink. "What I have done here is far less grand. I have simply written down vignettes, or excerpts of my life's story that I find interesting. These autobiographical reflections are in no way exceptional. Everyone has a life story. My story may, at the very least, show why I theologically think the way that I do."
Just Jesus is the jubilant autobiography of the man who sought justice in all walks of life, including his own.
About the Author
DR. WALTER WINK (1935-2012) was an influential American biblical scholar, theologian, and activist, and was an important figure in progressive Christianity. He was well known for his advocacy of, and work related to, nonviolent resistance. Wink earned his Ph.D. at The Union Theological Seminary where he taught for nine years, and in 2010 was honored with the Unitas Distinguished Alumni Award. He went on to spend much of his career teaching at Auburn Theological Seminary in New York City. Wink wrote more than sixteen books as well as hundreds of scholarly articles, and is recognized for coining the phrase the myth of redemptive violence. With his wife, June Keener Wink, he held workshops around the world that combined religious-themed pottery, dancing, and Biblical interpretation. Wink died in 2012 from complications of dementia."
Praise For Just Jesus: My Struggle to Become Human…
"For those who knew Walter Wink, this book is a treasure.  For those who didn't know him, Just Jesus provides a rich encounter with one of the most important New Testament scholars of the past half-century. Just Jesus is in part a memoir, but it takes the striking form of brief memories of his early life with snapshots of his last years and months, and all of that integrated with essays on some of the most important matters that he wrote about.  Just Jesus is memory and testimony." –Marcus Borg, author of Meeting Jesus Again for the First Time

"For many of us, it is hard to overstate the importance of the work of Walter Wink, and the very direct influence his scholarship had on our understanding of central Biblical themes. But here we see the very human Walter meeting 'the Human One' Jesus in ways that touch our heart as much as our minds.  We will miss him just a little bit less--and also a little bit more--because of this final gift of his love and his wisdom." -Richard Rohr, O.F.M., Founder of Center for Action and Contemplation and author of Falling Upward

"Walter Wink touched scores of thousands of lives through his writing and his collaborative work with June, his beloved spouse. His willingness to put his life lovingly on the line in places of conflict, including South Africa, gave his theology of nonviolence credibility beyond the pages of his books. Prophetic words became prophetic action. Walter's last work is an eclectic collection of autobiographical and theological vignettes, threaded together by his ruthlessly honest search for God and meaning in a wounded world and a compromised church. In the end, only the Jesus he knew and loved makes sense of it all. This is an important read." -Peter Storey, former South African anti-apartheid Church leader and Professor Emeritus, Duke Divinity School

"This moving valedictory book will help those whose faith and thought have been shaped by Walter Wink's ground-breaking work to understand the deep relationship between the man and his influential ideas.  For others, this collection of reflections, written by Wink at the end of his life, provides an introduction to his extraordinary writing on non-violence, power, justice and Jesus."  -Barbara G. Wheeler, Former President, Auburn Theological Seminary
Advertisement