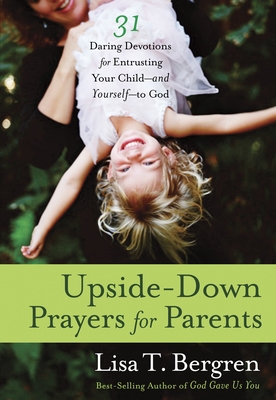 Upside-Down Prayers for Parents
Thirty-One Daring Devotions for Entrusting Your Child--and Yourself--to God
Paperback

* Individual store prices may vary.
Description
Because God Loves Them Even More Than You Do
 
It's our instinct as parents to shield our children from harm. But our true responsibility is to raise children equipped to live well for God even in the midst of struggle. Upside-Down Prayers for Parents encourages us to pray for our children in ways we may never have before:
 
• I pray you'll get caught doing things wrong—and experience the power of confession.
• I pray your prayers will go unanswered—and you'll find a deeper trust in Him.
• I pray you'll fail in things that don't matter—and learn what matters to God.
• I pray you'll encounter battles—and discover that God is your greatest ally.
 
By turning our prayers "upside down," we not only learn to release our children to the care of God alone, we also uncover how our own desires need to be submitted to God's will.
 
Each entry in this thirty-one-day devotional includes a short reflection, a Scripture verse, and ideas to jump-start conversations between you and your child or teenager. Together you'll discover a deeper trust in God that will help you make it through the upside-down times with a right-side-up perspective.
Praise For Upside-Down Prayers for Parents: Thirty-One Daring Devotions for Entrusting Your Child--and Yourself--to God…
Praise for Upside-Down Prayers for Parents

"Reading Lisa's book was a flashback to my own mothering years because my husband and I often carried similar petitions to our Father in heaven. We prayed our children would get caught in every lie every time. We asked God to allow them small fender-bender accidents as teens to temper their indestructible, immortal view of their lives. And when they experienced inevitable rejection, loneliness, and discouragement, we attempted to teach them that God wanted to use those hard experiences for their good. And they heard us speak these prayers, so when the answers came they knew Who was in control. Upside-Down Prayers for Parents will dispel the happily-ever-after deception that pervades our culture and will replace it with a solid bedrock view of God whose goal is our holiness, not our happiness—a foundational truth for everyday parenting. I plan to give Lisa's book to all my married children."
—Barbara Rainey, cofounder of FamilyLife Today and coauthor of Growing a Spiritually Strong Family

"Lisa Bergren offers wise counsel, clear direction, and brilliant insights into how to pray in a way that shapes your child's character. Every mom needs this book! It will become a resource you will refer to often during your child's formative years and beyond."
—Robin Jones Gunn, author of the Christy Miller series and Praying for Your Future Husband

"Lisa T. Bergren has crafted the perfect practical guide to enable parents to express the desires of their hearts, wrap them tightly in relevant Scripture, and send them soaring heavenward. The impact on their children—and quiet confidence they'll experience themselves—will reap sweet spiritual rewards for generations to come. If you've ever longed to trust God and entrust your kids to Him, this book is for you!"
— Karen Ehman, Proverbs 31 Ministries director of speakers and author of six books, including LET. IT. GO.: How to Stop Running the Show and Start Walking in Faith

"Lisa's upside-down prayers require a whole new level of faith and trust in Jesus. Reading this book and praying these prayers made me realize how tightly I was holding on to my children—and how much I needed to release them to God. These are exactly the prayers I've always wanted to pray for my children but could never find the words myself!"
—Erin Mohring, author of HomeWithTheBoys.net

"I love this book! These prayers confirm what I've learned in my twenty-three years as a mom: that sometimes it's the hard moments that bring about the heart-transformation in our kids. These are prayers to wrestle through—and find God in the midst of them. Highly recommended!"
—Tricia Goyer, author of Blue Like Play Dough: The Shape of Motherhood in the Grip of God

"This is the perfect book for parents who want God's best for their children even when it's the difficult, more costly choice. Dive into this book and surrender your kids to Him. This book isn't a must read; it's a must do!"
—Nicole O'Dell, author of the Hot Buttons series for parents

"Lisa T. Bergren describes this book as 'not a sweet and gentle devotional.' She's right. The prayers she asks us to offer on behalf of our kids are scary, raw, and honest. They demand our bravery. That's how I know they're good. And that's why I'll be praying these prayers along with her."
—Micha Boyett, author of Mama:Monk blog

"After reading these words and praying these prayers for thirty-one days, your heart can't help but be turned inside out. This book showed me the prayers I've always wanted to pray for my kids but just didn't know it. Health and favor merely scratch the surface of what I want for my kids; reliance on God, warrior faith, and deep assurance of God's love is what I really desire. Lisa T. Bergren leads us into examining our hearts so we can position our lives and prayers on the true blessing, redemption, power, and plans God has for our lives and the lives of our children."
—Amanda White, founder of ohAmanda.com and author of Truth in the Tinsel: An Advent Experience for Little Hands
Upside

WaterBrook, 9780307955838, 192pp.
Publication Date: February 19, 2013
About the Author
Lisa T. Bergren is the author of more than forty books, with nearly two million copies sold. Her work includes children's books, historical and contemporary fiction, women's nonfiction, and gift books. A freelance writer and editor, Lisa lives in Colorado. She and her husband, Tim, are the parents of three children.
or
Not Currently Available for Direct Purchase