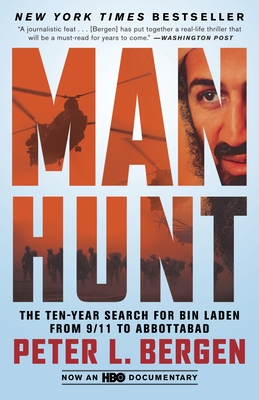 Manhunt
The Ten-Year Search for Bin Laden from 9/11 to Abbottabad
Paperback

* Individual store prices may vary.
Other Editions of This Title:
Digital Audiobook (4/30/2012)
Compact Disc (5/1/2012)
Compact Disc (5/1/2012)
Hardcover (5/1/2012)
Hardcover (5/1/2012)
Description
NOW AN HBO DOCUMENTARY

     In Manhunt, Peter Bergen delivers a taut yet panoramic account of the pursuit and killing of Osama bin Laden. Here are riveting new details of bin Laden's flight after the crushing defeat of the Taliban to Tora Bora, where American forces came startlingly close to capturing him, and of the fugitive leader's attempts to find a secure hiding place. As the only journalist to gain access to bin Laden's Abbottabad compound before the Pakistani government demolished it, Bergen paints a vivid picture of bin Laden's grim, Spartan life in hiding and his struggle to maintain control of al-Qaeda.
     Half a world away, Bergen takes us inside the Situation Room, where President Obama considers the courses of action presented by his war council and receives conflicting advice from his top advisors before deciding to risk the raid that would change history--and then inside the Joint Special Ops Command, whose "secret warriors," the SEALs, would execute Operation Neptune Spear. From the moment two Black Hawks take off from Afghanistan until bin Laden utters his last words, Manhunt reads like a thriller.
Praise For Manhunt: The Ten-Year Search for Bin Laden from 9/11 to Abbottabad…
Overseas Press Club Cornelius Ryan Award for Best Nonfiction Book of 2012 on International Affairs

Chosen by the Washington Post As One of the Best Nonfiction Books of 2012

"Virtually crackles with insider details...Bergen's Pakistani sources gave him new insight into bin Laden's home life...The details of the SEAL raid itself...[make] for compelling reading. Bergen puts the raid into a broader intelligence framework and deftly re-creates the heart-thumping tension of that night and the calculations that went into pulling off the daring mission...Bergen's three other books have become required reading for national security buffs and counterterrorism reporters. But Manhunt is different. It goes to a higher level...Bergen has accomplished a journalistic feat: He manages to make the story of bin Laden's end sound new. He has put together a real-life thriller that will be a must-read for years to come."
—Dina Temple-Raston, Washington Post

"A gripping read...Bergen has an eye for memorable close-ups. His narrative has authority...Packed with satisfying observations...Highly readable."
—The Economist
 
"Some of the more illuminating sections of Manhunt concern the efforts of intelligence analysts to piece together a 'working theory' about Bin Laden's whereabouts...Also fascinating are the descriptions of internal debates within the Obama administration."
—Michiko Kakutani, New York Times

 "The best reporting we have on the subject."
—Michelle Dean, The Nation

"Bergen...draw[s] on his excellent government sources, his deep knowledge of al Qaeda, and his reporter's instincts (which got him into the Abbottabad compound just after the raid). His book is full of fascinating details and illustrates the immense pressure on national security bureaucracies to provide options to policymakers and then reduce the risks associated with their implementation."
—Lawrence D. Freedman, Foreign Affairs

"Gripping...Dramatic...A masterful account of bin Laden's life and activities, how al Qaeda operated in the aftermath of Sept. 11, and the American government's success in tracking down the world's most notorious terrorist leader."
—Joshua Sinai, Washington Times

"Terrific...A fast-paced narrative that takes you into the search for the most-wanted man in human history."
—Bruce Riedel, The Daily Beast

"The story is riveting because it is as if Bergen were embedded everywhere--the situation room of the White House, three miles high in the rugged mountains of Tora Bora and alongside the Navy SEALS who would put a quick and dramatic end to bin Laden's life."
—San Antonio Express

"I devoured it. It's an important book, which I urge you to read as soon as you can…Bergen's moment-by-moment account of the raid makes for gripping, even breathless, reading."
—Clay Jenkinson, Bismarck Tribune

"This superbly researched account of the United States' decade-long effort to track and kill bin Laden provides the intimate details on virtually every critical decision along the way…The book actually transcends its subject matter, demonstrating the best practices of critical thinking by the people who do it best…Present[s] the evidence on both sides of even the most controversial issues, without agenda or bias…Compelling and authoritative."
—Huffington Post

"Dispassionate and authoritative...What the author brings to this epic story is context and perspective...Bergen has the credibility to tell this story."
—Frank Davies, Miami Herald

"Uncanny access and research…a fascinating account...The story is riveting because it is as if Bergen were embedded everywhere…Gives some interesting insight into the complex personality of bin Laden."
—Mark Stoeltje, San Antonio Express-News

"Bergen offers rather intriguing profiles of the four wives...Bergen's telling of the actual operation--flashing from Special Ops movements to administration anticipation, including the White House Correspondents Dinner, where Seth Meyers famously made a crack about Bin Laden having a show on C-SPAN--is riveting."
—Swati Pandey, Los Angeles Review of Books

"In Manhunt, Peter Bergen has produced a page-turner rich with new information and insight into the search for Bin Laden and his killing. Only Bergen, America's foremost counterterrorism writer, could have produced a book of such energy and authority--a triumph."
—STEVE COLL, author of Ghost Wars

"Ten years of grit, intelligent hard work, and daring led to Operation Neptune Spear, and Bergen captures it all in a story that is both a riveting page turner and a definitive history. Revealing details of bin Laden's last years in self-imposed prison, the debates of the CIA analysts who tracked him, and the training of the SEALs who killed him, Manhunt is essential reading for anyone who wants to know the real story of how the world's most wanted terrorist was finally brought to justice."
—ERIC GREITENS, author of The Heart and The Fist  
 
"With masterly reporting, Peter Bergen takes us where we've never been: behind the high walls of Osama bin Laden's last hideout and behind the scenes of the heroic and painstaking hunt for the Al Qaeda mastermind. Manhunt is a thrilling read."
—ANDERSON COOPER, CNN anchor

Crown, 9780307955883, 400pp.
Publication Date: April 30, 2013
About the Author
PETER L. BERGEN is the author of four books about Osama bin Laden and al Qaeda, three of which were New York Times bestsellers. He is CNN's national security analyst and a director of the New America Foundation.
or
Not Currently Available for Direct Purchase