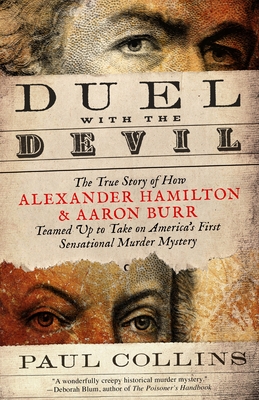 Duel with the Devil
The True Story of How Alexander Hamilton and Aaron Burr Teamed Up to Take on America's First Sensational Murder Mystery
Paperback

* Individual store prices may vary.
Description
The remarkable true story of a turn-of-the-19th century murder and the trial that ensued—a showdown in which iconic political rivals Alexander Hamilton and Aaron Burr joined forces to make sure justice was served—from bestselling author of the Edgar finalist, Murder of the Century.
In the closing days of 1799, the United States was still a young republic. Waging a fierce battle for its uncertain future were two political parties: the well-moneyed Federalists, led by Alexander Hamilton, and the populist Republicans, led by Aaron Burr. The two finest lawyers in New York, Burr and Hamilton were bitter rivals both in and out of the courtroom, and as the next election approached, their animosity reached a crescendo.
But everything changed when a young Quaker woman, Elma Sands, was found dead in Burr's newly constructed Manhattan Well. The horrific crime quickly gripped the nation, and before long accusations settled on one of Elma's suitors: a handsome young carpenter named Levi Weeks. As the enraged city demanded a noose be draped around his neck, Week's only hope was to hire a legal dream team. And thus it was that New York's most bitter political rivals and greatest attorneys did the unthinkable—they teamed up.
Our nation's longest running cold case, Duel with the Devil delivers the first substantial break in the case in over 200 years. At once an absorbing legal thriller and an expertly crafted portrait of the United States in the time of the Founding Fathers, Duel with the Devil is a masterpiece of narrative nonfiction.
Praise For Duel with the Devil: The True Story of How Alexander Hamilton and Aaron Burr Teamed Up to Take on America's First Sensational Murder Mystery…
"Lively, immediate and dishy in the style of a top-notch tabloid columnist…fizzes with the energy and irreverence of an infant republic…Collins provides a saucy breakdown of the twisty and interlocking interests behind Weeks' case. This is New York politics in all its gritty glory." —Salon

"In Paul Collins's gripping, true-life courtroom drama, Aaron Burr and Alexander Hamilton form the ultimate team of rivals." —Parade

"Collins not only skillfully squeezes the maximum juice out the combined history and mystery of his story, but may even have solved the crime." —Christian Science Monitor

"[Collins] paints a rich portrait of post-Revolutionary Manhattan, a muddy little burg wracked by fever and drink, where everyone knew everyone...[A] deft narrative." —Los Angeles Times

"Collins is a vividly evocative writer who conjures up the atmosphere and emotions of a bygone day...Masterful." —Washington Times

"In Collins's hands, historic figures stand up and live on the page...A rollicking read." —Oregnonian

"This is more than an account of an old case; it is an absorbing legal thriller...This is a cold case that has suddenly become quite hot." —Larry Cox, King Features

"NPR's "literary detective" once again applies his skills as a historian to a now obscure crime that was a cause celebre in its day…Using the court transcript as a primary source, Collins makes the most of the inherent drama of the case, and goes one step further to unearth convincing proof of the identity of the real killer."
—Publishers Weekly (Starred Review)
 
"This tautly constructed narrative, infused with period atmosphere, holds the reader's attention…Collins delivers fine true-crime verisimilitude."
—Booklist
 
"The author's New York is a fascinating place [and] once the trial begins, the narrative truly takes off, as Collins reveals the immense talents of the three attorneys…A rousing tale of the longest murder trial to that date in Manhattan…the author's conjecture as to the true villain is spot-on."
—Kirkus Reviews

"Duel with the Devil begins as a wonderfully creepy historical murder mystery and becomes a riveting story of two acclaimed lawyers battling for justice in an unsympathetic courtroom. But, in the talented hands of author Paul Collins, it also becomes something more—a startlingly insightful look at early American history and the men who helped shape a young country. The book delivers on so many levels that you'll find yourself, as I did, reading it more than once."
—Deborah Blum, author of The Poisoner's Handbook: Murder and the Birth of Forensic Medicine in Jazz Age New York
 
"A nimble and vividly evocative reconstruction of a long-forgotten New York murder mystery with an unforgettable cast of characters. Duel with the Devil is a fascinating book that unfolds like an early-American episode of Law & Order, with Alexander Hamilton and Aaron Burr as the celebrity guest stars."
—Gary Krist, author of City of Scoundrels
 
Praise for THE MURDER OF THE CENTURY

"Revealing but also enormously entertaining...Collins has a clear eye, a good sense of telling detail, and a fine narrative ability." —Wall Street Journal

"Collins has mined enough newspaper clippings and other archives to artfully re-create the era, the crime, and the newspaper wars it touched off....A riveting account." —New York Times

"Collins...brings considerable talent to the project. He has an eye for the wacky relics of the era....In the end, Collins has crafted a book that won't disappoint readers in search of a book like Erik Larson's DEVIL IN THE WHITE CITY. THE MURDER OF THE CENTURY is entertaining." —Washington Post

"Simply a fantastic, factual yarn, and a reminder that abhorrent violence is nothing new under the sun." —Oregonian

"One of the most exciting true crime books of the summer... simply put, this is crime reporting at its very best." —King Features Weekly Syndicate

"A wonderful reminder that we have often been just as we are: fools for spectacle, short of memory, cheered by the invigorating shock of the immoral." —Willamette Week

"Wonderfully rich in period detail, salacious facts about the case, and infectious wonder at the chutzpah and inventiveness displayed by Pulitzer's and Hearst's minions. Both a gripping true-crime narrative and an astonishing portrait of fin de siècle yellow journalism." —Kirkus Reviews

 "No writer better articulates our interest in the confluence of hope, eccentricity, and the timelessness of the bold and strange than Paul Collins." —Dave Eggers

"Paul Collins's account of the headless torso murder that led to an all-out newspaper war and then a dramatic trial has all the timeless elements of a great yarn--a baffling mystery, intriguing suspects, and flawed detectives. It's compelling history that's also great page-turning entertainment." —Howard Blum, author of THE FLOOR OF HEAVEN and AMERICAN LIGHTNING

Crown, 9780307956460, 304pp.
Publication Date: June 3, 2014
About the Author
Paul Collins is the author of nine books. A Professor and Chair of English at Portland State University, Collins is the recipient of a Guggenheim Fellowship and the founding editor of the Collins Library imprint of McSweeney's Books. His work has appeared in Slate, New Scientist, and the New York Times, and he is regularly featured on NPR's Weekend Edition as their "literary detective."
or
Not Currently Available for Direct Purchase